Biden extends US ban on deportation of Hong Kongers
US President Joe Biden on Thursday signed off on a two-year extension of a program that protects Hong Kong residents in the US from deportation, renewing the protection until January 2025.
Biden first authorized the program, the Deferred Enforced Departure for Certain Hong Kong Citizens, in August 2021 for 18 months. It was set to expire on Sunday next week.
The decision to provide a temporary safe haven was in response to Hong Kong's sweeping National Security Law and other measures imposed by Beijing that undercut the rights promised when the former British colony was handed back to China in 1997.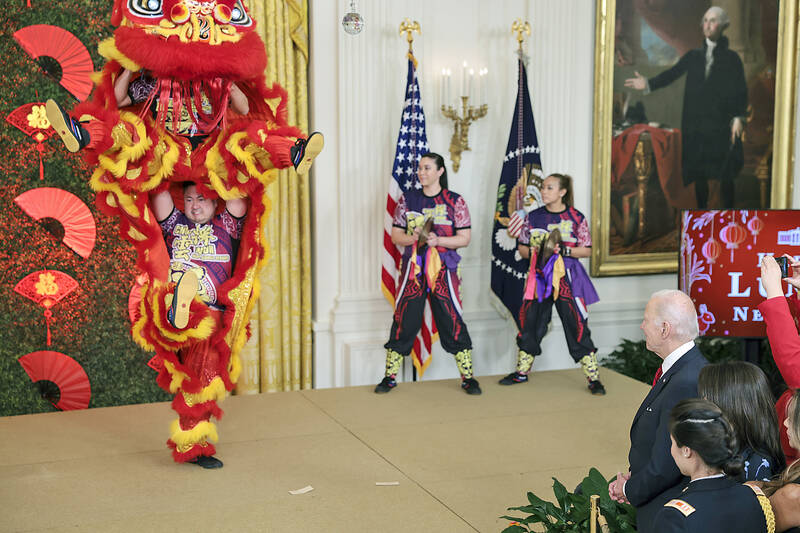 US President Joe Biden, right, watches a performance during a Lunar New Year reception at the White House in Washington on Thursday.
Photo: EPA-EFE
"With this action, we are demonstrating again President Biden's strong support for the people of Hong Kong in the face of increasing repression," the White House National Security Council said in a statement. "We continue to strongly oppose the PRC's [People's Republic of China] use of its National Security Law to deny the people of Hong Kong their human rights and fundamental freedoms, undermine Hong Kong's autonomy, and chip away at Hong Kong's remaining democratic processes and institutions."
The Chinese government moved to stifle opposition following protests in Hong Kong in 2019 against a proposed law allowing extraditions to mainland China. Under the National Security Law, which took effect in June 2020, police have cracked down on opposition politicians, rights advocates and demonstrators.
Changes were also made to Hong Kong's election laws to reduce the number of directly elected lawmakers and give a largely pro-Beijing committee the leeway to nominate lawmakers aligned with the Chinese government.
Liu Pengyu (劉鵬宇), spokesman for China's embassy in Washington, said in a statement that the Biden administration's decision further exposed the US' "sinister intention" to undermine stability in Hong Kong and "contain China's development."
"We urge the US to stop interfering in Hong Kong affairs," he said.
Since China imposed the National Security Law, at least 150 opposition politicians, rights advocates and protesters have been taken into custody on politically motivated charges, including secession, subversion, terrorist activities and collusion with a foreign country or external elements, the White House said.
Additionally, 1,200 political prisoners are behind bars, and more than 10,000 people have been arrested on other charges in connection with protests against the Hong Kong government, it said.
In addition to criticizing Beijing's crackdown on democracy advocates in Hong Kong, Biden has repeatedly taken China to task for military provocations against Taiwan, human rights abuses against Uighurs and other ethnic minorities, coercive trade practices and differences over Russia's prosecution of its war against Ukraine.
Comments will be moderated. Keep comments relevant to the article. Remarks containing abusive and obscene language, personal attacks of any kind or promotion will be removed and the user banned. Final decision will be at the discretion of the Taipei Times.