Mercury in the north to drop below 10°C
AS FAR SOUTH AS CHIAYI, HUALIEN: The temperature drop is caused by a south moving cold front, which also affects air quality in southern areas, a forecaster said
Temperatures in many areas north of Chiayi and Hualien counties, as well as in Penghu County, are to stay below 10°C today, but rain is expected to abate, the Central Weather Bureau said yesterday.
The bureau said a cold front affecting northern Taiwan was moving southward, and would keep temperatures low over the weekend in areas as far south as Chiayi and Hualien counties, with some areas in northern parts of those counties reaching lows of about 6°C.
"You won't notice a significant rise in daytime temperatures over the weekend, but some areas could see the mercury hit 10°C or 11°C," bureau forecaster Chang Cheng-chuan (張承傳) said. "By Monday, things will stabilize and temperatures will reach a much warmer 20°C."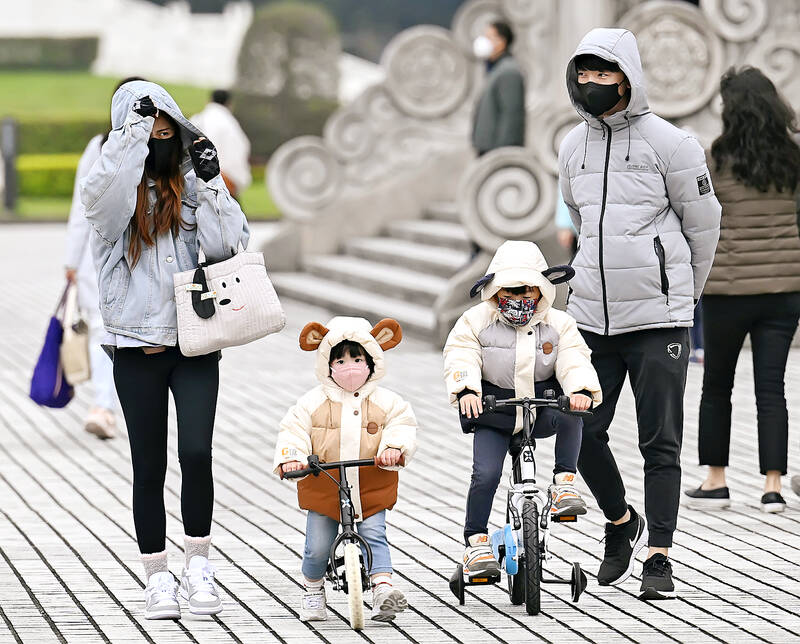 A family braces against the cold as they visit the Chiang Kai-shek Memorial Hall in Taipei yesterday.
Photo: Chen Chih-chu, Taipei Times
However, while rain will weaken today in most areas, there is a 30 to 40 percent chance of precipitation in some parts of Keelung, Yilan County and Hualien, particularly in mountainous areas, he said.
The southward moving front is to affect air quality in parts of southern Taiwan, including Yunlin, Chiayi and Nantou counties, over the weekend, he said, adding that air quality in Penghu and along the east coast is forecast to be good.
An "orange" alert would be issued for air quality in coastal areas between Changhua and Chiayi counties, he said.
Meanwhile, the Pingtung Public Health Bureau said that unusually cold temperatures during this year's Lunar New Year holiday caused a surge in emergency room visits at hospitals in the county.
Visits to emergency rooms during the first five days of the holiday were up 39.5 percent from the same period last year, rising from 6,994 visits last year to 9,701 this year, the bureau said.
The number of people treated for acute or severe conditions also increased, with the number of level 1 triage patients rising by 28.3 percent and the number of level 2 triage patients increasing by 37.5 percent.
The bureau said that Pingtung Christian Hospital registered 2,136 emergency room visits between Saturday and Thursday, with most patients having respiratory and gastrointestinal conditions.
Thirty-one people had to be resuscitated at the hospital, the bureau said.
So far this year, about 40 percent of people seeking medical treatment at the hospital had respiratory conditions, such as acute upper respiratory infection, acute nasopharyngitis, influenza or acute bronchitis, the hospital said.
People with chronic diseases such as high blood pressure or diabetes should pay attention to weather changes and their diet, and take medicine according to their doctor's advice, the bureau said.
"Don't stop taking medicine because of travel or dinner [arrangements] that will cause blood pressure and blood sugar to fluctuate," it said.
Comments will be moderated. Keep comments relevant to the article. Remarks containing abusive and obscene language, personal attacks of any kind or promotion will be removed and the user banned. Final decision will be at the discretion of the Taipei Times.