Ukraine support to be Japan's priority at the G7: diplomat
Japan, this year's chair of the G7, expects Russia's invasion of Ukraine to dominate talks among the world's major advanced economies, Japanese Vice Minister of Finance for International Affairs Masato Kanda said.
"Sanctions against Russia and support for Ukraine will be a top priority at G7 financial leaders' meetings under Japan's chair," said Kanda, who is to oversee G7 deputy-level talks on economic policy this year.
Among other issues at the top of the G7 agenda would be global debt problems, he said.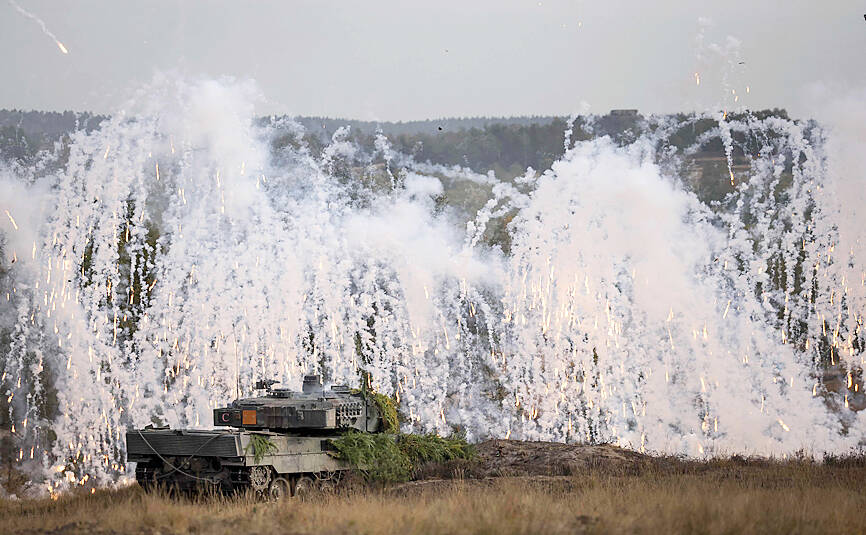 A Leopard 2 battle tank throws fog grenades during a drill in Ostenholz, Germany, on Oct. 17 last year.
Photo: AFP
Kanda's comments came after the US and Germany on Wednesday announced deliveries of top-of-the-line battle tanks to Ukraine, sweeping aside their long-standing misgivings and signaling a new surge of Western support for an expected counteroffensive against the Russian invasion.
In a televised address, US President Joe Biden promised 31 Abrams tanks, one of the most powerful US weapons.
Shortly before, German Chancellor Olaf Scholz gave the green light to Germany sending 14 Leopard 2 tanks, a decision that is expected to prompt several other European countries armed with Leopards to send their own contributions.
Although Western countries have already sent Ukraine everything from artillery to Patriot anti-missile defense systems, tanks were long considered a step too far, risking a widening backlash from Russia.
However, with Ukraine gearing up for a counteroffensive to push back increasingly entrenched Russians in the east and south, its allies are now scrambling to send the powerful weapons.
On Wednesday, an official from a European country said his government had approved a shipment of cluster munitions — a controversial weapon that Russia has been criticized for using — to Ukraine, and was awaiting German approval of that transfer.
A UN treaty backed by most Western countries bans the use and transfer of cluster bombs, which spread dozens of tiny explosives, and often continue posing a threat long after a conflict ends.
The latest twist in the biggest European conflict since World War II came as Russian forces tightened the screws on Bakhmut, an eastern town that Ukrainian forces have held for months in the face of mass artillery bombardments and what defenders describe as human wave attacks.
Ukrainian Deputy Minister of Defense Ganna Malyar said that Russia, with its "superior number of soldiers and weapons," was "trying to break through" in the Donetsk region.
Near Soledar, a frontline town that was this month captured by Russian troops, a Ukrainian unit commander said that his troops were outnumbered.
"They use people as cannon fodder," he said. "We shoot and shoot and shoot, but after five minutes another wave of 20 enemies is coming at us."
Comments will be moderated. Keep comments relevant to the article. Remarks containing abusive and obscene language, personal attacks of any kind or promotion will be removed and the user banned. Final decision will be at the discretion of the Taipei Times.