Two dead after ship sinks between Japan, S Korea
Two crew members were confirmed dead and nine others were missing yesterday after their cargo ship sank in rough waters between Japan and South Korea, Japanese authorities said.
Coast guards from the two countries, joined by military aircraft and a private vessel, located 13 of the 22 people who were onboard the Hong Kong-registered Jin Tian, a Japan Coast Guard official said.
However, Japanese medical authorities later confirmed two of those retrieved were dead, the official said.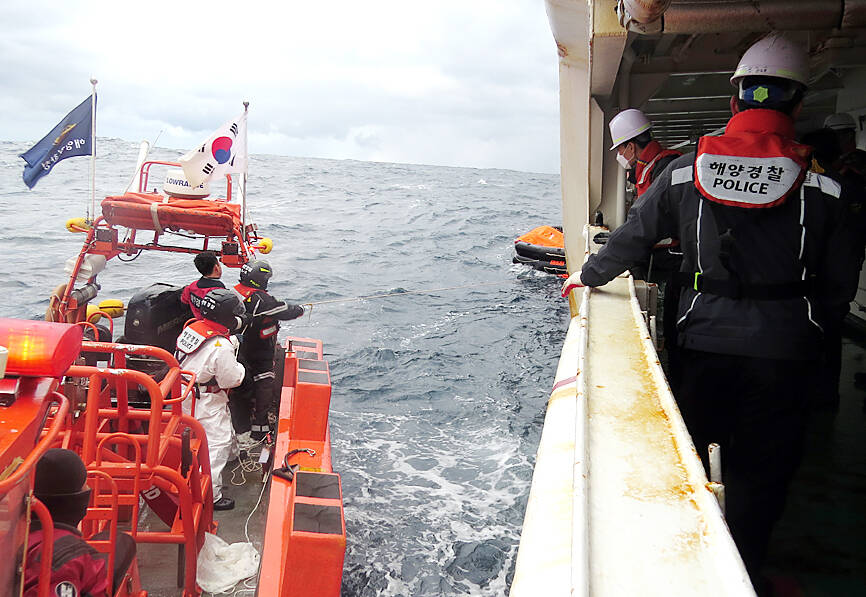 A handout photo made available by the Korean Coast Guard shows members of the coast guard engaging in a search-and-rescue operation in waters 148km southeast of Seogwipo, Jeju Island, South Korea, yesterday after the Jin Tian cargo ship carrying 22 crew members sank off the southern island.
Photo: EPA-EFE
Six of the rescued crew members remained unconscious, while five were conscious, a Reuters report quoting Kyodo News Agency said.
The crew were from China and Myanmar, but the precise identities of the dead, rescued and missing remained unclear, he said.
"Our vessels will remain in the area and will continue the search operation throughout the night," he added.
The 6,651-tonne Jin Tian sent a distress signal late on Tuesday evening from a position about 110km west of the remote and uninhabited Danjo Islands in far southwestern Japan.
Three private ships were in the area and helped pick up five of the stranded crew members, the Japan Coast Guard said.
Multiple vessels and aircraft from Japan's coast guard and military, as well as the South Korean coast guard and a private ship, were involved in the search operation.
The ship's captain used a satellite phone to tell South Korean coast guard officials that he and the crew would abandon the sinking ship in the early hours of yesterday morning, the Jeju Coast Guard said.
Contact with the crew was then lost.
The accident came as a cold snap hit much of Asia, with daytime temperatures in some of Japan's islands nearest the rescue site reaching just 3oC.
Comments will be moderated. Keep comments relevant to the article. Remarks containing abusive and obscene language, personal attacks of any kind or promotion will be removed and the user banned. Final decision will be at the discretion of the Taipei Times.