CPC to keep fuel prices unchanged over holiday
State-run oil refiner CPC Corp, Taiwan (CPC, 台灣中油) yesterday said that it would leave its gasoline and diesel prices unchanged this week, despite a spike in international crude prices this week.
CPC said the decision not to increase fuel prices based on market trends was made in line with government policy to keep domestic fuel prices and consumer prices stable during the Lunar New Year holiday, which ends on Sunday.
Prices at CPC gas stations are to remain unchanged at NT$27.8 per liter for super diesel, NT$29.1 per liter for 92-octane unleaded gasoline, NT$30.6 per liter for 95-octane unleaded gasoline and NT$32.6 per liter for 98-octane unleaded gasoline, the company said.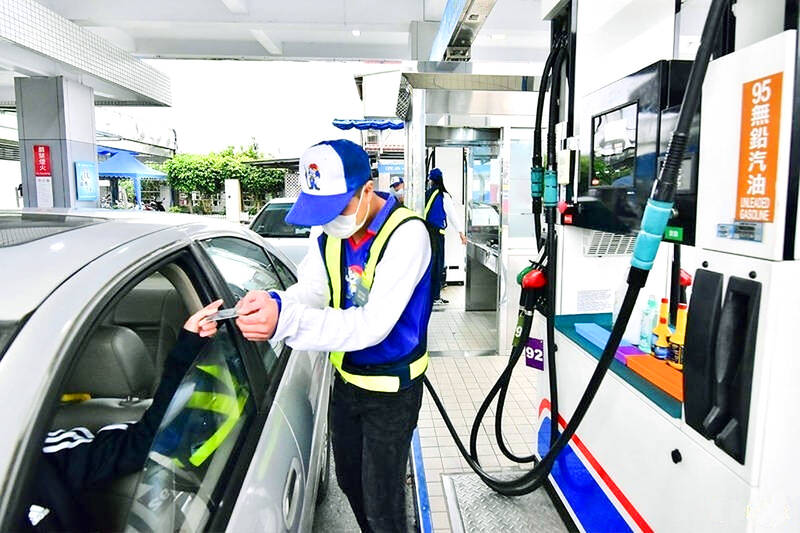 A gas station worker serves a driver in Taipei in an undated photograph.
Photo: Chung Li-hua, Taipei Times
On Friday, international crude oil prices closed at their highest levels since the middle of November last year amid rising optimism over demand from China after Beijing eased its COVID-19 restrictions.
West Texas Intermediate for March delivery on Friday climbed US$1.03 from a day earlier to US$81.64 in New York.
Brent for March delivery rose US$1.47 to US$87.63 per barrel in London.
CPC calculates its weekly fuel prices based on a weighted oil price formula made up of 70 percent Dubai crude and 30 percent Brent crude.
Based on the mechanism, gasoline and diesel prices should have increased 4.18 percent, CPC said.
As CPC keeps fuel prices unchanged until Sunday, it would absorb additional costs of NT$1.2 per liter for gasoline and NT$1.4 per liter for diesel during the period.
The government requires CPC to keep gasoline and natural gas prices in Taiwan lower than those in neighboring economies such as Japan, South Korea, Hong Kong and Singapore.
Comments will be moderated. Keep comments relevant to the article. Remarks containing abusive and obscene language, personal attacks of any kind or promotion will be removed and the user banned. Final decision will be at the discretion of the Taipei Times.