China, Philippines agree to peaceful dispute resolution
China and the Philippines have agreed to establish a direct communications channel between their foreign affairs ministries to peacefully resolve disputes in the South China Sea, they said in a joint statement yesterday.
The countries signed 14 agreements aimed at cooling security tensions and boosting economic cooperation, which comes as both sides strive to mend a relationship hurt after the Philippines sought a 2016 ruling that invalidated China's expansive claims in the South China Sea.
The Philippines has previously raised concerns over reported Chinese construction activities and the "swarming" of Beijing's vessels in disputed waters of the South China Sea, an area rich in oil, gas and fishery resources.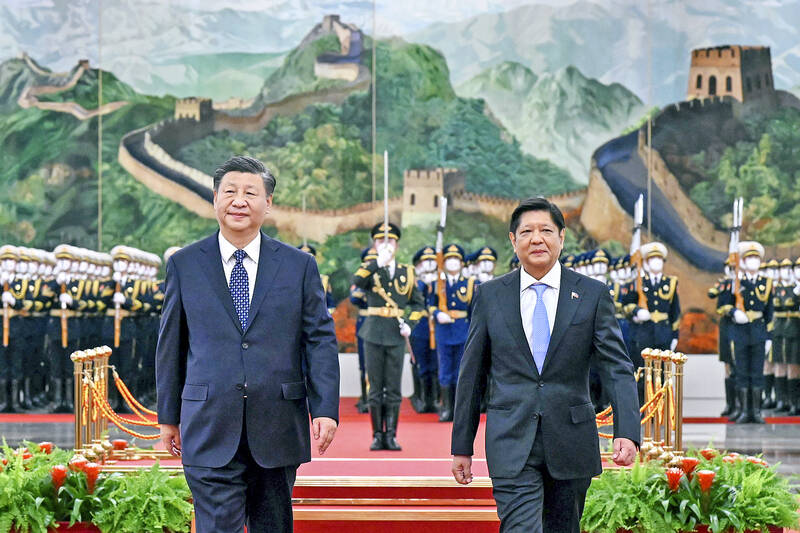 Chinese President Xi Jinping, left, and Philippine President Ferdinand Marcos Jr attend a ceremony at the Great Hall of the People in Beijing on Wednesday.
Photo: AP
Philippine President Ferdinand Marcos Jr and Chinese President Xi Jinping (習近平) said that their countries would respect each other's sovereignty and territorial integrity, the statement said, issued after the leaders met in Beijing on Wednesday.
The presidents agreed to resume talks on oil and gas exploration in the South China Sea and discuss maritime differences amicably after meeting in Beijing on Wednesday, a move that potentially paves the way for easing of recent tensions.
Xi also pledged to compromise on Philippine fishers' rights in disputed parts of the sea, a statement from Marcos' office said.
They also agreed to discuss cooperation on areas including solar, wind, electric vehicles and nuclear power.
Both countries are to inform each other before firing rockets and cooperate on the retrieval of rocket debris, the statement said.
When debris from a Chinese rocket fell in the South China Sea in November last year, a Chinese coast guard ship stopped a Philippine boat from trying to tow it away.
The countries reaffirmed the importance of maintaining peace and stability, as well as freedom of navigation and overflight, in the South China Sea, and plan to hold an annual dialogue on security, the statement said.
On economic cooperation, China agreed to allow more Philippine imports, with the aim for bilateral trade to revert to or surpass volumes recorded before the COVID-19 pandemic.
Both sides also promised to boost tourist numbers and flights between both capitals to pre-pandemic levels.
The countries also agreed to cooperate on COVID-19 vaccine procurement, it said.
China is among the world's top exporters of COVID-19 vaccines.
Marcos' three-day visit to Beijing comes as China re-emerges from a self-imposed border shutdown since the COVID-19 pandemic began in 2020, which has disrupted trade and hurt its economy.
Both sides also renewed an agreement on the Belt and Road Initiative, Xi's signature strategy on overseas infrastructure investment.
Additional reporting by Bloomberg
Comments will be moderated. Keep comments relevant to the article. Remarks containing abusive and obscene language, personal attacks of any kind or promotion will be removed and the user banned. Final decision will be at the discretion of the Taipei Times.