Tsai seeks to finalize conscription plan
INCREASING THREATS: The announcement that talks on extending conscription would be held next week came as China sent 39 military planes into the airspace near Taiwan
President Tsai Ing-wen (蔡英文) is seeking to finalize a plan to extend conscription at meetings with senior officials next week, Presidential Office spokesman Xavier Chang (張惇涵) said on Wednesday.
The statement came after Tsai wrote on social media that she would next week begin holding meetings on the economy and national security.
Chang said the plan would also seek to bolster military training and boost Taiwan's defensive capabilities.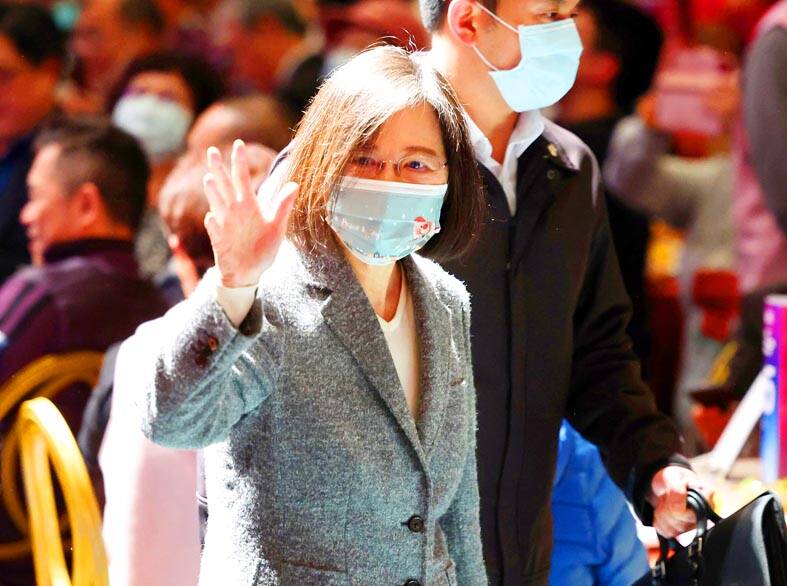 President Tsai Ing-wen waves in Taipei on Tuesday.
Photo: CNA
Conscripts play a supporting role in the military, with 160,000 of the about 215,000 troops being volunteers.
As of last year, women, who are exempted from the draft, but can serve voluntarily, made up 15 percent of Taiwan's military personnel.
The government is reportedly planning to extend conscription for men aged 18 or older to one year from four months, as the nation faces growing threats from China.
China's military harassment of Taiwan has intensified over the past few years, and Beijing has sent military planes and ships toward the nation on a near-daily basis.
Beijing yesterday sent 39 planes, including a reconnaissance drone, and three ships near Taiwan in a 24-hour display of force, the Ministry of National Defense said, adding that 29 of the aircraft entered the nation's air defense identification zone.
From 6am on Wednesday to 6am yesterday, 30 planes crossed the median of the Taiwan Strait, it said.
The planes flew to the nation's southwest and then horizontally to the southeastern coast before turning back, flight patterns provided by the government showed.
Among them were 21 J-16 fighter jets, four H-6 bombers, four Xian H-6 bombers, one Z-9 anti-submarine warfare helicopter, one Y-20 aerial refueling aircraft and two KJ-500 early-warning aircraft, the government said, identifying the drone as a CASC Rainbow CH-4.
The government said it monitored the Chinese moves through its land-based missile systems.
Taiwan also dispatched combat air patrol aircraft and navy vessels in response to the incursions, it said.
China's latest incursions came after Beijing in August held large military exercises encircling the nation after US House of Representatives Speaker Nancy Pelosi visited Taiwan early that month. In its largest military exercises aimed at Taiwan in decades, China fired missiles over Taiwan proper, sparking a diplomatic protest from Tokyo, as some of the missiles fell into Japan's exclusive economic zone.
In her social media post, Tsai also touched on the Democratic Progressive Party's (DPP) heavy defeats in the local government elections on Nov. 26.
Tsai stepped down as DPP chairperson after the party's candidates won only five of the 22 mayoral and county commissioner elections last month.
Describing the outcomes of the elections as a "warning sign" to her administration, Tsai pledged to do more for those negatively affected by the COVID-19 pandemic, the rising cost of living and economic volatility.
Additional reporting by AP
Comments will be moderated. Keep comments relevant to the article. Remarks containing abusive and obscene language, personal attacks of any kind or promotion will be removed and the user banned. Final decision will be at the discretion of the Taipei Times.