N Korea threatens military steps against Japan
North Korea yesterday threatened to take a "resolute and decisive military step" against Japan, while it criticized Tokyo's adoption of a national security strategy as an attempt to turn the country into "an offensive military giant."
Pyongyang's statement came four days after Japan announced a security strategy that includes a counterstrike capability against enemy targets and doubles its military spending to gain a more offensive footing against threats from China and North Korea.
The North Korean Ministry of Foreign Affairs said in a statement that Japan's push to acquire counterstrike capability has nothing to do with self-defense, but is a clear attempt to acquire "pre-emptive attack capability meant to launch strikes on other countries' territories."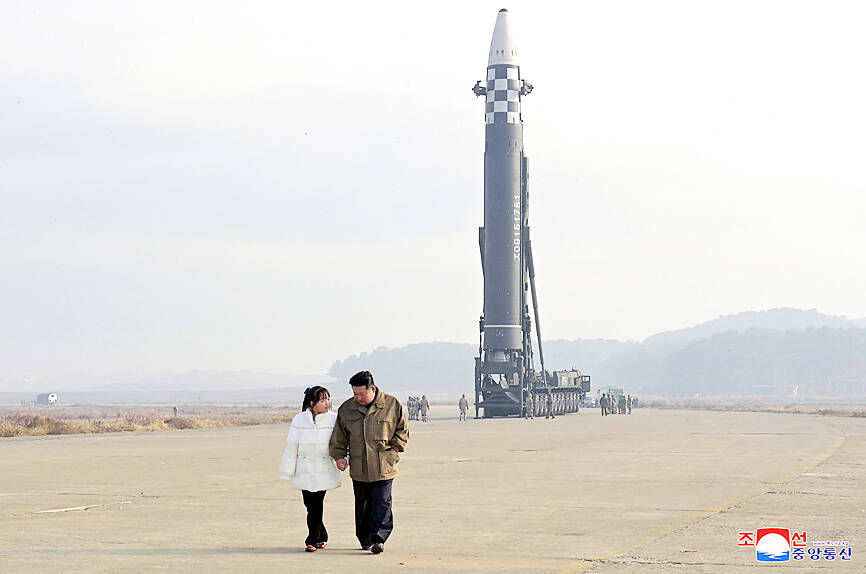 North Korean leader Kim Jong-un, right, and his daughter near an intercontinental ballistic missile in an undated photograph released on Nov. 19 by the Korean Central News Agency.
Photo: Reuters
"Japan's foolish attempt to satiate its black-hearted greed — the building up of its military invasion capability under the pretext of [North Korea's] legitimate exercise of the right to self-defense — cannot be justified and tolerated," a ministry spokesperson said in a statement carried by state media.
The statement accused the US of supporting and instigating the Japanese military ambitions, and undermining regional peace.
Such US moves are forcing North Korea to work hard to complete its plans to develop new strategic weapons to thwart enemy attempts to invade it, the statement said.
North Korea wants to make sure it can take "a resolute and decisive military step" to protect its sovereignty and national interests in the wake of the complexity of regional security caused by the Japanese strategy, it said.
"Our country will continue to take actions to show how much we are concerned and displeased with Japan's unjust, greedy attempt to realize its wild ambitions," the statement said.
North Korea's pursuit of nuclear missiles is a major security concern for Japan.
The Japanese strategy names China as "the biggest strategic challenge" — before North Korea and Russia — to Tokyo's efforts to ensure peace, safety and stability.
Chinese Ministry of Foreign Affairs spokesman Wang Wenbin (汪文斌) last week said that "hyping up the so-called China threat to find an excuse for [Japan's] military buildup is doomed to fail."
On Tuesday, South Korean Ministry of Foreign Affairs spokesman Lim Soo-suk reiterated a government position that Seoul wants Tokyo to seek its consent if it plans to take any actions that affect South Korean national security, such as the use of pre-emptive strikes on the Korean Peninsula.
Comments will be moderated. Keep comments relevant to the article. Remarks containing abusive and obscene language, personal attacks of any kind or promotion will be removed and the user banned. Final decision will be at the discretion of the Taipei Times.