Poll shows China bans and conscription trends
About 60 percent of respondents did not blame the government for import restrictions imposed on Taiwanese goods by Beijing, while nearly three-quarters supported extending mandatory military conscription to one year, a poll released yesterday by the Taiwan Public Opinion Foundation showed.
However, Beijing's policy of using trade issues to promote pro-unification sentiment is having an effect, as 30.9 percent of respondents said they blame Taipei for a spate of Chinese import bans on Taiwanese products, foundation chairman Michael You (游盈隆) said.
Asked about President Tsai Ing-wen's (蔡英文) handling of state affairs, including political appointments and policies, 46.6 percent said they were dissatisfied, 37.5 percent were satisfied, 11.4 percent had no opinion and 4.7 percent did not know, the poll showed.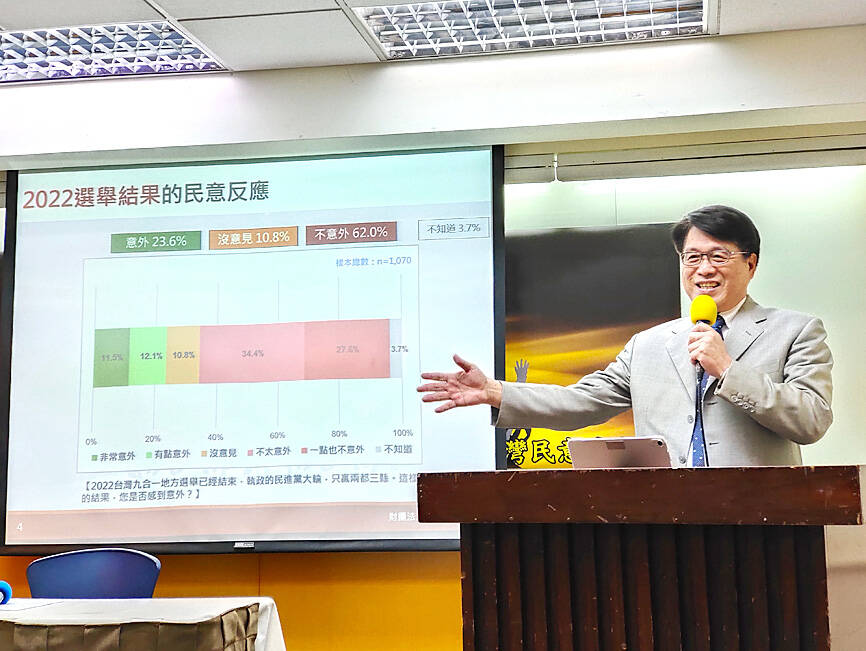 Taiwan Public Opinion Foundation chairman Michael You speaks at a news conference in Taipei yesterday.
Photo: Wang Yi-sung, Taipei Times
Compared with the foundation's October poll, support for Tsai fell from 51.2 percent to 37.5 percent, a 13.7 percentage point drop in just two months.
In other political matters, 24.7 percent said they supported the Democratic Progressive Party (DPP), 25.1 percent backed the Chinese Nationalist Party (KMT), 17.7 percent favored the Taiwan People's Party (TPP), 4.5 percent supported the New Power Party, 2.5 percent backed the Taiwan Statebuilding Party, 1.5 percent supported other parties, 22 percent said they did not support any party and 1.2 percent said they did not know, it showed.
On extending conscription to one year, 73.2 percent said they agreed that the minimum mandatory service should be one year, while 17.6 percent disagreed and 9.2 percent had no opinion, did not know or refused to answer, the data showed.
The results show that extending military service to one year from four months is the public consensus, You said.
Sixty-nine percent said that in light of Chinese threats to use force to unify with Taiwan, four months was unreasonable, while 20.6 percent said it was reasonable, the poll showed.
Regarding political figures, 64.2 percent of respondents said they view New Taipei City Mayor Hou You-yi (侯友宜) of the KMT in a favorable light, 20.7 percent were ambivalent, 8.1 percent disliked him and 6.9 percent said they did not know.
Fifty-four percent said they viewed Vice President William Lai (賴清德) of the DPP favorably, 34.2 percent were ambivalent, 11.1 percent disliked him and 6.4 percent did not know.
Asked about Taipei Mayor Ko Wen-je (柯文哲) of the TPP, 42.9 percent said they viewed him favorably, 27.7 percent were ambivalent, 23.2 percent disliked him and 6.1 percent said they did not know.
In a hypothetical contest between Hou, Lai and Ko for the presidency, the poll showed that Hou would win with 38.7 percent of the vote to Lai's 29 percent and Ko's 17.8 percent.
If Taoyuan Mayor Cheng Wen-tsan (鄭文燦) were to run on the DPP ticket instead of Lai, he would place third with 17.9 percent of the vote, behind Hou with 43.6 percent and Ko with 17.9 percent, the survey showed.
The survey was conducted on Monday and Tuesday last week. It randomly selected landlines from across Taiwan, polling people aged 20 or older.
It garnered 1,070 valid responses and had a confidence level of 95 percent and margin of error of 3 percentage points.
Comments will be moderated. Keep comments relevant to the article. Remarks containing abusive and obscene language, personal attacks of any kind or promotion will be removed and the user banned. Final decision will be at the discretion of the Taipei Times.