MND urged to implement one-year conscription
The Taiwan Association of University Professors yesterday urged the government to quickly announce and implement a policy of extending the conscription period from four months to one year.
The world is watching whether Taiwan would extend the conscription period in the face of military threats from China, former minister of national defense Michael Tsai (蔡明憲) told a news conference in Taipei.
"We hope that President Tsai Ing-wen (蔡英文), Premier Su Tseng-chang (蘇貞昌), Chinese Nationalist Party (KMT) Chairman Eric Chu (朱立倫) and Vice President William Lai (賴清德), who is running for Democratic Progressive Party chairman, could rise above party politics to support the policy in defense of national security," he said.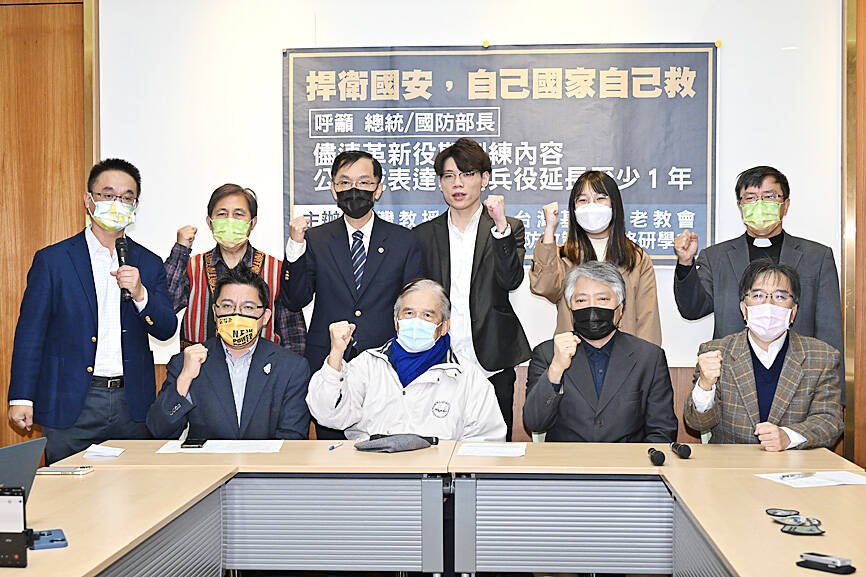 The Taiwan Association of University Professors and former minister of national defense Michael Tsai, front row second left, host a news conference at the legislature in Taipei yesterday.
Photo: Tu Chien-rong, Taipei Times
Minister of National Defense Chiu Kuo-cheng (邱國正) earlier this year said that the policy was to be implemented this month, but the Ministry of National Defense (MND) and the Presidential Office said that officials are still discussing the policy, Michael Tsai said.
The government should not delay the new policy any longer, given that 74 percent of the public support it, he said.
Michael Tsai said that in 2018 he strongly opposed the government's policy of reducing the conscription period to four months, adding that Tsai Ing-wen should take the responsibility to extend it again.
Yu Tsung-chi (余宗基), former commandant of Fu Hsing Kang College at National Defense University, said that Russia's war in Ukraine has shown that totalitarian states invade democratic nations.
Although the US Congress last week passed the National Defense Authorization Act, which would authorize loans to Taiwan of up to US$2 billion from next year to 2027 to acquire military hardware, Taiwan must respond to international support by extending the conscription period, Yu said.
"We cannot ask good friends to come and help us when we are in trouble and do absolutely nothing ourselves," Yu said.
Beijing has become more determined to take military action against Taiwan, Yu said, adding that many Western nations have warned that China would be capable of attacking Taiwan by 2027, and Taiwan must act before that happens as time is not on its side.
"Young people in Taiwan are not against extending the conscription period; they want the ministry to change the training methods so they can learn something new during the conscription period. The training must prepare them to fight technological wars as well," Yu said.
Association president Shiu Wen-tang (許文堂) said that winning a modern war requires the will to fight and to master technology.
"Once the conscription period is extended, we hope that conscripts would undergo real combat training based on the military branches they belong to, and learn to operate drones and other technologies, rather than plucking out weeds, growing vegetables and learning to kill with bayonets," Shiu said.
"Should the trend of an aging society continue, the government would only be able to recruit 50,000 military personnel by 2039," New Power Party Legislator Chiu Hsien-chih (邱顯智) said.
Separately, Veterans Affairs Council Minister Feng Shih-kuan (馮世寬), who served as defense minister from 2016 to 2018, said that extending the conscription period is a reasonable policy.
"Four months of military training is too short, and the ministry is studying the possibility of extending the period by taking into account international politics and other factors. People should respect the results of the studies, rather than criticizing them," Feng said.
Additional reporting by Aaron Tu
Comments will be moderated. Keep comments relevant to the article. Remarks containing abusive and obscene language, personal attacks of any kind or promotion will be removed and the user banned. Final decision will be at the discretion of the Taipei Times.