German minister to visit for first time in 26 years
German Minister of Education and Research Bettina Stark-Watzinger is scheduled to visit Taiwan next year, which would be the first time in 26 years that Taiwan is to host a visiting German ministerial-level official.
Stark-Watzinger's planned visit to Taiwan was revealed on Monday by her Free Democratic Party (FDP) colleague Peter Heidt, who led the Bundestag's Committee on Human Rights and Humanitarian Aid on a visit to Taiwan in October.
A visit to Taiwan by Stark-Watzinger next year would be significant in enabling Germany to advance its relationship with Taiwan, Heidt told a forum in Berlin.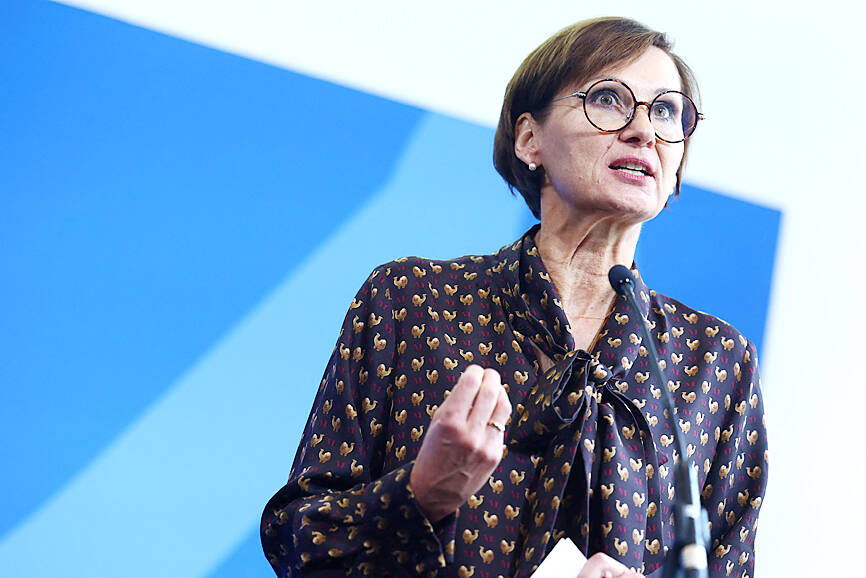 German Minister of Education and Research Bettina Stark-Watzinger speaks about immigration in Berlin, Germany, on Nov. 30.
Photo: Reuters
Digitalization, culture, academia and legal affairs are some areas in which Germany and Taiwan can expand bilateral exchanges, Heidt said at the forum titled "Democracies in Dialogue: Democratic Change and Human Rights in Taiwan."
The last time a German minister visited Taiwan was then-German minister for economics Gunther Rexrodt in 1997.
Since German Chancellor Olaf Scholz and his coalition, which includes the FDP, took office in December last year, relations between Taiwan and Germany have warmed, with Germany highlighting Taiwan as a "value partner," and an important economic partner.
Minister of Culture Lee Yung-te (李永得) visited Germany in June, meeting with German Commissioner for Culture and the Media Claudia Roth at the Bundestag, while National Science and Technology Council Minister Wu Tsung-tsong (吳政忠) also visited Germany as part of his trip to Europe last month and met with Stark-Watzinger.
The trips by Lee and Wu were both the first such visits by Taiwanese ministers.
Meanwhile, Petra Sigmund, director-general for East Asia, Southeast Asia and the Pacific at the German Foreign Office, and Franziska Brantner, German parliamentary state secretary at the Federal Ministry for Economic Affairs and Climate Action, both visited Taiwan this year.
The forum on Monday was held by the German-Taiwanese Association and was attended by National Human Rights Commission Chairwoman Chen Chu (陳菊), who is leading a delegation on a visit to France and Germany focusing on human rights issues.
Comments will be moderated. Keep comments relevant to the article. Remarks containing abusive and obscene language, personal attacks of any kind or promotion will be removed and the user banned. Final decision will be at the discretion of the Taipei Times.