China seeking justification for future attacks: Wu
China is seeking justification for future military action against Taiwan by making frequent incursions into Taiwan's air defense identification zone, Minister of Foreign Affairs Joseph Wu (吳釗燮) told the Guardian in an interview published yesterday.
"The Chinese may want to use another pretext of practicing their future attacks against Taiwan," Wu told the British newspaper.
The military threat from Beijing is "getting more serious than ever," as its warplane incursions into Taiwan's air defense identification zone have increased five-fold since 2020, he said.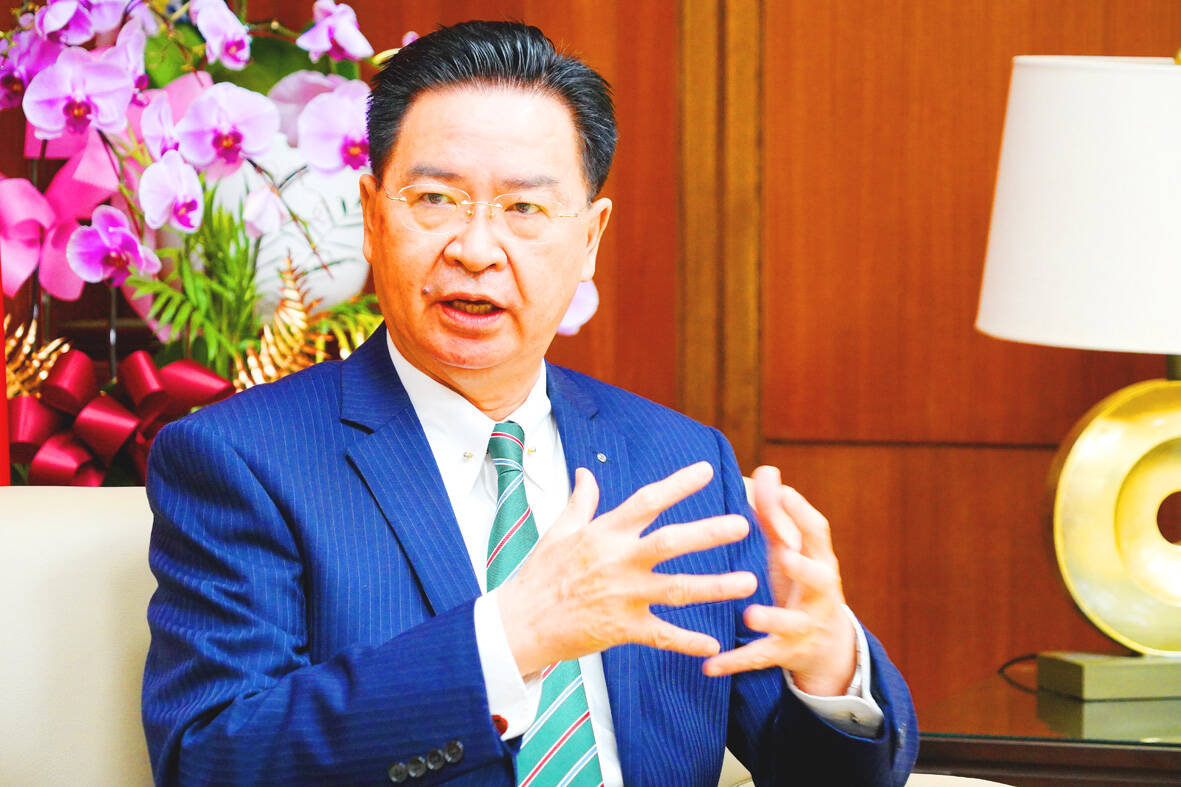 Minister of Foreign Affairs Joseph Wu gestures in an interview with the "Guardian" on Dec. 6 in Taipei.
Photo courtesy of the Ministry of Foreign Affairs
One of the most serious military actions was the air and sea live-fire exercises launched by China after US House of Representatives Speaker Nancy Pelosi's visit to Taiwan in August, the Guardian said.
In addition to the military threat, Beijing has tried to exert pressure on Taiwan through economic coercion, cyberattacks, and cognitive and legal warfare, as well as isolating Taiwan diplomatically on the global stage, Wu said.
After Chinese President Xi Jinping (習近平) secured a third term at the Chinese Communist Party congress in October, "cross-strait communications may diminish even further," Wu was quoted as saying.
Taiwan used to maintain some lines of communication with the Chinese side through Taiwanese businesspeople and academics, but those ties were severed as Xi purged CCP rivals at the congress.
In response to the growing threat from Beijing, the Taiwanese government has been gathering support from like-minded international partners, especially democratic countries, over the past few years, Wu said.
However, Beijing's retaliatory actions against Pelosi's visit "might cause concern in other countries [about] whether their support for Taiwan is going to actually damage Taiwan's national interest rather than providing real support to Taiwan," Wu said.
Asked about Australia's relationship with Taiwan and China, Wu said that Canberra was facing "a balancing act," referring to an Australian parliamentary delegation that arrived in Taiwan last week for a five-day visit, while it seeks to repair its relationship with Beijing.
However, "we don't question the support of the Australian government, the Australian parliament, and Australian people for Taiwan," he told the Guardian.
Comments will be moderated. Keep comments relevant to the article. Remarks containing abusive and obscene language, personal attacks of any kind or promotion will be removed and the user banned. Final decision will be at the discretion of the Taipei Times.