Taipei plans China import ban reaction
BLAME GAME: The MAC said China was purposefully inconveniencing Taiwanese firms, while Beijing said they had not supplied data required for its new registration system
The government might file a complaint with the WTO after learning on Friday night that China was blocking imports of dozens of alcohol and other beverage products from Taiwan, only two days after suspending imports of several Taiwanese seafood products, Premier Su Tseng-chang (蘇貞昌) said yesterday.
China's ban on shipments of Taiwan-made beer, liquor and other beverages contravened the rules of the WTO, and Taipei would communicate with Chinese authorities to resolve the situation, Su said, adding that the government would assist companies affected by the bans.
Imports of 11 of 28 beer and distillery items registered by Taiwanese exporters were suspended on Friday, with affected suppliers including Taihu Brewing (台虎精釀), Kinmen Kaoliang Liquor Inc (金門酒廠), King Car Food Industrial Co (金車企業), Legend Brewery Co (傳奇酒業), Win Shan International Co (雲山酒廠) and state-owned Taiwan Tobacco and Liquor Corp (TTL, 台灣菸酒公司), the Chinese General Administration of Customs Web site said.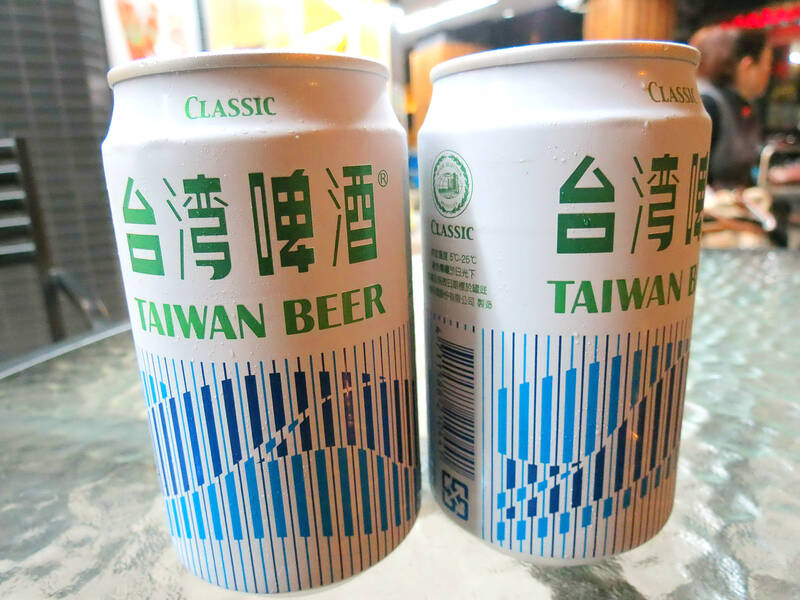 Cans of Taiwan Beer are pictured in Taichung in an undated photograph. Warning: Excessive consumption of alcohol can damage your health.
Photo: Chang Hsieh-sheng, Taipei Times
Shipments of 123 of 354 beverages registered by Taiwanese exporters were also suspended, with affected companies including HeySong Corp (黑松), Vitalon Foods Co (維他露), Uni-President Enterprises Corp (統一企業), Taisun Enterprise Co (泰山企業), Oceanic Beverages Co (大西洋飲料) and King To Nin Jiom Medicine (京都念慈菴藥廠), the Web site said.
The import registration authorization of some of the affected companies was not due to expire until 2026 or 2027.
The suspension of beer, liquor and other beverage shipments from Taiwan came just two days after Chinese customs authorities banned some of Taiwan's fishery products, citing a failure to comply with a new customs registration system that China introduced last year. Exporters of squid, Pacific saury and fourfinger threadfin are most affected.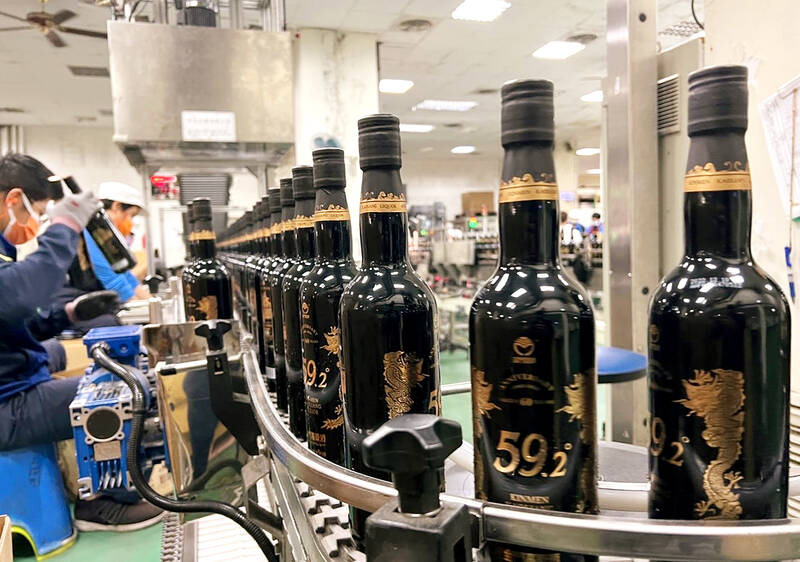 Bottles of Kinmen Kaoliang Liquor are pictured on a production line at the Kinmen Kaoliang Liquor Inc in Kinmen yesterday. Warning: Excessive consumption of alcohol can damage your health.
Photo: Wu Cheng-Ting, Taipei Times
China's Taiwan Affairs Office spokeswoman Zhu Fenglian (朱鳳蓮) on Friday said that the new registration system, which was introduced in April last year in a bid to enhance food safety, came into effect on Jan. 1.
Some of Taiwan's food exporters had failed to provide all of the information required for registration so they were unable to secure approval to ship their products to China, Zhu said.
It is normal for a country to protect its food safety, she said, urging suppliers to provide the necessary information to register.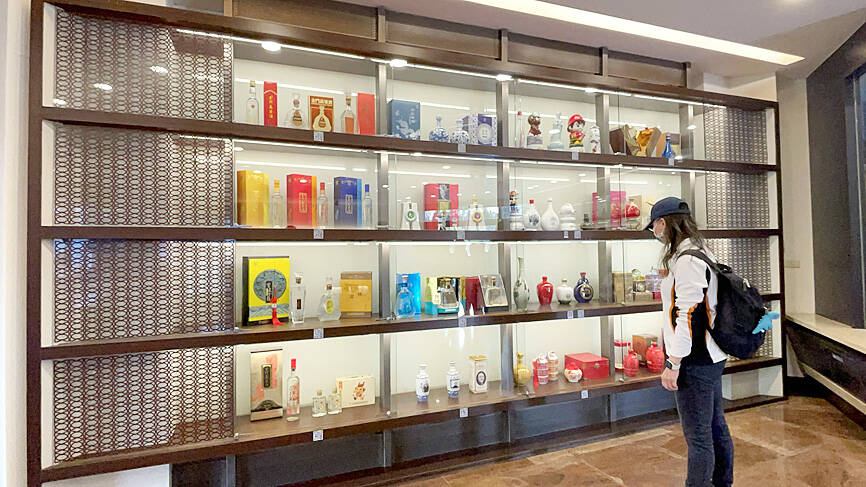 A woman looks at a display of products sold by Kinmen Kaoliang Liquor Inc yesterday in Kinmen County. Warning: Excessive consumption of alcohol can damage your health.
Photo: CNA
The Mainland Affairs Council (MAC) yesterday said that China had purposefully inconvenienced exporters.
China has used food safety concerns as a pretext for interfering with bilateral trade, and such irrational behavior contravenes international trade norms and hurts cross-strait commercial exchanges, it said, calling on Beijing to observe normal trade practices and resume imports from Taiwan.
Cheng Wei-chih (鄭維智), deputy head of the Food and Drug Administration's (FDA) Division of Food Safety, said the FDA received a notice from Chinese customs authorities late on Friday afternoon saying that the affected Taiwanese exporters failed to provide the necessary information when registering.
However, Chinese authorities did not respond to a question from the FDA about what information was missing, he said, adding that the lack of clarity has caused trouble for companies.
Any firm affected can call the FDA's toll-free hotline, 0809-099-908, for help, Cheng said.
Kinmen Kaoliang Liquor spokesman Chen Qi-zhan (陳啟展) said that his company secured a qualification code from the Chinese customs service on Dec. 28 last year, which was supposed to be effective until Dec. 28, 2026.
However, the National Treasury Administration on March 24 informed Kinmen Kaoliang Liquor that it needed to provide additional information, including the origin of its raw materials, by April 30, which it did before mid-April, Chen said.
The information was passed to China by the FDA, he said, adding that the response his company received on Aug. 1 was that "the relevant logos and texts of the declaration of origin and other documents do not meet the requirements."
Kinmen Kaoliang Liquor then quickly submitted the relevant documents, he said, adding that the suspension would not hurt its operations in China for the time being.
TTL said it also adhered to Chinese customs rules for registration and secured a qualification code in January, citing a notice from Chinese customs authorities.
Later, it was informed that its registration had become "invalid" and that it must provide the necessary information by the end of August, which it did, TTL said.
At the beginning of September, its registration was listed as "valid" on the Chinese customs agency's Web site, TTL said, adding it had no idea why its qualification code became invalid on Friday.
The suspension would affect its imports for this month and is expected to cost the company about NT$1.3 million (US$42,453), TTL said, adding that while the loss might appear minor, it would seek clarification from Chinese authorities to protect its interests.
TTL said it also sells its products in markets such as South Korea, the EU, the Middle East and the US, so the suspension is expected to have only a limited effect on the company's operations.
Chinese Nationalist Party (KMT) Chairman Eric Chu (朱立倫) said that the government should take action and urge Beijing to consider the livelihoods of farmers and fishers when deciding policy.
The government's job is not simply to condemn Chinese policies, "the government must resolve problems for the people," Chu said.
There is no reason Taiwan should not be able to deal with Chinese regulations, while other countries, such as Japan, are complying with China's demands, he said.
The government has done nothing aside from condemning China and saying that it might file a complaint with the WTO, he said, adding that these are not the actions of a responsible government. Taipei must institute policies to deal with the situation, he said.
Taipei Mayor Ko Wen-je (柯文哲), who is chairman of the Taiwan People's Party, called on Beijing to rethink its import bans, saying that the move is likely to increase people's dislike of China in Taiwan and exacerbate already deteriorating cross-strait relations.
Former president Ma Ying-jeou (馬英九) said that disease and quality inspections for agricultural produce are among the 23 accords signed with China, and the Council of Agriculture should consider initiating negotiations with China.
The council has yet to take action, and the agency should explain why it is not using existing measures to handle such situations, Ma said.
Additional reporting by Jake Chung
Comments will be moderated. Keep comments relevant to the article. Remarks containing abusive and obscene language, personal attacks of any kind or promotion will be removed and the user banned. Final decision will be at the discretion of the Taipei Times.