Nvidia to relocate HK hub to Taiwan
UNDETERRED: The US chip designer's plan showed that Taiwan remains attractive for investment by global companies despite cross-strait tensions, Wang Mei-hua said
US graphics chip designer Nvidia Corp is planning to relocate its Hong Kong-based logistics center to Taiwan, Minister of Economic Affairs Wang Mei-hua (王美花) said on Wednesday.
The government had been in discussions with Nvidia regarding tax incentives to facilitate the move since last year, Wang said in an interview with the Central News Agency, adding that the two sides had reached a consensus.
Wang did not provide details about the timetable for the move or the planned tax arrangements for Nvidia.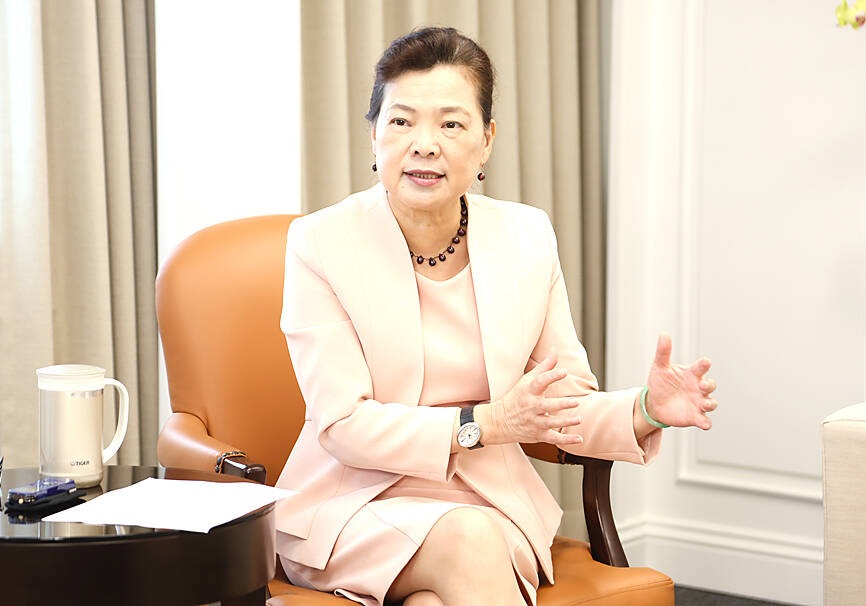 Minister of Economic Affairs Wang Mei-hua talks to reporters during an interview in Taipei on Wednesday.
Photo: CNA
The relocation would boost the local economy, as Taiwan Semiconductor Manufacturing Co (TSMC, 台積電) is a major supplier of graphics processing units (GPUs) for Nvidia and many local computer makers are the US firm's customers, Wang said.
Nvidia's decision showed that cross-strait tensions do not deter global tech companies from choosing Taiwan as a destination for investment, the minister said.
It is unclear whether the relocated logistics center would be involved in the distribution of components to Nvidia's partner plants or finished products.
Founded in 1993 by Jensen Huang (黃仁勳) in California, Nvidia is a designer and producer of GPUs, chips and related multimedia software.
The announcement came days after Dutch chipmaking equipment supplier ASML Holding NV said it would bolster its local operations by offering at least NT$1.6 million (US$51,568) in starting annual pay to engineers with a master's degree at its sites in Taiwan.
The major supplier to TSMC said it is keen to offer competitive compensation comprised of salaries, bonuses and other financial incentives as it seeks to expand its talent pool in Taiwan.
Those multinational companies' investments in Taiwan indicate the nation's crucial role in the world's semiconductor supply chain, Wang said.
Commenting on concerns about whether TSMC's investment in the US to make chips on 3-nanometer and 5-nanometer technologies would lead to Taiwan losing technological competitiveness, as Japan did when local tech companies expanded abroad, Wang said that Taiwan is different from Japan.
Taiwan does not compete directly with the US, but the countries collaborate with each other, Wang said.
Taiwanese companies are good at providing chip manufacturing foundry services, while US companies are specializing in chip design, she added.
TSMC builds up US capacity to supply customers with locally manufactured chips, Wang said, adding that the Hsinchu-headquartered company seeks to diversify manufacturing sites to mitigate risks.
It is most important that TSMC is committed to investing in the most advanced chips in Taiwan, Wang said.
The chipmaker is ramping up 3-nanometer chipmaking technology at its fab in Tainan and is preparing to build a new fab in Hsinchu at which 2-nanometer technology would be used, Wang said.
The company might also build a fab in Taoyuan that would introduce its 1-nanometer technology, she said.
Taiwan remains the primary chip manufacturing site for TSMC, she added.
Comments will be moderated. Keep comments relevant to the article. Remarks containing abusive and obscene language, personal attacks of any kind or promotion will be removed and the user banned. Final decision will be at the discretion of the Taipei Times.