China would face war crisis: CSIS
The consequences of invading Taiwan would be "grim" for Beijing even if it were a military success, the US-based Center for Strategic and International Studies (CSIS) said in a report on Tuesday.
Any success China might achieve in annexing Taiwan by force would be a "Pyrrhic victory," as its political, economic and diplomatic position would likely be worse than before, analysts Jude Blanchette and Gerard DiPippo wrote in the report.
"China will have gained Taiwan, but sacrificed its larger ambition of becoming a global and comprehensive superpower," they wrote.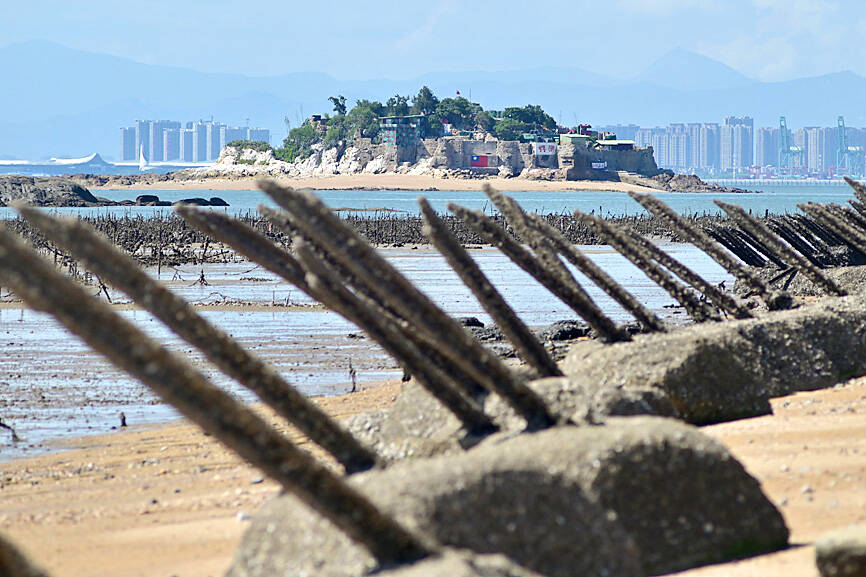 Anti-landing spikes on in Kinmen County's Lieyu Islet are pictured on Aug. 10 in front of a military outpost on Shihyu Islet, with the Chinese coast in the distance.
Photo: Sam Yeh, AFP
Beijing's military, economic and propagada preparations for war would be hard to conceal, and Washington would likely be at least partially alerted, which would lead to efforts to warn allies to counter the invasion via sanctions and the threat of military force, the report said.
Core US allies, including Australia, Japan and the UK, would likely coordinate a response to deter China, but a lot would depend on the credibility of Washington's intelligence and leadership at such a time, it said, adding that other governments could be slow to respond.
Were a conflict to begin, the damage to the global economy would be devastating, as commercial shipping would collapse, supply chains would be disrupted and financial markets would panic to a degree potentially exceeding the 2008 recession, it said.
Beijing would be more hard-hit by the crisis due to the measures it would have to take to sustain the war effort, likely including capital controls, sales of overseas assets, rationing, and hardening of military bases and population centers on its economically vital coast, Blanchette and DiPippo wrote.
Assuming that Taiwan were to resists the invasion and the US was engaged militarily, the war could become intense and protracted, resulting in extensive economic damage to China, they wrote.
A year-long conflict between the US and China would probably reduce China's GDP by 25 to 35 percent, while US GDP would fall 5 to 10 percent, they said, citing a RAND Corp study from 2016.
Maritime trade and air freight in and around the conflict zone crucial to China would be disrupted, as China's six largest ports are near Taiwan and would likely be affected, they said.
A substantial number of the multinational corporations that do business in China would likely flee the country to avoid risk to employees and business interests stemming from war, while exporters and parts-sourcing firms might redirect operations to safer regions, the report said.
Capital flight from China would take place as investors and firms race to avoid being affected by Western sanctions, it said, adding that sales of Chinese shares and holdings would cause the yuan to plummet.
Economic sanctions would be severe, assuming US forces are directly engaged, as Washington and the US public would not tolerate partners that continued to trade or invest in China, even if US military casualties were low, it said.
"A Western sanctions coalition could coalesce quickly, as happened after Russia's invasion of Ukraine, in part because of lessons learned and coordination mechanisms established in response to the sanctions against Russia," it said.
Taiwan's economy would be ravaged with disastrous consequences to China, as 60 percent of microchip exports from the country go to Chinese firms that produce electronics exported to the West, it said.
Even if victorious, China's political, economic and diplomatic challenges would be compounded, as Beijing would have to occupy, stabilize and rebuild a hostile territory that formerly enjoyed a higher standard of living than much of China, Blanchette and DiPippo wrote.
Moreover, Taiwan's semiconductor industry — including the world's largest contract chipmaker, Taiwan Semiconductor Manufacturing Corp (TSMC) — would be damaged beyond repair, while control of facilities would "only give China a snapshot of its technology," they wrote.
Semiconductor factories in a hypothetically occupied Taiwan would lose their value overseas, while TSMC's overseas facilities would be disconnected or absorbed by other firms, they wrote.
Even were Beijing to stave off US resistance, its relationship with other advanced economies would deteriorate significantly, which could lead to export controls and sanctions for months or years, the report said.
China would suffer more from the resulting trade barriers because G7 economies collectively are 65 percent larger than China's, and Beijing has little hope of overcoming its key dependencies in technology, commodities and US currency in the medium term, it said.
Furthermore, Asian countries in China's periphery would be driven into the arms of the US if Washington puts up a credible military performance, or if it failed, they would be spurred into increasing military spending and creating nuclear programs, the report said.
"The conclusion reached is stark: China would court disaster if it launched an invasion across the Taiwan Strait," it said, adding: "The key strategic challenge for the US remains to ensure Beijing never actively contemplates an attack on Taiwan."
While Beijing likely has a general understanding of the costs associated with a military venture in Taiwan, the growing isolation of Chinese President Xi Jinping (習近平) could "lead to groupthink in Beijing's policymaking" that raises the risk of miscalculation, it said.
Comments will be moderated. Keep comments relevant to the article. Remarks containing abusive and obscene language, personal attacks of any kind or promotion will be removed and the user banned. Final decision will be at the discretion of the Taipei Times.