Auditors in Iraq uncover staggering fraud of US$2.5bn
Auditors in Iraq have uncovered a massive scheme in which a network of businesses and officials embezzled about US$2.5 billion from the country's tax authority.
Iraqi Prime Minister Mohammed Shia al-Sudani has vowed to crack down on corruption.
The scale of the embezzlement — which was about 2.8 percent of the state budget for last year — is remarkable, even for an oil-rich country where corruption has been rampant for decades.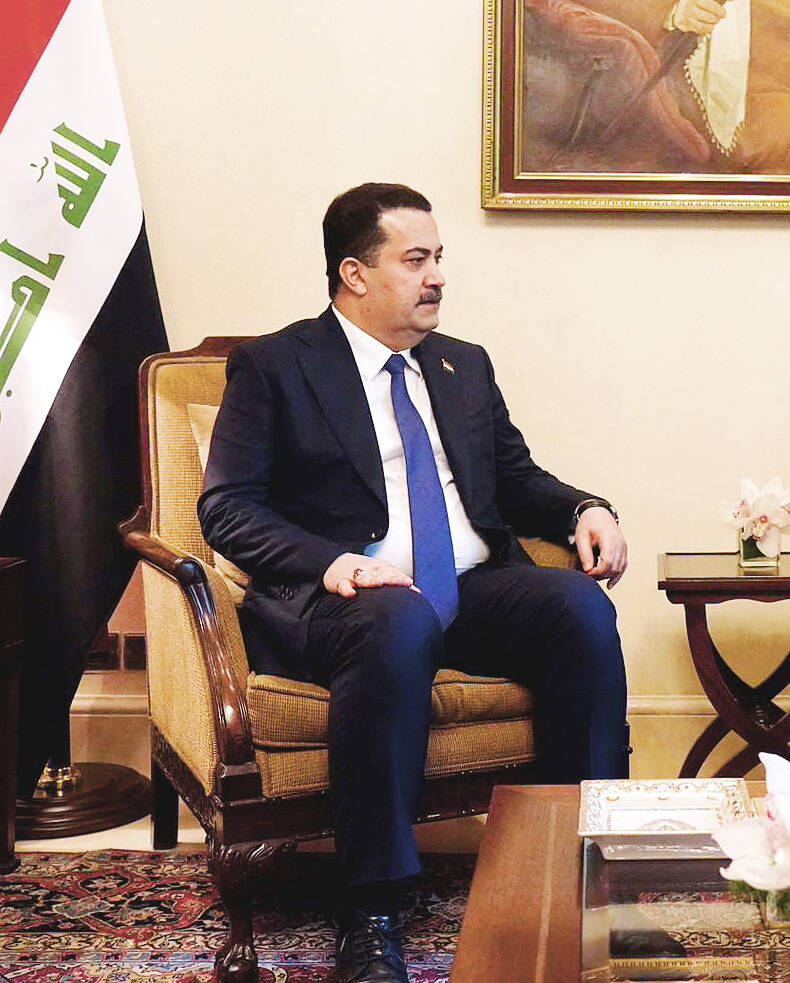 Iraqi Prime Minister Mohamed Shia al-Sudani attends a meeting in Amman on Monday.
Photo: AFP / HO / IRAQI PRIME MINISTER'S OFFICE
Transparency International, a global watchdog, last year rated Iraq 157th out of 180 countries on its index for clean governance.
The auditors' report suggests that the theft was orchestrated by a broad network of officials, civil servants and businesspeople.
"It was a very organized and agreed-upon process of theft," said Jamal al-Asadi, a legal expert and retired judge familiar with corruption cases.
Three officials confirmed details of the scheme.
All spoke on condition of anonymity, fearing reprisals.
The scheme came to light last month when an internal audit by the Iraqi Ministry of Finance alleged that the Iraqi General Commission for Taxes had fraudulently paid about 3.7 trillion dinars (US$2.5 billion) to five companies.
The payments were made through 247 checks cashed between Sept. 9 last year and Aug. 11 from a branch at the state-run Rafidain Bank within the tax commission.
The account held billions of dollars in deposits made by companies that were supposed to be returned to them once taxes had been deducted and the companies had presented updated financial statements.
The five companies are alleged to have fraudulently drawn refunds without depositing anything.
An audit was launched by then-Iraqi acting minister of finance Ihsan Abdul Jabbar, who discovered the theft after receiving complaints from an oil company unable to retrieve its tax deposits, a senior official close to the investigation said.
When Jabbar asked about the remaining balance in the account, the tax authority said it held about US$2.5 billion, but further inspection showed the actual balance was US$100 million, the official said.
That was the first indication of the massive theft. A subsequent audit presented to the Iraqi parliament's finance committee revealed the rest.
The audit found that the companies, three of which were established just weeks before the payments were made, submitted fake documents to be able to claim the payouts.
Auditors were unable to follow the money further because it was withdrawn in cash.
Comments will be moderated. Keep comments relevant to the article. Remarks containing abusive and obscene language, personal attacks of any kind or promotion will be removed and the user banned. Final decision will be at the discretion of the Taipei Times.