Chinese coast guard seizes debris from the Philippine navy
'CONSULTATION': China denied forcibly seizing the rocket debris, saying that it was handed over after a 'friendly' exchange with Philippine naval personnel
The China Coast Guard forcibly seized apparent Chinese rocket debris that was being towed by the Philippine Navy, in the latest confrontation in the disputed South China Sea, a Philippine military commander said yesterday.
A Chinese vessel twice blocked a Philippine naval boat before seizing the debris it was towing on Sunday off Philippine-occupied Thitu Island (Jhongye Island, 中業島), Philippine Navy Vice Admiral Alberto Carlos said.
He said no one was injured in the incident.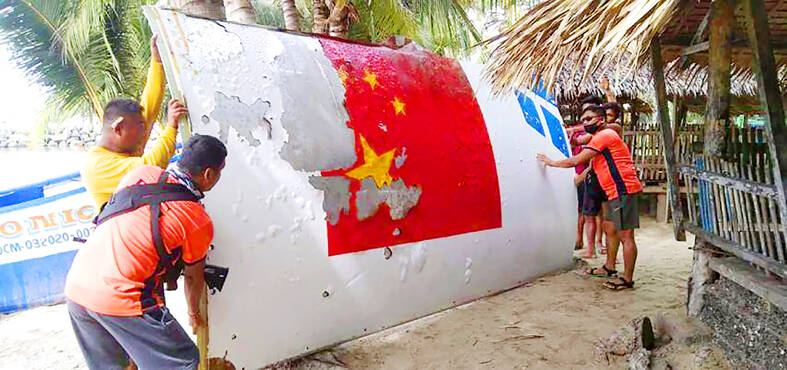 Philippine Coast Guard personnel carry debris bearing the markings of a Chinese Long March 5B rocket after it was found in waters off Mamburao, the Philippines, in August.
Photo: AP
China denied there was a forcible seizure and said the debris, which it confirmed was from a Chinese rocket launch, was handed over by Philippine forces after a "friendly consultation."
Thitu Island, which is also claimed by Taiwan and known in the Philippines as Pagasa, lies in the Spratly Islands (Nansha Islands, 南沙).
Chinese coast guard ships have blocked Philippine supply boats delivering supplies to Filipino forces in the disputed waters in the past, but seizing objects in the possession of another nation's military constitutes a more brazen act.
Carlos said the Philippine sailors, using a long-range camera on Thitu Island, spotted the debris drifting near a sandbar about 540m offshore. They set out on a boat and retrieved the floating object and started to tow it back to the island.
As they were traveling back to the island, "they noticed that a China Coast Guard vessel with bow No. 5203 was approaching their location and subsequently blocked their pre-plotted course twice," Carlos said in a statement.
The Chinese coast guard vessel then deployed an inflatable boat with personnel who "forcefully retrieved said floating object by cutting the towing line" attached to the Philippine sailors' rubber boat, he said.
Comments will be moderated. Keep comments relevant to the article. Remarks containing abusive and obscene language, personal attacks of any kind or promotion will be removed and the user banned. Final decision will be at the discretion of the Taipei Times.