Donald Trump pulls trigger on 2024 White House run
Former US president Donald Trump launched into the 2024 White House race on Tuesday, setting the stage for a bruising Republican nomination battle after a poor midterm election showing by his handpicked candidates weakened his grip on the party.
"America's comeback starts right now," the 76-year-old told hundreds of supporters gathered in an ornate US flag-draped ballroom at his palatial Mar-a-Lago residence in Florida.
"In order to make America great and glorious again, I am tonight announcing my candidacy for president of the United States," Trump said, minutes after filing the official paperwork for his third presidential run.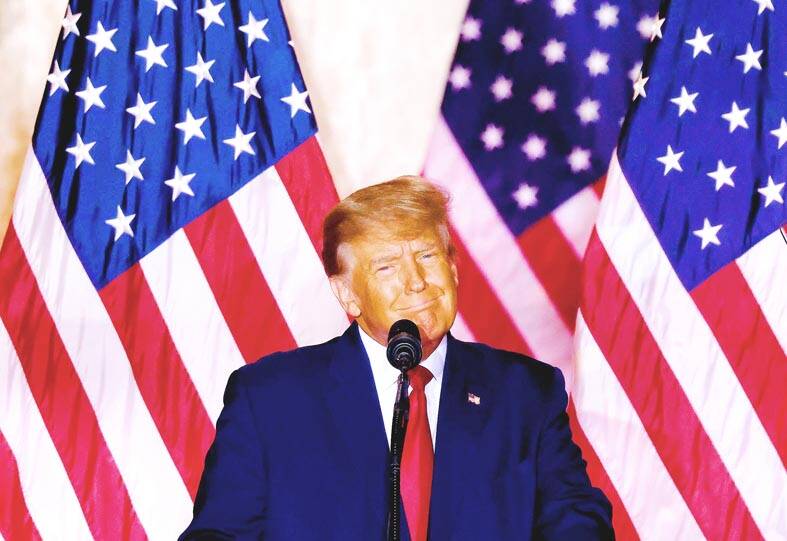 Former US president Donald Trump speaks at the Mar-a-Lago Club in Palm Beach, Florida, on Tuesday.
Photo: AFP
Trump's unusually early entry into the race is being seen in Washington as an attempt to get the jump on other Republicans seeking to be party flag-bearer — and to stave off potential criminal charges.
In a fiery, hour-long speech, Trump lauded — and at times inflated — his accomplishments as the US' 45th president and fired off verbal salvos against US President Joe Biden, who defeated him in 2020.
"I will ensure that Joe Biden does not receive four more years," Trump said, while Biden greeted his announcement with a post on Twitter, saying: "Donald Trump failed America."
In his announcement speech, Trump attacked Biden over inflation, crime and immigration, mocked climate change and congratulated himself for toppling the Islamic State group, keeping North Korea in check and building a border wall with Mexico.
"Under our leadership, we were a great and glorious nation, but now we are a nation in decline," he said. "This is not just a campaign this is a quest to save our country."
"In two years the Biden administration has destroyed the US economy," he said.
Comments will be moderated. Keep comments relevant to the article. Remarks containing abusive and obscene language, personal attacks of any kind or promotion will be removed and the user banned. Final decision will be at the discretion of the Taipei Times.