New drones to boost military's capability: institute
The Chungshan Institute of Science and Technology yesterday unveiled its newest tactical close-range rotary-wing uncrewed aerial vehicle (UAV), saying that once it enters service, it would be tasked with tactical reconnaissance and monitoring of littoral and coastal areas.
The drone has a larger carrying capacity than its predecessors, can stay airborne for longer periods, provide extended monitoring of specific areas and withstand up to Beaufort scale 6 winds, the institute told a news conference in Taichung.
The Republic of China Army ordered 50 drones at a cost of NT$779.98 million (US$25.1 million) and has received 14 as of this year, army Chief of Staff Chang Yuan-hsun (章元勳) has said.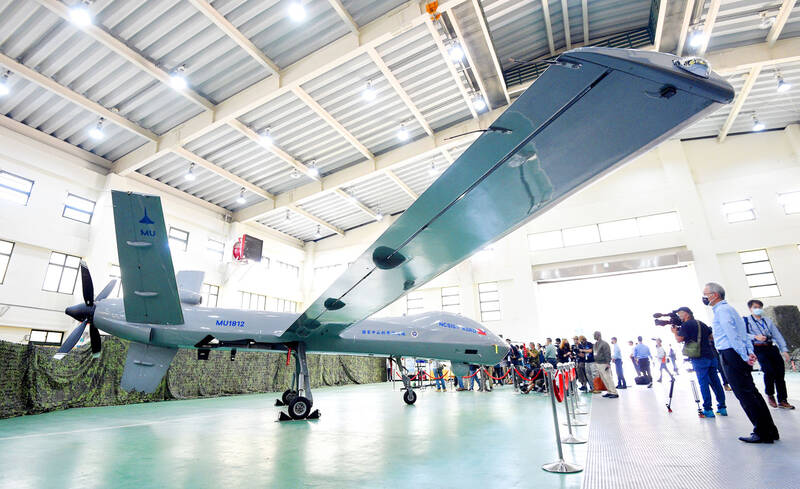 A Teng Yun uncrewed aerial vehicle is displayed at the Chungshan Institute of Technology press event in Taichung yesterday.
Photo: Lo Pei-te, Taipei Times
With the institute's assistance, the army has 115 trained operators who have passed certification tests by the Civil Aeronautics Administration, Chang said.
The drone has a navigation and control radius larger than 30km, which, coupled with its ability to stay airborne for more than an hour, could enhance the military's ability to reconnoiter and gain intelligence beyond visual range in real-time, said Chi Li-ping (齊立平), director of the institute's Aeronautical Systems Research Division.
The drone can take off or return to base with just a tap of a button, follow preset routes and stay stationary to collect information, Chi added.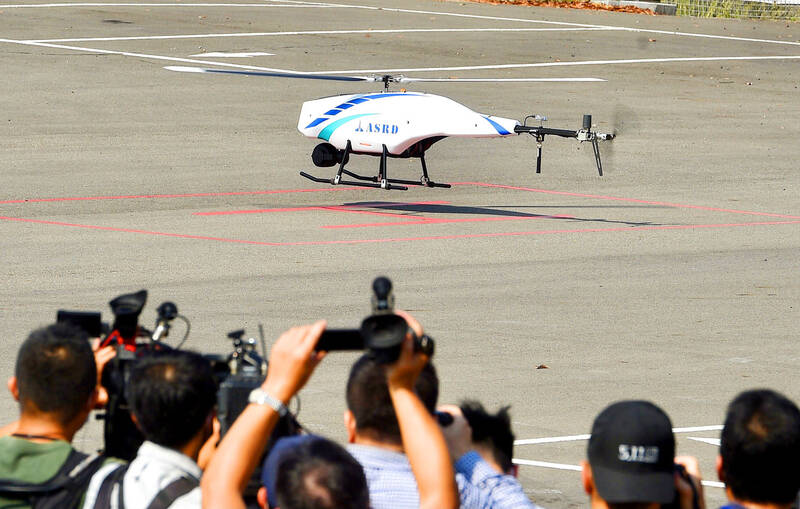 A new tactical close-range rotary-wing uncrewed aerial vehicle is demonstrated to reporters at the Chungshan Institute of Technology and Science's Taichung campus yesterday.
Photo: Lo Pei-te, Taipei Times
The institute also introduced the Teng Yun, or "Cloud Rider," a large UAV designed to focus on range and digital intelligence gathering, the institute said.
Teng Yun can reach altitudes that allow it to be guided and controlled by satellites, stay airborne for long periods, has a large payload capacity, can autonomously land and take off via multiple uplink navigation and control uplink methods, and can provide long-range monitoring in real-time, it said.
Once fielded, the Teng Yun would allow the military's drone fleet to be guided and controlled via satellite, the institute said, adding that it has completed development evaluations and is to undergo combat evaluations next year.
Asked what measures are being taken to prevent the use of China- manufactured parts, Chi said the institute conducts a thorough background check of all partner corporations and only collaborates with a company after verifying that it is not funded by Chinese capital and does not conduct large business transactions with China.
The institute also conducts rigorous security checks on all outgoing and incoming personnel while ensuring that all companies bidding for its projects sign a non-disclosure agreement and provide certified proof of the origins of their products, Chi said.
Comments will be moderated. Keep comments relevant to the article. Remarks containing abusive and obscene language, personal attacks of any kind or promotion will be removed and the user banned. Final decision will be at the discretion of the Taipei Times.