US, Taiwan urged to renew tactics
'ADVANCED WARFARE': The US and Taiwan's defense paradigms regarding China are outdated in the face of a modernized PLA, a former US defense official said
A former US Department of Defense official has called on Washington and Taipei to abandon what he called "outdated strategic assumptions," as the Chinese People's Liberation Army (PLA) rapidly modernizes and China leverages "comprehensive national power."
Chad Sbragia, a former deputy assistant secretary of defense for China at the Office of the Secretary of Defense from 2019 to last year, issued the warning at the Taipei Security Dialogue.
The dialogue is organized by the Institute for National Defense and Security Research think tank, which was established by the Ministry of National Defense in 2018.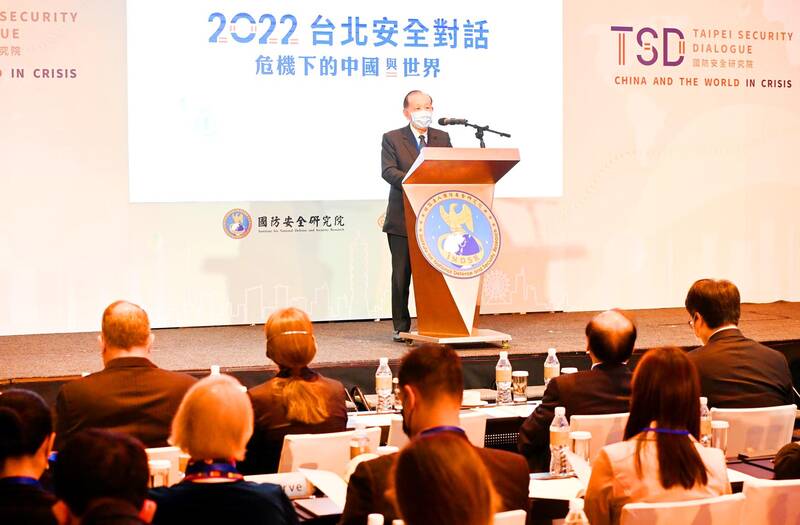 Institute for National Defense and Security Research chairman Huoh Shoou-yeh addresses the opening of the Taipei Security Dialogue in the city yesterday.
Photo: Tien Su-hua, Taipei Times
In his keynote address, Sbragia, a researcher at the US-based Institute for Defense Analyses think tank, said the PLA's modernization over the past few decades deserves the world's attention.
"A critical feature of PLA modernization is not simply the development of advanced equipment or the adoption of new concepts in advanced warfare. They're doing all of those," Sbragia said.
"It's really the integration of command and organizational systems to leverage new capabilities in a manner which unifies the whole-of-nation's capacity to make war," he said.
In light of an increasingly modernized PLA, current China-related defense paradigms espoused by the US and Taiwan are "outdated," Sbragia said.
"Analysts must reassess how China's broad modernization and development of comprehensive national power are generating new solutions and paradigms for deterrence and the potential for conflict," he said.
Sbragia also said that the US-China rivalry would likely override all other considerations in a potential cross-strait conflict that would put greater pressure on the capacity to respond.
In such a scenario, the space for decisionmaking contracts and the ability to seize initiative starts to wane, while the capacity to marshal unified allied action is extremely compressed, he said.
"This exposes any lack of unified preparations that really fosters fait accompli conditions" for China, he said.
Speaking at the forum, Ivan Kanapathy, who served on the White House's National Security Council as director for China, Taiwan and Mongolia, and was deputy senior director for Asian affairs from 2018 to last year, said that Taiwan should refrain from using military force to confront the PLA's "gray zone" tactics.
Rather than publicizing incursions into its air defense identification zone (ADIZ) and over the Taiwan Strait median line, Taiwan should instead focus on its territorial seas and contiguous zones, said Kanapathy, currently a senior associate to the CSIS Freeman Chair in China Studies.
He called on Taiwan's military to radically redesign its force structures to "embrace cost-effective and resilient capabilities" that would deny an enemy invasion and protect Taiwan against territorial infringements.
Addressing the opening of the event, institute chairman Huoh Shoou-yeh (霍守業) said that Russia's invasion of Ukraine is no longer a conflict between two nation-states, but has transformed into a confrontation pitting the forces of authoritarianism against democracy.
War in the Taiwan Strait is a matter of if, not when, because Beijing believes great power status entitles it to territorial expansion, he said.
Taiwan has endured warlike threats from China for more than 70 years as its values and institutions are opposite to Beijing's, he said, adding that the purpose of the nation's preparations for war is not to provoke conflict, but to safeguard peace.
Military preparedness helps ensure that the rivalry between Taiwan and China is resolved peacefully via institutional means instead of open warfare, he said.
President Tsai Ing-wen's (蔡英文) policy seeks to maintain peace and the "status quo" in the region, Mainland Affairs Council Deputy Minister Chiu Chui-cheng (邱垂正) said.
Cooling relations with China have not altered the government's commitment to conducting dialogue on the basis of equality and mutual respect without preconditions, he added.
Meanwhile, two experts from Ukraine and the Czech Republic urged Taiwan to prepare for a possible Chinese invasion well ahead of time by stockpiling weapons, and training civilians and reservists.
Yurii Poita, head of the Asia-Pacific Section at the Ukraine-based Center for Army, Conversion and Disarmament Studies, said that an important lesson from Russia's invasion of Ukraine is that Kyiv "didn't expect a full-scale invasion."
Failure to recognize beforehand that the war could turn into a full-scale one instead of the smaller-scale conflicts in Crimea or Donbas that it originally anticipated cost lives in Ukraine, Poita said.
Jakub Janda, director of the Prague-based European Values Center for Security Policy, agreed with Poita.
The US rightly warned of a looming Russian invasion, and the alert could have saved thousands of Ukrainian lives if Kyiv had made the necessary preparations, Janda said.
"Because, in the end, as you know it very well in the case of Taiwan, it's really about the stocks" of weapons and military equipment, Janda said.
The lack of preparation was also seen in Ukraine's recruitment of a foreign legion, which happened at the last minute, he said.
"Obviously this legion will not win the war, but it does actually bring a lot of expertise," he said, adding that it should have been prepared and launched months before the crisis started.
Janda also highlighted the importance of the Czech Republic's efforts to establish an all-out defense capability.
One cannot win a war by relying on its military only, he said. "You need to have society on your side."
In the case of the Czech Republic, it has active reserve forces that are part of the military, but also take advantage of civilian forces as well, he said.
It takes ammunition and will to fend off an invasion, "because without the will, you can have as much as ammunition as you want, but you will collapse as a society," he said.
Additional reporting by Lu Yi-hsuan
Comments will be moderated. Keep comments relevant to the article. Remarks containing abusive and obscene language, personal attacks of any kind or promotion will be removed and the user banned. Final decision will be at the discretion of the Taipei Times.