Xi expands power and promotes allies
'MAXIMUM XI': With a loyal standing committee, more power would be concentrated with Xi, without any kind of checks or balances in the system, a political analyst said
Chinese President Xi Jinping (習近平), the country's most powerful leader in decades, yesterday increased his dominance when he was named to another term as head of the ruling Chinese Communist Party (CCP) in a break with tradition and promoted allies who support his vision of tighter control over society and the struggling economy.
Xi, who took power in 2012, was awarded a third five-year term as general secretary, discarding a custom under which his predecessor left after 10 years.
That has sparked warnings that Xi's increasingly unchecked power might trigger a succession crisis when his rule finally comes to an end.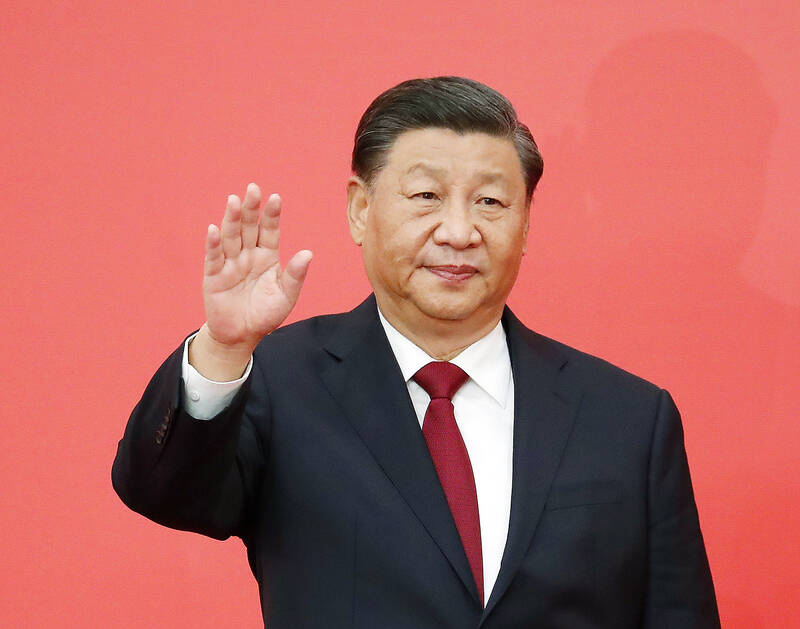 Chinese President Xi Jinping waves at reporters during a news conference introducing the new members of the Chinese Communist Party's Central Politburo Standing Committee at the Great Hall of the People in Beijing yesterday.
Photo: EPA-EFE
Xi's "reappointment today is the result of his concentration of extreme individual power," said a senior Chinese political academic who requested anonymity to avoid potential repercussions from the authorities.
The move was "catastrophically negative for the Chinese state," harming the party's resilience and heralding "decline and stagnation," the academic said, adding that it was "inevitable" that Xi, 69, would now seek to rule for life.
The party also named a seven-member Central Politburo Standing Committee, its inner circle of power, dominated by Xi allies after Premier Li Keqiang (李克強), the No. 2 leader and an advocate of market-style reform and private enterprise, was dropped from the leadership on Saturday. That was despite Li being a year younger than the party's informal retirement age of 68.
"Power will be even more concentrated in the hands of Xi Jinping," said Jean-Pierre Cabestan, a Chinese politics expert at Hong Kong Baptist University.
The new appointees are "all loyal to Xi," he said. "There is no counterweight or checks and balances in the system at all."
Xi and other standing committee members — none of them women — appeared for the first time as a group before reporters in the Great Hall of the People in central Beijing.
The No. 2 leader was Li Qiang (李強), the Shanghai party secretary. That puts Li Qiang in line to become premier, the top economic official. CCP Secretary of the Central Commission for Discipline Inspection Zhao Leji (趙樂際), already a member, was promoted to No. 3, likely to head the legislature.
The lineup appeared to reflect what some commentators called "Maximum Xi," valuing loyalty over ability. Some new leaders lack national-level experience as vice premier or Cabinet minister that is typically seen as a requirement for the post.
It is the economy that is likely to command Xi's immediate focus as he embarks on his history-making third term.
His signature "zero COVID-19" strategy, with its snap lockdowns, mass testing and restrictions on movement, has pummeled consumer sentiment and chipped away at growth.
China this week delayed the release of its third-quarter economic growth figures, amid expectations that the country was on course for its weakest performance since the early days of the pandemic in 2020.
The country eked out just 0.4 percent growth in the second quarter, and analysts widely expect it to miss its annual growth target of 5.5 percent by a wide margin.
Additional reporting by AFP
Comments will be moderated. Keep comments relevant to the article. Remarks containing abusive and obscene language, personal attacks of any kind or promotion will be removed and the user banned. Final decision will be at the discretion of the Taipei Times.