No reason for war in Strait: US official
'2022 WINDOW': The statement was a response to a US Navy admiral who said that China delivers on its promises early, and could attack Taiwan as soon as next year
"There is no reason" for a conflict in the Taiwan Strait, US National Security Council spokesman John Kirby said on Thursday, just days after a Pentagon official said that China could be militarily capable of attacking Taiwan before 2024.
At a White House news briefing, Kirby declined to comment on remarks by US Chief of Naval Operations Admiral Michael Gilday at a think tank event on Wednesday.
"I would just say, look, we monitor this, monitor this as best we can, and I'm not going to get into intelligence assessments one way or the other," Kirby said.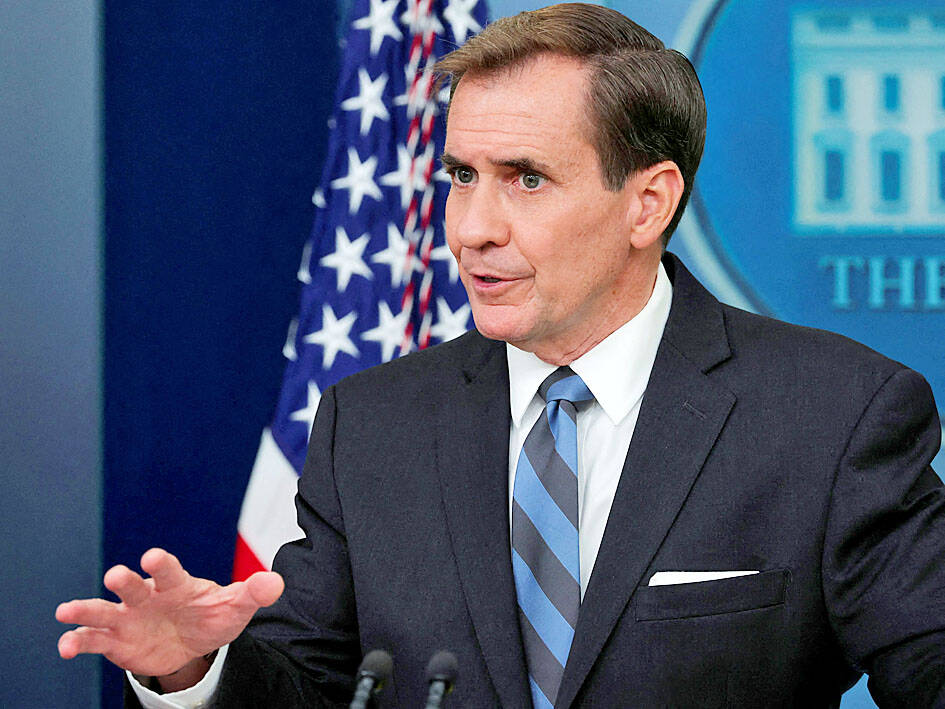 US National Security Council spokesman John Kirby speaks at news conference at the White House in Washington on Aug. 4.
Photo: Reuters
"There is no reason for this to erupt into conflict," Kirby said, referring to tensions across the Taiwan Strait.
Kirby said the US does not want to see any unilateral change to the "status quo" across the Strait by force.
"There's absolutely no reason for that to happen since there's been no change in the way we're approaching Taiwan and Taiwan's self-defense," he said.
Kirby also declined to confirm reports of talks between Taiwan and the US about joint production of weapons between the two countries, saying he does not "have anything specific on that."
Kirby reiterated the US commitment to help Taiwan defend itself, saying that "we're always going to be open to considering new ways to do that in concert with Taiwan."
At a talk hosted by the Atlantic Council on Wednesday, Gilday said the Chinese military could be capable of invading Taiwan by the end of this year or some time next year.
"When we talk about the 2027 window, in my mind, that has to be a 2022 window or potentially a 2023 window," Gilday said. "I can't rule it out. I don't mean at all to be alarmist... We can't wish that away."
He said his assessment is based on statements by Chinese President Xi Jinping (習近平) and "how the Chinese behave and what they do."
"What we've seen over the past 20 years is that they have delivered on every promise they've made earlier than they said," Gilday said.
The so-called 2027 window was first put forward by then-US Indo-Pacific Command commander admiral Phil Davidson, who said during congressional testimony last year that the threat of a Chinese attack on Taiwan could "manifest ... in the next six years."
Meanwhile, US Department of Defense press secretary General Patrick Ryder declined to comment on whether the Pentagon had reassessed or updated the 2027 assessment.
"I don't have any new updates to provide," Ryder told a news briefing on Thursday.
"China continues to be the pacing challenge" and the US is concerned about "their coercive and provocative behavior" in the Indo-Pacific region, Ryder said.
"Our focus is on working with allies and partners in that region to ensure that the Indo-Pacific remains free and open and secure and stable," he said. "We would call on all parties to do the same."
Ryder said the US would continue to abide by its "one China" policy and to support Taiwan to maintain its self-defense capabilities, as defined in the US' Taiwan Relations Act.
Separately, US Secretary of State Antony Blinken said in a television interview that China had long ago decided to speed up unification "potentially by any means."
Blinken was asked about his statement on Monday that Beijing plans to annex Taiwan on a "much faster timeline" under Xi.
There was once an understanding that cross-strait differences would be resolved peacefully, but Beijing made a decision "some years ago that that was no longer acceptable and that the government wanted to speed up reunification," Blinken said.
This could happen "through coercion and pressure, and potentially, if necessary, by force," he said, adding that the US remains committed to ensuring that Taiwan has the ability to effectively defend itself.
Additional reporting by staff writer
Comments will be moderated. Keep comments relevant to the article. Remarks containing abusive and obscene language, personal attacks of any kind or promotion will be removed and the user banned. Final decision will be at the discretion of the Taipei Times.