New AI converts Hoklo into English: Meta
Meta Platforms on Wednesday said it has built an artificial intelligence (AI) system that translates Hoklo into English even though the Taiwanese language lacks a standard written form.
The Silicon Valley tech titan that owns Facebook and Instagram billed the work at its Universal Speech Translator project as an effort to enable users from around the world to socialize regardless of the languages they speak.
When Facebook renamed itself Meta a year ago, cofounder and CEO Mark Zuckerberg said the company was focusing on a shift to online life playing out in virtual realms, a concept referred to as the metaverse.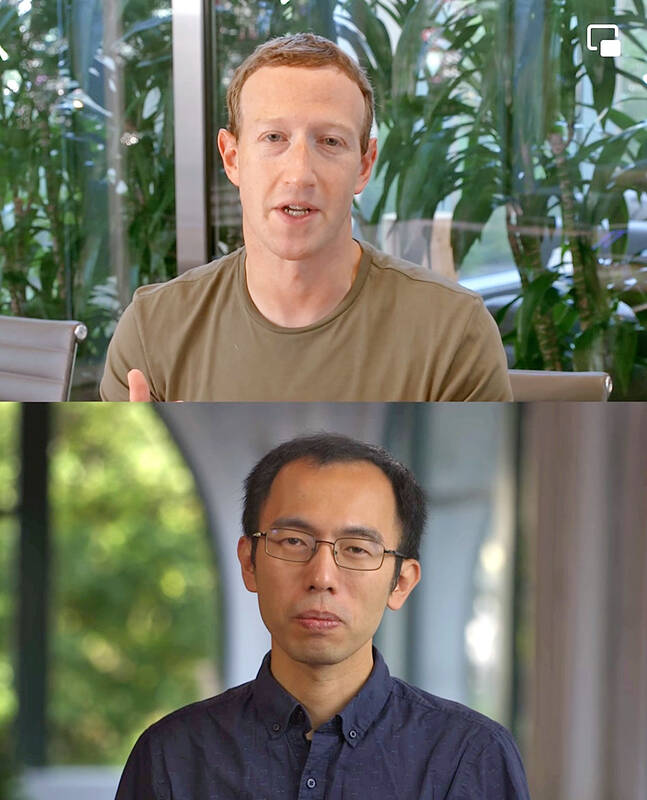 Meta Platforms CEO Mark Zuckerberg, top, chats with company engineer Chen Peng-jan through videoconference in an undated photograph.
Photo: Screen grab from Mark Zuckerberg's Facebook page
"Spoken communications can help break down barriers and bring people together wherever they are located — even in the metaverse," Meta said in a blog post.
The fledgling system for translating Hoklo (commonly known as Taiwanese) was billed by Meta as the first artificial intelligence-powered "speech-to-speech translation system developed for an unwritten language."
The translation technology, which the tech firm said would be shared for others to use, allows someone speaking Hoklo to converse with someone who speaks English, but only with one full sentence at a time, Meta said.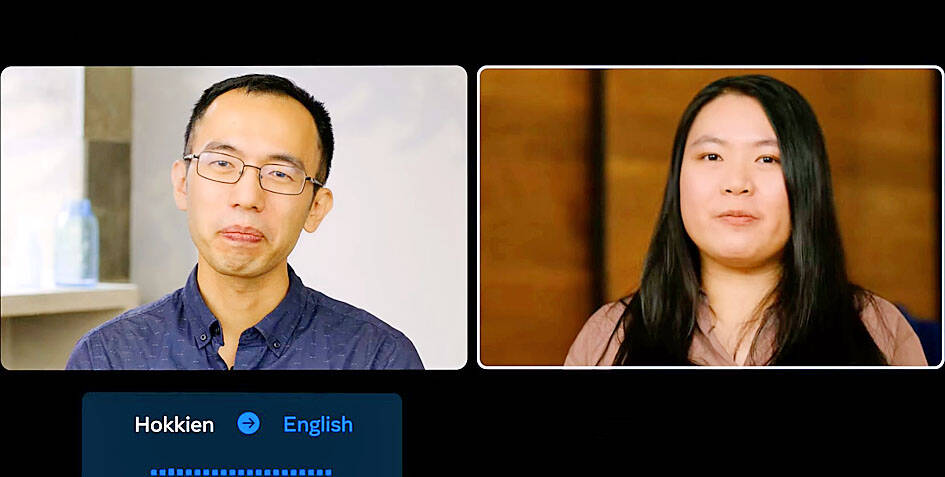 Meta Platforms engineer Chen Peng-jan, left, talks with a woman using the Hoklo-English translation software he codeveloped.
Photo: screen grab from Meta Platforms' YouTube channel
"It's a step toward a future where simultaneous translation between languages is possible," Meta said.
"The techniques we pioneered with Hokkien [Hoklo] can be extended to many other unwritten languages and eventually will work in real time," it said.
Hoklo is widely spoken within the Chinese diaspora. It is used by 16 million people across Asia and is spoken by three-quarters of the population of Taiwan, according to the French National Institute of Oriental Languages and Civilizations.
However, the language lacks a standard written form, making it a challenge to train AI models how to interpret what is said, Meta said.
More than 40 percent of the world's 7,000 existing languages are primarily spoken, without a standard or widely known written form, the tech firm said.
"In the future, all languages, whether written or unwritten, may no longer be an obstacle to mutual understanding," Meta said.
TAIWANESE ENGINEER
Chen Peng-jen (陳鵬仁), the engineer who codeveloped the system, said he was motivated by a desire to improve communication with his 70-year-old father, Chen Sheng-chiang (陳聖獎).
Chen Peng-jen grew up speaking Mandarin, but his father, who grew up in Tainan where Hoklo is the dominant language, does not speak as fluently in Mandarin, he said.
"I've always hoped that my dad could speak with everyone in Hoklo, because that's what he's more comfortable speaking," he said.
Chen Peng-jen said that he and the research team at Meta used Mandarin as an intermediate language between Hoklo and English, and worked closely with native Hoklo speakers to ensure the accuracy of the system's translation.
Meta engineer Joshua Yang (楊約書亞) said the team employed 30,000 hours of TV dramas and translated documents in the process of developing the system.
Hou Tsung-yu (侯宗佑) — who identified himself as a friend of Chen Peng-jen since high school — said on Facebook that Chen Peng-jen has long been diligent in his efforts to preserve Hoklo, even while living and working in the US.
"He looks for Hoklo teaching materials wherever he can find them, so that children of Hoklo speakers can learn and practice the language of their parents," Hou wrote.
Additional reporting by staff writer with CNA
Comments will be moderated. Keep comments relevant to the article. Remarks containing abusive and obscene language, personal attacks of any kind or promotion will be removed and the user banned. Final decision will be at the discretion of the Taipei Times.