All-out Defense Committee inaugurated
The legislature yesterday inaugurated the Taiwan Parliamentary All-out Defense Committee in an effort to increase defense awareness among the public.
The committee was initiated by Democratic Progressive Party (DPP) Legislator Lin Ching-yi (林靜儀), who was appointed its head.
By inviting civic groups, academics and businesspeople to serve as advisers, the committee aims to connect the public, businesses, government and academia in policy discussions to raise defense awareness among Taiwanese.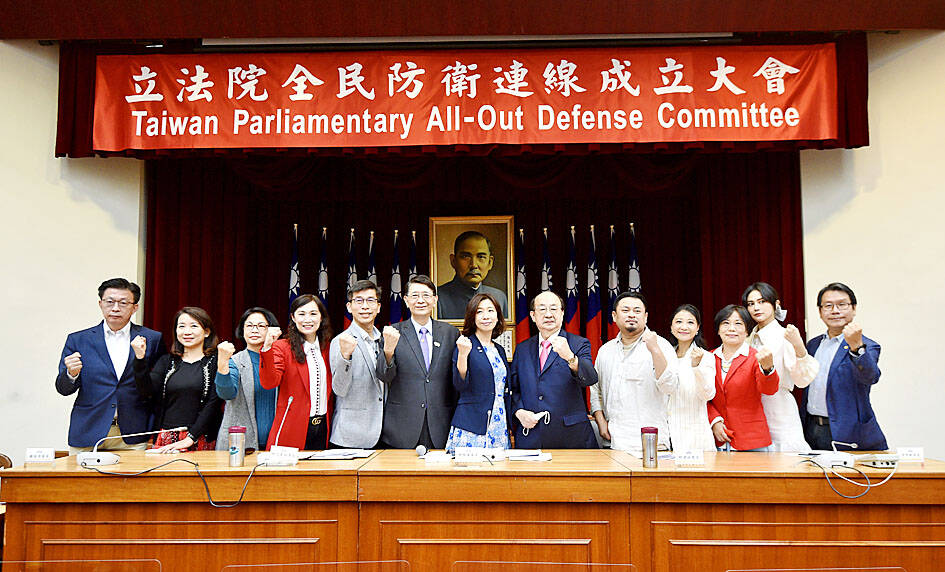 Democratic Progressive Party Legislator Lin Ching-yi, center, and other legislators pose for a photograph at the launch ceremony of the Taiwan Parliamentary All-out Defense Committee at the legislature in Taipei yesterday.
Photo: Peter Lo, Taipei Times
Representatives to Taiwan and legislators were invited to the launch ceremony yesterday.
Japan-Taiwan Exchange Association Deputy Representative Akira Yokochi gave a speech in Hoklo (commonly known as Taiwanese), expressing his admiration for Taiwanese's determination to safeguard their nation.
The crowd gave Yokochi a standing ovation when he reiterated former Japanese prime minister Shinzo Abe's remark that "a Taiwan emergency is a Japanese emergency."
Singaporean Representative to Taiwan Yip Wei Kiat (葉偉傑) said that the establishment of the committee is "an important milestone," which shows that the nation places considerable importance on defense.
Polish Office in Taipei Director Cyryl Kozaczewski listed some of Taiwan's biggest advantages, including its world-leading semiconductor industry, education and culture, and — most importantly — democracy, which is "an effective tool to bring a stable life to its people."
Czech Representative to Taiwan David Steinke said that improving the tenacity of democracy is more important in today's world as democratic societies can easily be subjected to harassment from the outside due to their openness.
Lin said that legislators have the responsibility to be the bridge between the central and local governments, as well as the government and the public.
President Tsai Ing-wen (蔡英文) has been bolstering the nation's self-defense capabilities since she took office in 2016, she said, adding that Taiwanese have been inspired by Ukrainians' bravery in defending their nation since Russia's invasion in February.
DPP caucus whip Ker Chien-ming (柯建銘), who is to serve as honorary chairman of the committee, said that it is the most important secondary unit ever established by the Legislative Yuan.
The committee has members from all eight legislative standing committees, which shows that everyone greatly values national defense, he said.
Building a national defense system includes developing military might in a traditional sense, as well as the ability to defend against cognitive warfare, Ker said, adding that the system covers aspects such as resilience during war, disaster prevention, medical care, and maintaining water and electricity supplies.
"Only the best national defense system enables the pursuit of ultimate peace, in which Taiwan would take a more active role on the global stage," he said.
DPP Legislator Kuo Kuo-wen (郭國文), who is to serve as secretary-general of the committee, said that the committee connects the "black bear warriors," or local militia units, and the Ministry of National Defense's All-out Defense Mobilization Agency, translating civil initiatives into policies, budgets or bills.
"National defense is not only the soldier's responsibility, but also the responsibility of local representatives and supervisory authorities," Kuo said.
Legislative Yuan Secretary-General Lin Jih-jia (林志嘉) congratulated the committee on behalf of Legislative Speaker You Si-kun (游錫?), saying that Taiwan "must respond" to the mounting military threat posed by China.
Comments will be moderated. Keep comments relevant to the article. Remarks containing abusive and obscene language, personal attacks of any kind or promotion will be removed and the user banned. Final decision will be at the discretion of the Taipei Times.