Man told to pay NT$600 for refilling pot of tea eggs
The Kaohsiung District Court has ordered a man to pay a convenience store NT$600 (US$18.83) in compensation for using his own mug to refill a pot of tea eggs, ruling against the store manager's NT$1 million claim.
In May, during the peak of a domestic COVID-19 surge, a man surnamed Lee (李) added water from his mug to a pot of tea eggs after seeing it was nearly dry.
A clerk stopped Lee, then discarded all 60 eggs in the pot, worth an estimated NT$600, after consulting with the manager, it said.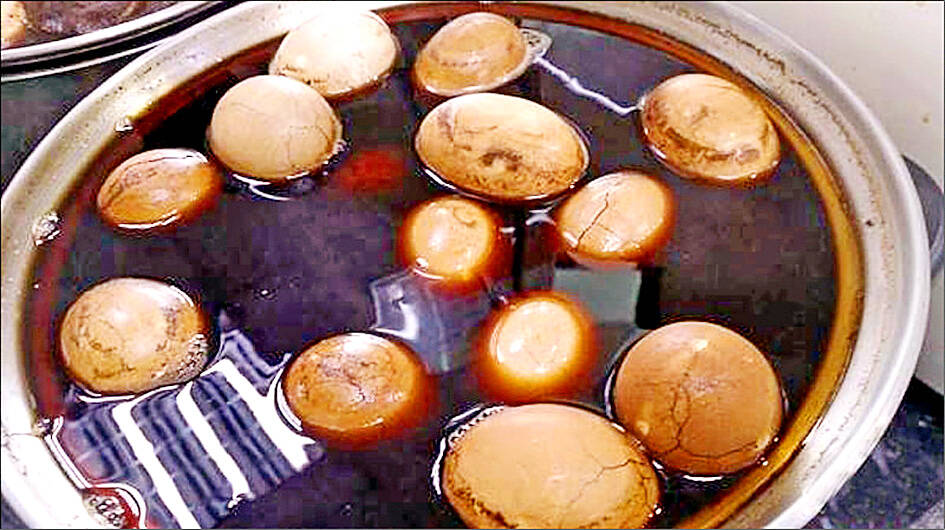 A pot of tea eggs is pictured in a convenience store in an undated photograph.
Photo: Taipei Times
The manager sued Lee, demanding NT$1 million for damage to the store's reputation, plus NT$600 for the cost of the eggs.
As many people witnessed the incident, it might create lasting doubts about the store's cleanliness, the manager said in the lawsuit.
Lee said that the suit was unjust, as he had admitted fault to the store clerk immediately after the incident.
The court on Tuesday last week ruled that Lee only needed to pay NT$600 in compensation, as no one was harmed.
The store's reputation was also not damaged, as the people present in the store witnessed the clerk deal with the incident in an appropriate manner, the court ruled.
The manager on Sunday said the store has a zero-tolerance policy toward threats to food safety.
If a customer needs assistance, they should ask a store clerk for help, the manager said.
A customer "trying to fix" something in the store is "in defiance of the law," they added.
As Lee added the water in full view of other customers, the incident was not at all similar to the 2005 Bullwild (蠻牛) energy drink poisoning, the court said.
In that case, 11 energy drinks laced with cyanide were placed on shelves in 11 convenience stores, killing one person and sickening three. Wang Chin-chan (王進展) admitted the crime, saying it was a bungled attempt to blackmail the drink manufacturer.
Wang was initially sentenced to death, but a later ruling converted it to a life sentence, saying that he did not intend to kill anyone since he placed warning labels on the laced drinks.
Comments will be moderated. Keep comments relevant to the article. Remarks containing abusive and obscene language, personal attacks of any kind or promotion will be removed and the user banned. Final decision will be at the discretion of the Taipei Times.