At least 125 dead in Indonesia soccer stadium stampede
At least 125 people died at an Indonesian soccer stadium when thousands of angry home supporters invaded the pitch and police responded with tear gas that triggered a stampede, authorities said yesterday.
The tragedy on Saturday night in the city of Malang, which also left 180 injured, was one of the world's deadliest sporting stadium disasters.
Arema supporters stormed the pitch at the Kanjuruhan Stadium after their team lost 3-2 to the visiting team, bitter rivals Persebaya Surabaya.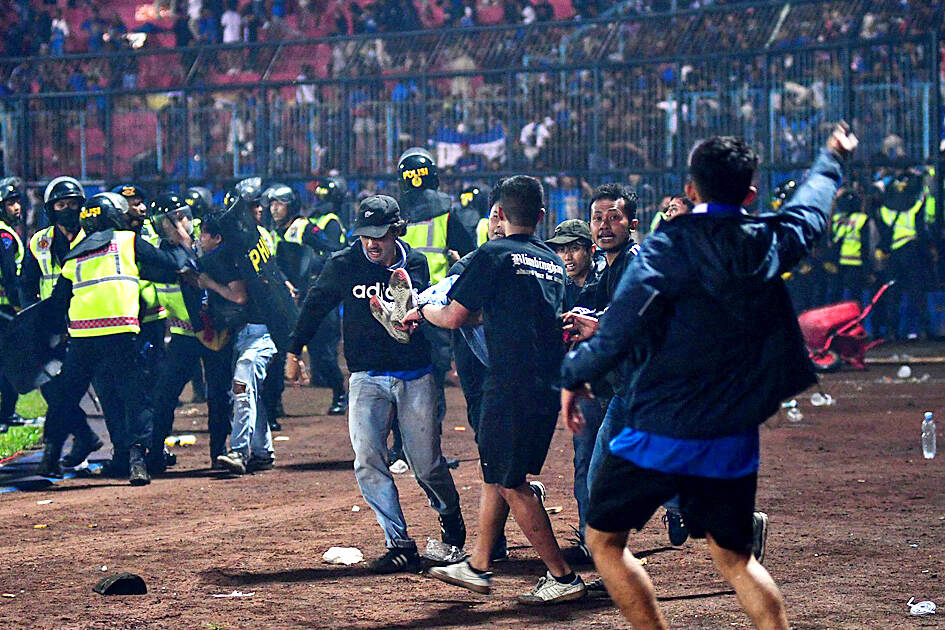 A group of people carry a man after supporters invaded the pitch at Kanjuruhan Stadium in Malang, Indonesia, on Saturday.
Photo: AFP
Police, who described the unrest as "riots," said they tried to force supporters to return to the stands and fired tear gas after two officers were killed.
Many of the victims were trampled or choked to death, police said.
At least 125 people died, East Java Vice Governor Emil Dardak told broadcaster Metro TV yesterday evening, significantly lowering officials' earlier death toll of 174 because of double counting.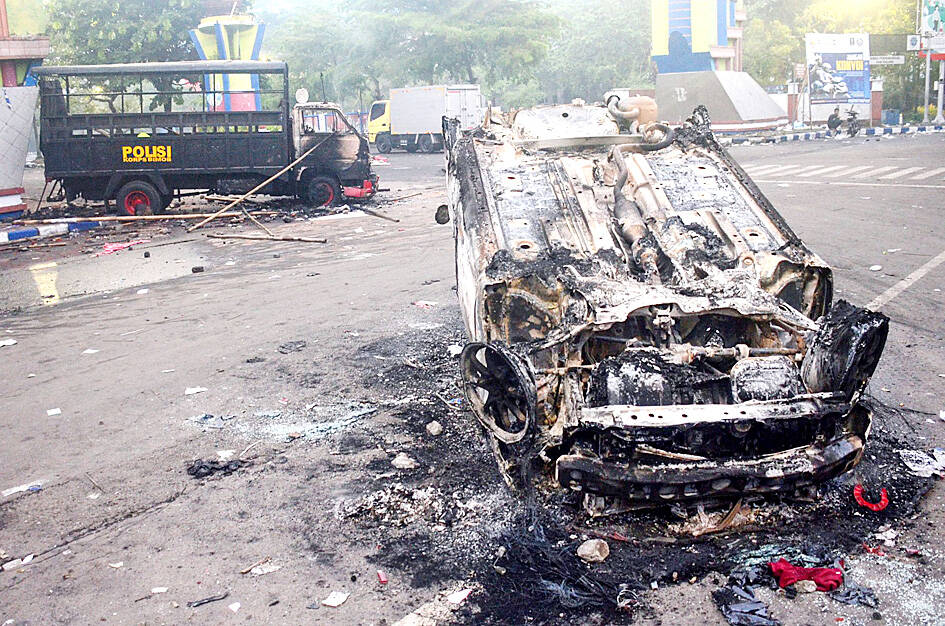 Torched vehicles stand outside Kanjuruhan Stadium in Malang, Indonesia, on Sunday.
Photo: AFP
Citing data collected by police from 10 hospitals, he said that "124 have been identified and one has not. Some names were recorded twice because they had been referred to another hospital and were written down again."
Survivors described panicking spectators in a packed crowd as tear gas rained down on them.
"Officers fired tear gas, and automatically people were rushing to come out, pushing each other and it caused many victims," said 43-year-old spectator Doni, who declined to give his last name.
"Nothing was happening, there was no riot. I don't know what the issue was, they suddenly fired tear gas," he said. "That's what shocked me, didn't they think about kids, women?"
Indonesian President Joko Widodo ordered an investigation into the tragedy, a safety review into all soccer matches and directed the country's soccer association to suspend all matches until "security improvements" were completed.
"I deeply regret this tragedy and I hope this football tragedy will be the last in our country," Widodo said.
A hospital director told local TV that one of the victims was five years old.
Images taken from inside the stadium during the stampede showed police firing huge amounts of tear gas and people clambering over fences.
Amnesty International called for an investigation into why tear gas was deployed in a confined space.
The stadium holds 42,000 people and authorities said it was a sellout.
Police said 3,000 people stormed the pitch.
Comments will be moderated. Keep comments relevant to the article. Remarks containing abusive and obscene language, personal attacks of any kind or promotion will be removed and the user banned. Final decision will be at the discretion of the Taipei Times.