Largest Taiwan-made dock enters navy
DEFENSE-READY: The armament of the 'Yushan' allows for amphibious combat operations, the head of a firm involved in the ship's construction said
The navy yesterday took delivery of the first locally developed and built naval ship of more than 10,000 tonnes in a ceremony in Kaohsiung presided over by President Tsai Ing-wen (蔡英文).
The ROCS Yushan, an amphibious transport dock, was the result of a government-initiated indigenous shipbuilding project seeking to establish autonomy over national defense, Tsai said.
She thanked CSBC Corp, Taiwan (台船), the Chungshan Institute of Science and Technology and the navy for their contributions.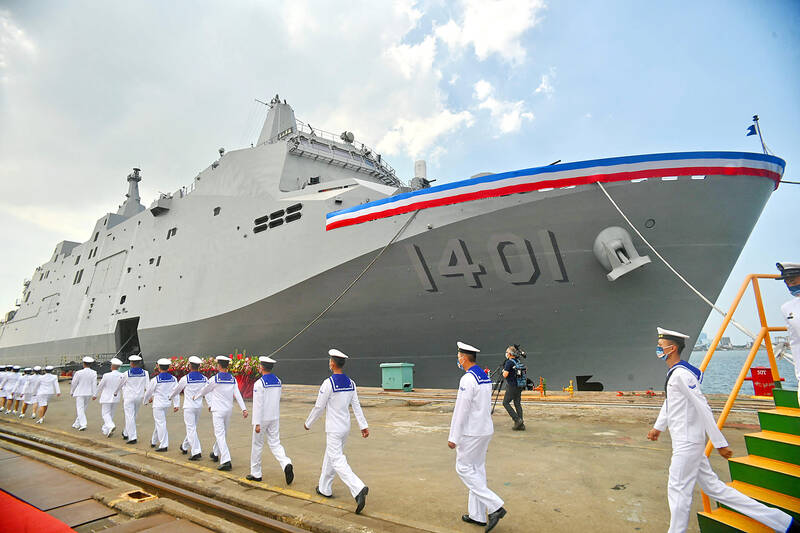 Navy officers walk past the ROCS Yushan amphibious landing dock at its commissioning ceremony in Kaohsiung yesterday.
Photo: Sam Yeh, AFP
The military needs the best equipment to uphold peace and defend Taiwan as it faces military threats from China, Tsai said.
The 153m long and 23m wide Yushan has a displacement of 10,600 tonnes and can travel at up to 22.1 knots (41kph), CSBC chairman Cheng Wen-lon (鄭文隆) said.
The ship boasts stealth capabilities and protection against electromagnetic pulse shockwaves, Cheng said.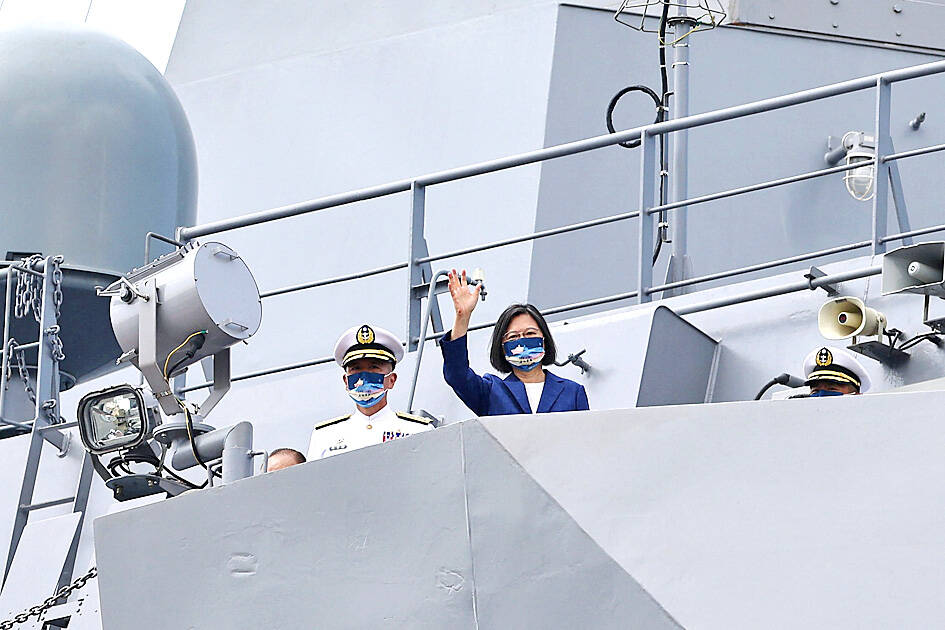 President Tsai Ing-wen waves at the commissioning ceremony for the navy's ROCS Yushan amphibious landing dock in Kaohsiung yesterday.
Photo: Ann Wang, REUTERS
It has one 76mm gun and two Phalanx close-in weapons systems, and is equipped with 32 naval Sky Sword II anti-aircraft missiles, Cheng said.
The armament enables the ship to conduct unescorted amphibious combat operations, Cheng said.
During combat, the Yushan can be used as an amphibious support unit, while in peacetime, it can be used as a disaster relief unit and emergency medical aid station, in line with the navy's "disaster relief during peacetime, combat duties during wartime" guiding principle, Tsai said.
The Yushan is equipped with five landing craft that can conduct beachhead landings, Cheng said.
The landing craft can travel at up to 21 knots, far faster than the navy initially requested, he said.
The Yushan can carry two high-mobility multipurpose wheeled vehicles or one 15-tonne vehicle, he added.
Tsai said that many navy officers have applied to transfer to the Yushan, showing their readiness to face the challenge of operating the new ship.
"If we have faith, we can overcome any challenges, no matter what they are," Tsai said.
The navy said the ship is undergoing trials that would help its crew become familiar with its operation.
The ship was in April assigned to the navy's Amphibious 151st Fleet, given the hull classification of LPD-1401 and welcomed its first captain, Chen Ming-tse (陳明澤), the navy said.
Comments will be moderated. Keep comments relevant to the article. Remarks containing abusive and obscene language, personal attacks of any kind or promotion will be removed and the user banned. Final decision will be at the discretion of the Taipei Times.