Biden rolls out red carpet to Pacific Islands at summit
US President Joe Biden's administration on Wednesday rolled out the red carpet for Pacific Island leaders in the face of rising Chinese influence in the region and said it expected a united front, despite friction with one nation — the Solomon Islands.
In a first-of-a-kind summit in Washington, the US promised greater aid and diplomatic engagement on issues from maritime security to COVID-19 pandemic recovery and climate change, which threatens to devastate many of the low-lying islands.
Opening two days of meetings with 12 leaders and representatives of two other nations, US Secretary of State Antony Blinken welcomed the leaders to lunch and assured them: "You can count on the United States partnering with you."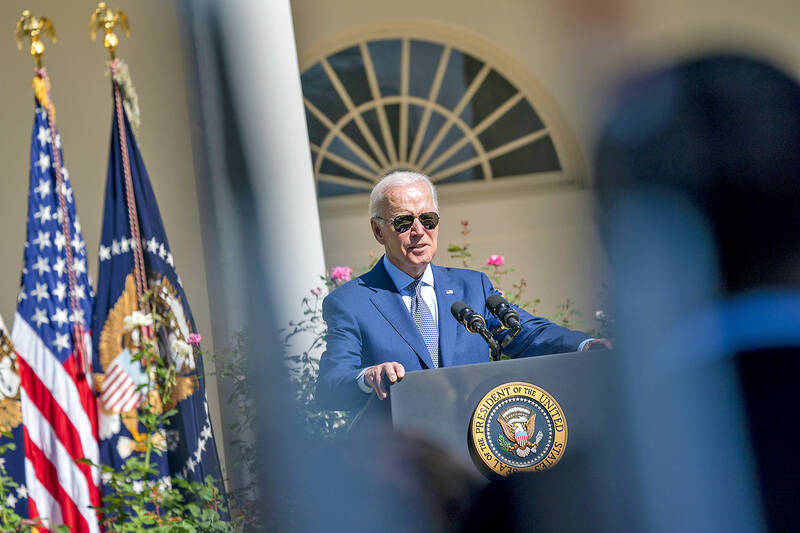 US President Joe Biden speaks to reporters in the Rose Garden of the White House in Washington on Wednesday.
Photo: EPA-EFE
In a veiled reference to China's growing assertiveness in the region and across Asia, Blinken called for "preserving a free and open Indo-Pacific where every nation — no matter how big, no matter how small — has the right to choose its own path."
Blinken said the summit would release a document, adding: "We've agreed on it, and it will give us a road map for the work that we're doing in the future."
His statement came a day after Australian Broadcasting Corp reported that the Solomon Islands had privately communicated that it would not sign the statement, depriving the summit of consensus.
However, US Department of State spokesman Ned Price said discussions had made "tremendous progress."
The Solomon Islands in April signed a secretive security pact with China, defying warnings from the US, as well as Australia and New Zealand, which are participating in Biden's summit as observers.
Solomon Islands President Manasseh Sogavare, accused of creeping authoritarianism, last week told the UN that his country has been "vilified" and "will not be coerced into choosing sides."
Western officials and analysts fear that Beijing would use the Solomon Islands as a base to pressure Taiwan or expand militarily into the Pacific.
Comments will be moderated. Keep comments relevant to the article. Remarks containing abusive and obscene language, personal attacks of any kind or promotion will be removed and the user banned. Final decision will be at the discretion of the Taipei Times.