Army to purchase 5,000 Kestrel missiles
'NO SURRENDER': A blockade or outlying island seizure would be an act of war, and China's drills last month have emboldened Taipei in its response plans, an official said
The Republic of China Army Command Headquarters has agreed to purchase 5,000 Kestrel close-range anti-armor missiles worth NT$400 million (US$12.63 million) from the Chungshan Institute of Science and Technology, according to the military's latest arms purchase bid notice.
The army asked the institute to complete the order within 13 months, a military source said on condition of anonymity.
Kestrel missiles are designed to penetrate armored vehicles and are used in anti-surface warfare, as they feature optical sights and night vision, and can be operated in all weather conditions.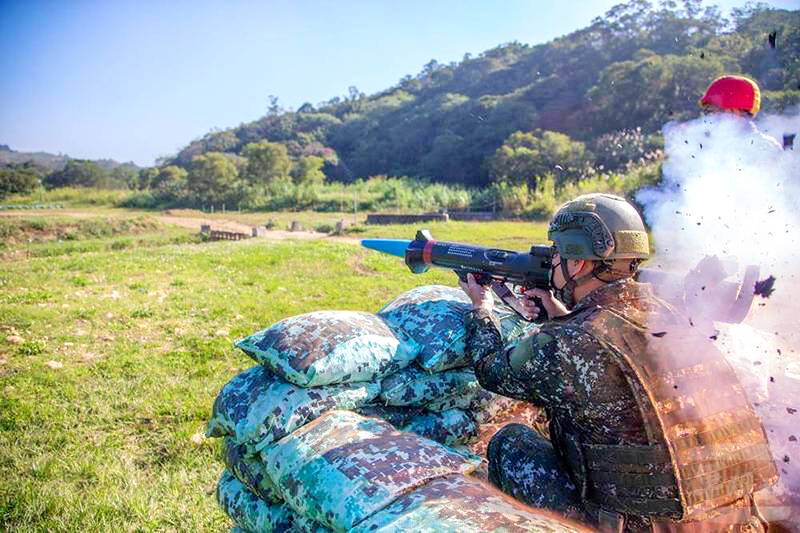 A 202nd Military Police Command soldier fires a Kestrel anti-tank rocket during an exercise in an undated photograph.
Photo courtesy of the Military News Agency
The missile has a 400m range, or a 150m range when used for breaching brick walls up to 30cm thick.
The missiles have become familiar anti-armor weaponry for army and navy units, the source said, adding that the Ocean Affairs Council has deployed Kestrel missiles on the Pratas Islands (Dongsha Islands, 東沙群島) and Itu Aba Island (Taiping Island, 太平島) to strengthen garrison defenses and anti-landing capabilities.
The Military Police's Mechanized Infantry 239th Battalion and the 202nd Command Headquarters' Quick Reaction Force have also conducted training simulations with Kestrels to counter potential decapitation strikes by the Chinese on Taipei's Bo Ai Special District (博愛特區), in which most government buildings are concentrated.
The military has also ordered the Kinmen, Matsu and Penghu defense commands to shorten the intervals between standard defensive firing drills to familiarize garrison troops with how to operate the weapon systems.
Meanwhile, the Republic of China Navy has used its special budget to order a substantial number of Hsiung Feng II ("Brave Wind," 雄風) and Hsiung Feng III missiles, and to purchase land-based Harpoon missile systems from the US.
The military said that Taiwan and Japan have been establishing increased anti-surface missile networks to counter possible threats from the Chinese People's Liberation Army Navy.
The government has also stated that the Hai Feng Squadron, a primary anti-surface missile unit, is to be upgraded to the Anti-Surface Missile Command in July next year.
During an inspection this month of the Huadong Defense Command, the military said that once the institute begins manufacturing, about 200 Brave Wind missiles could be produced annually.
Alongside additional purchases from the US, Taiwan likely would have enough anti-surface missiles to counter threats posed by Chinese forces, the source said.
Separately, a senior Taiwanese security official said that a Chinese blockade of Taiwan or the seizure of an outlying island would be considered an act of war, and Taiwan would "not surrender."
President Tsai Ing-wen (蔡英文) and others in her administration have said they want peace, but would defend the country if attacked. Details of what Taiwan would consider an attack warranting a response have previously been left unsaid.
Chinese military action might not be as straightforward as a full assault on Taiwan. It could include a blockade to try to force Taiwan to accept China's rule, strategists have said.
The Taiwanese official, speaking on condition of anonymity, said China's drills around Taiwan following last month's visit to Taipei by US House of Representatives Speaker Nancy Pelosi had focused on how Taiwan would react.
"A blockade is an act of war; seizing an offshore island is an act of war," the official said, adding that Taipei believes that Beijing is unlikely to take either of those actions at present.
"Their only purpose to seize [outlying islands] is to force us to negotiate or surrender, but we will not surrender or negotiate," the person said.
Additional reporting by Reuters
Comments will be moderated. Keep comments relevant to the article. Remarks containing abusive and obscene language, personal attacks of any kind or promotion will be removed and the user banned. Final decision will be at the discretion of the Taipei Times.