Typhoon Nanmadol slams into Japan
Typhoon Nanmadol last night made landfall in southwestern Japan, as authorities urged millions of people to take shelter from the storm's winds and torrential rain.
The storm officially made landfall at about 7pm as its eyewall arrived near Kagoshima city, the Japan Meteorological Agency said.
It was packing gusts of up to 234kph and had already dumped up to 500mm of rain in less than 24 hours on parts of southwestern Kyushu.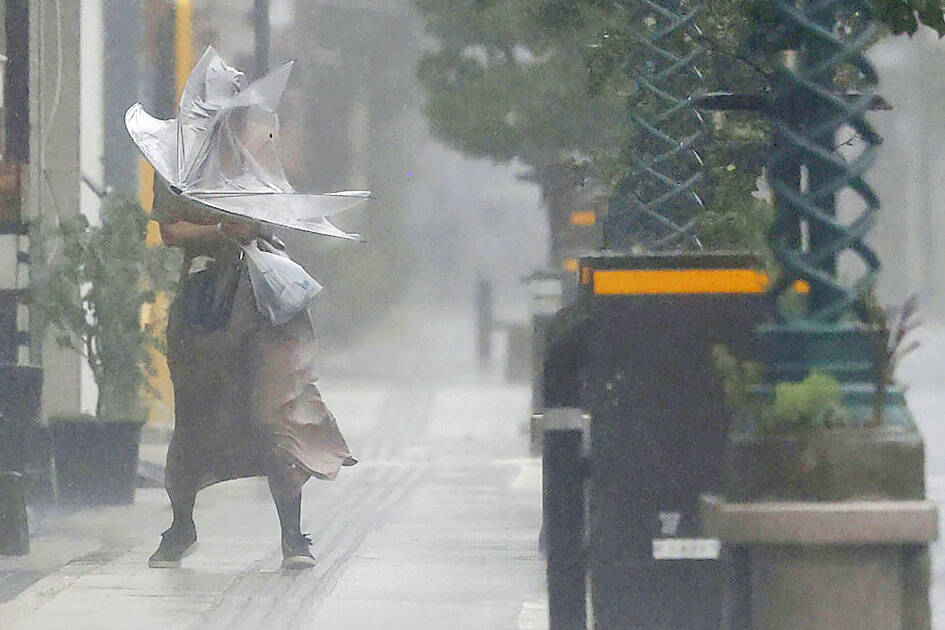 A woman holds an umbrella amid strong wind in Miyazaki, Japan, yesterday.
Photo: AP
At least 20,000 people were spending the night in shelters in Kyushu's Kagoshima and Miyazaki prefectures, where the agency issued a rare "special warning" — an alert that is issued only when conditions are forecast that are expected once in several decades.
National broadcaster NHK, which collates information from local authorities, said more than 7 million people had been told to move to shelters or take refuge in sturdy buildings to ride out the storm.
The evacuation warnings are not mandatory, and authorities have at times struggled to convince people to move to shelters before extreme weather.
They sought to drive home their concerns about the weather system throughout the weekend.
"Please stay away from dangerous places, and please evacuate if you feel even the slightest hint of danger," Japanese Prime Minister Fumio Kishida wrote on Twitter after convening a government meeting on the storm. "It will be dangerous to evacuate at night. Please move to safety while it's still light outside."
The agency has warned the region could face "unprecedented" danger from high winds, storm surges and torrential rain, and called the storm "very dangerous."
"Areas affected by the storm are seeing the sort of rain that has never been experienced before," Hiro Kato, the head of the Weather Monitoring and Warning Center, told reporters. "Especially in areas under landslide warnings, it is extremely probable that some kinds of landslides are already happening."
He urged "maximum caution even in areas where disasters do not usually happen."
By yesterday evening, utility companies said nearly 200,000 homes across the region were without power.
Trains, flights and ferry services were canceled until the passage of the storm, and even some convenience stores — generally open all hours and considered a lifeline in disasters — were shutting their doors.
In Taipei, the Central Weather Bureau on Saturday said the typhoon would not affect Taiwan other than bringing brief localized rain to some regions.
Northerly winds would bring moisture from Nanmadol's periphery and increase cloud formation, bringing brief showers to northern, eastern and southeastern Taiwan, as well as localized downpours to eastern and southeastern regions, it said.
It would mostly be sunny to cloudy in other regions, but eastern Taiwan and mountainous areas might see brief, localized thundershowers, and central and southern Taiwan might see brief showers, it added.
Additional reporting by CNA
Comments will be moderated. Keep comments relevant to the article. Remarks containing abusive and obscene language, personal attacks of any kind or promotion will be removed and the user banned. Final decision will be at the discretion of the Taipei Times.