Severe damage as 6.8 quake strikes
ONE PERSON KILLED: The strongest earthquake of the year so far caused an apartment building to collapse and damaged road and rail networks
A magnitude 6.8 earthquake struck eastern Taiwan at 2:44pm yesterday, killing one person — a worker at a cement factory in Hualien County's Yuli Township (玉里), who was struck by falling equipment, and at least 79 persons injured.
The quake, centered in Taitung County's Chihshang Township (池上), also caused an apartment building and two bridges in Hualien to collapse. It was the strongest earthquake to hit the nation so far this year and followed a magnitude 6.4 tremor late on Saturday.
Rescuers in Yuli Township yesterday saved all four people trapped under rubble at the apartment building, and others rescued three people, who were crossing the nearby Kaoliao Bridge (高寮大橋) when it collapsed, the Hualien County Government said.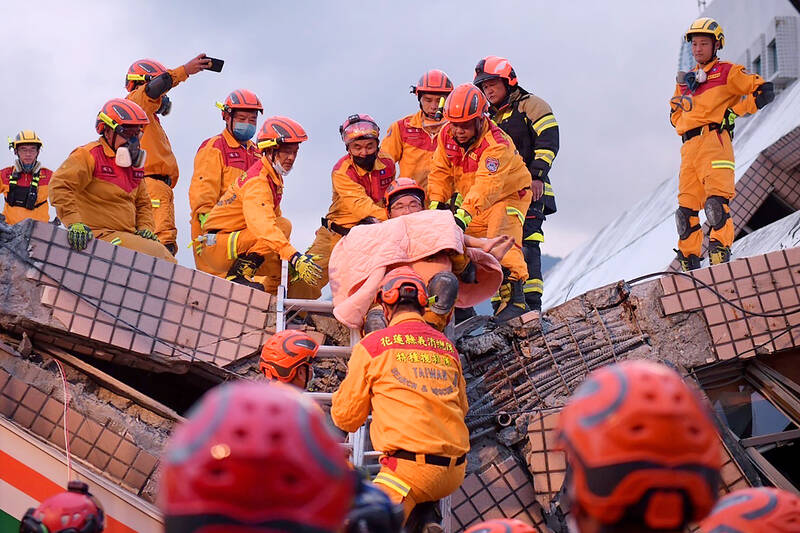 Firefighters rescue a five-year-old girl from a collapsed building in Hualien County's Yuli Township yesterday.
Photo: AP
The Luntien Bridge (崙天大橋) connecting Hualien's Jhuosi (卓溪) and Fuli (富里) townships also collapsed.
Damage was also reported at the Yuli Bridge (玉里橋), impeding traffic on Highway No. 9.
Six cars of Tzuchiang Express train No. 402 derailed in Hualien's Dongli Station after being hit by a collapsing concrete canopy.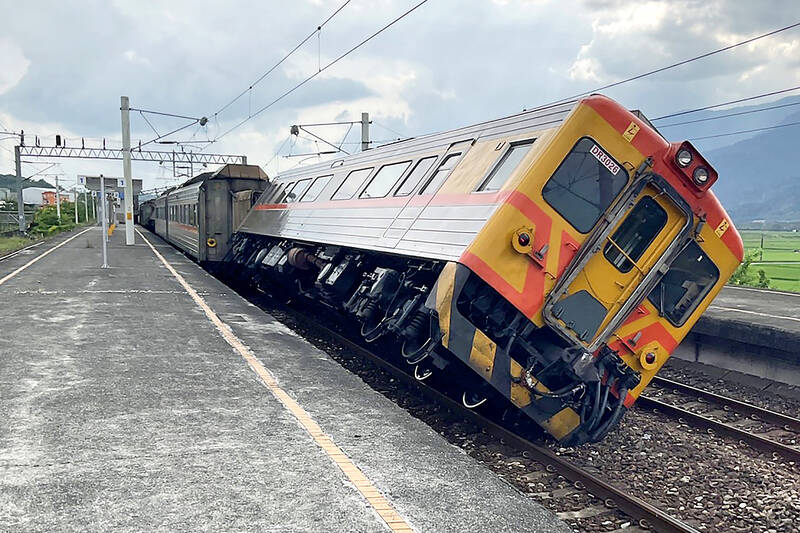 A derailed train lies on the tracks at Hualien County's Dongli Station yesterday.
Photo: AFP / Taiwan Railways Administration
The Taiwan Railways Administration said that 20 passengers had left the train before the derailment.
Train services were suspended between Hualien and Taitung, the agency said.
It also reported damage to railway tracks and cables along railway lines in the two east coast counties.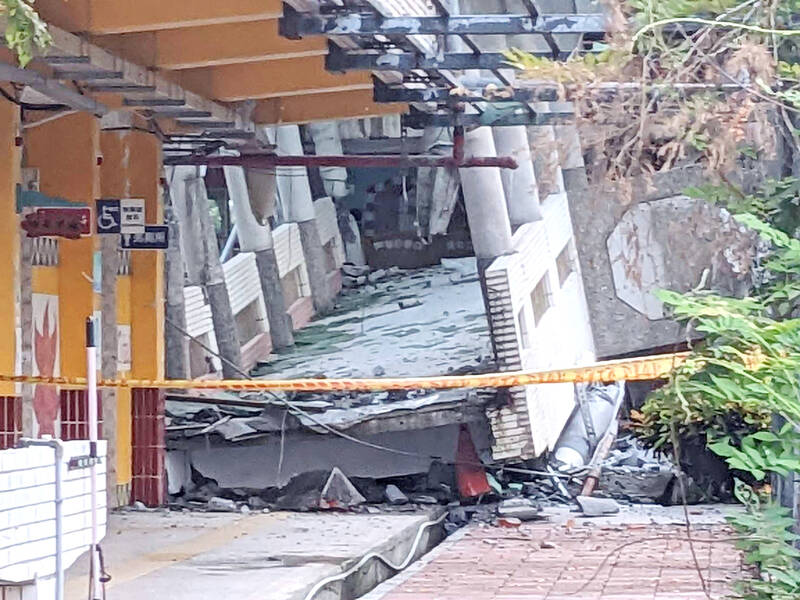 A partly collapsed second-floor corridor at Chunri Elementary School in Hualien County's Yuli Township is pictured yesterday.
Photo: CNA
Nearly 400 travelers were trapped on Yuli's Chikeshan (赤科山), as a road was damaged by a landslide triggered by the earthquake, local residents said.
Cellphone reception was weak, likely due to utility poles being damaged by landslides, they said.
The quake also damaged water pipes in Yuli, where power outages affected more than 7,000 households.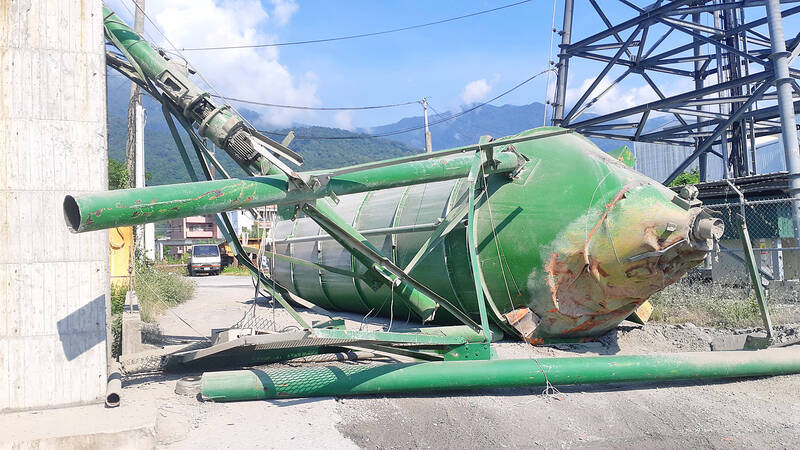 A collapsed concrete storage tank is pictured in Taitung County's Guanshan Township yesterday.
Photo: Huang Ming-tang, Taipei Times
Hualien County Commissioner Hsu Chen-wei (徐榛蔚) announced that schools and offices in Yuli, Fuli and Jhuosi townships would remain closed today, citing damage to homes, roads and other infrastructure.
Taitung County Commissioner Yao Ching-ling (饒慶鈴) announced school and office closures in Chihshang, Guanshan (關山), Luye (鹿野), Yenping (延平) and Haiduan (海端) townships.
Shaking was felt as far away as Taipei and Kaohsiung, with residents posting videos on social media of light fixtures swaying.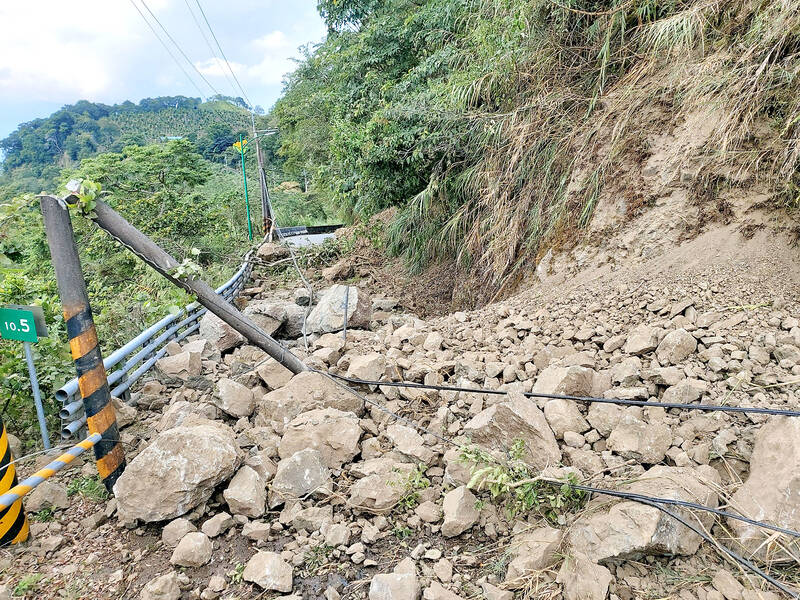 Debris of a landslide is pictured in in Hualien County's Yuli Township yesterday.
Photo courtesy of a member of the public
A 36-year-old man sustained injuries in Taoyuan's Bade Civil Sports Center when part of the ceiling fell on a badminton court, the Taoyuan Fire Department said.
Isolated power outages were also reported in Taipei, Tainan, Kaohsiung, New Taipei City and Taitung County.
The Japan Meteorological Agency issued a tsunami advisory for several islands in Japan's Okinawa Prefecture near Taiwan, but later lifted it.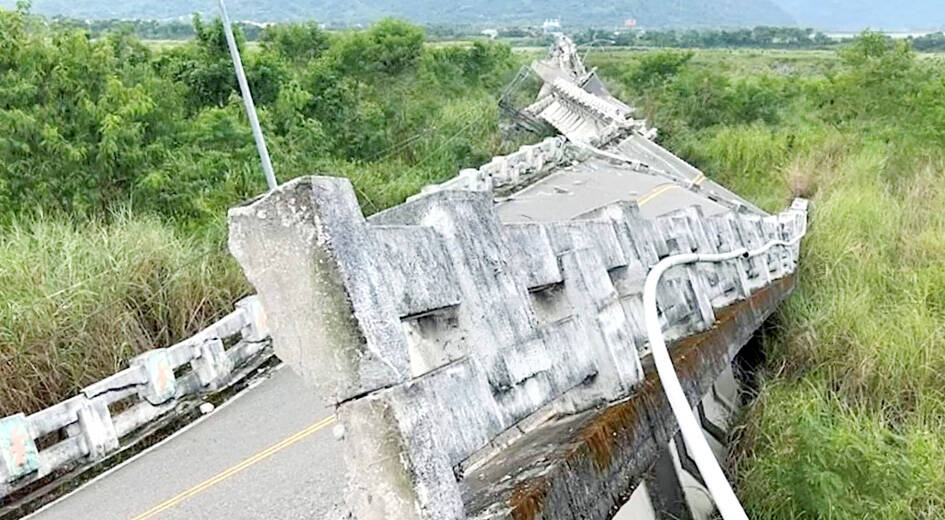 The Kaoliao Bridge in Yuli, Hualien county, twists and breaks into pieces amid the magnitude 6.8 earthquake in eastern Taiwan yesterday.
Photo: CNA
The magnitude 6.4 foreshock on Saturday night also caused damage to facilities in Taitung, including in Taitung City, and in Guanshan, Chihshang and Luye townships.
An 80-year-old colonial-era house in Taitung City, as well as the 68-year-old Wanan Brick Kilns in Chihshang were damaged. Hundreds of urns in a columbarium in Luye were damaged. In Guanshan, a rice mill and a concrete plant were damaged.
Additional reporting by agencies
Comments will be moderated. Keep comments relevant to the article. Remarks containing abusive and obscene language, personal attacks of any kind or promotion will be removed and the user banned. Final decision will be at the discretion of the Taipei Times.