Top US general warns China on nukes
TREATIES ESSENTIAL: Beijing is not a party to any nuclear arms agreement such as the New START that was signed with Russia, a US strategic command official said
The US must take seriously nuclear threats that could be made by Beijing, especially with regard to an invasion of Taiwan, but China could still be deterred by US nuclear forces, a top US general told the Senate Armed Services Committee on Thursday.
US Air Force General Anthony Cotton made the remark as he appeared before the committee vetting his nomination by US President Joe Biden to lead the US Strategic Command, the Washington Post reported.
The Pentagon in March submitted a report to the US Congress on the country's nuclear posture, which Cotton's comments appear to highlight, the newspaper said.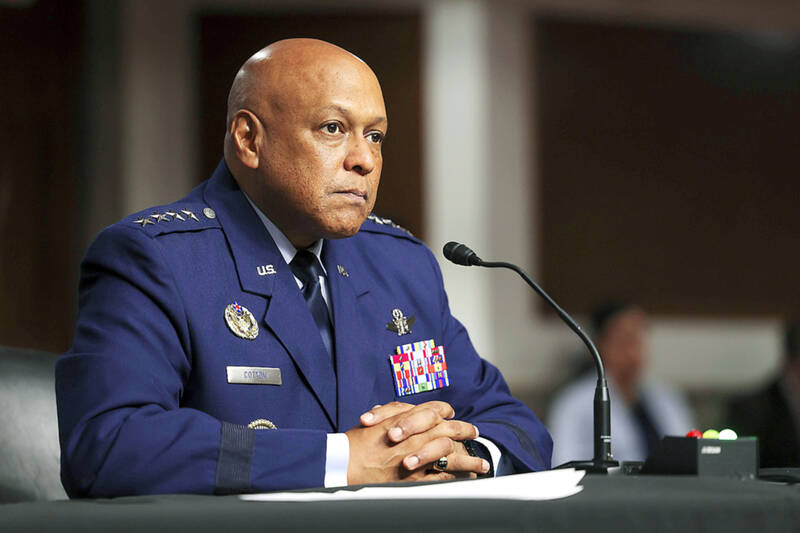 US Air Force General Anthony Cotton testifies before the US Senate Armed Services Committee in Washington on Thursday.
Photo: AFP
China's nuclear ambitions have grown dramatically since 2018 when "minimal deterrence" was Beijing's preferred strategy, the four-star general was quoted as saying.
The doctrine of maintaining a limited number of nuclear weapons and launch platforms for defensive purposes no longer seems to be held by the Chinese People's Liberation Army, he said.
"We have seen the incredible expansiveness of what they're doing with their nuclear force — which does not, in my opinion, reflect minimal deterrence. They have a bona fide triad now," Cotton said, referring to the triplicate ability to deliver nuclear weapons from sea, air and land.
The Pentagon assessed that China's aim was to achieve "regional hegemony," he said.
The US cannot deal with the threat of an aggressive, nuclear China in the same way it once addressed Russia, as Beijing is not a party to any nuclear arms control agreement such as the New Strategic Arms Reduction Treaty, or New START, which Moscow and Washington signed in 2010, Cotton said.
However, US strategic weapons continue to effectively deter would-be nuclear aggressors, he said.
"Russia and China both understand that we have a strong, resilient nuclear force that is offering deterrence to ourselves, and extended deterrence to our enemies," Cotton said.
Meanwhile, Germany is observing with concern China's military build-up and its drills with Russia, while signaling its commitment to a Western rules-based order in the Indo-Pacific Region, German Minister of Defense Christine Lambrecht said.
Germany's current focus on the Ukraine war does not mean it would takes its eyes off security developments elsewhere, she said in an interview in Berlin.
"We are naturally observing China's build-up with concern, and are observing very exactly every single step there," Lambrecht said.
Germany is joining other Western nations in showing more muscle in the Indo-Pacific region amid growing alarm over Beijing's territorial ambitions, even at the risk of irking its top trade partner.
Berlin last year sent its first warship in almost 20 years to disputed waters in the South China Sea, and this month sent 13 military aircraft to joint exercises in Australia.
"Through our presence and participation in the exercises, we are sending clear signals," Lambrecht said. "We are on the side of the partners who stand for a rules-based order."
Each military has its own equipment, so countries need to practice together to identify and solve any problems, she said.
The Australia drills had proven "very constructive" and shown that Germany could fulfill its commitment to partners in the region, as well as to NATO.
Asked if Germany would send a warship through the Taiwan Strait as the US had, Lambrecht said: "It's not about provoking or escalating the situation in any way ... Instead, our approach is to de-escalate."
Germany's relationship with China has long been centered on mutually beneficial business exchanges, with China's rapid economic expansion driving its own growth.
"We must now become more independent in other sectors, not just energy," she said. "We are bound to China through economic relations, but that must not stop us from taking clear positions on certain decisions."
Additional reporting by Reuters
Comments will be moderated. Keep comments relevant to the article. Remarks containing abusive and obscene language, personal attacks of any kind or promotion will be removed and the user banned. Final decision will be at the discretion of the Taipei Times.