Putin, Xi meet with Asian leaders for talks to defy West
Chinese President Xi Jinping, (習近平) Russian President Vladimir Putin and leaders from India and Central Asian nations gathered with other Asian leaders in the ancient Silk Road city of Samarkand yesterday for a summit touted as a challenge to Western global influence.
Putin and Xi are being joined by the leaders of India, Iran, Pakistan, Turkey and several other countries for the meeting of the Shanghai Cooperation Organization (SCO) in the Uzbek city.
The two leaders yesterday held separate meetings with leaders of ex-Soviet Central Asian nations. Putin sat with the presidents of Kyrgyzstan and Turkmenistan, while Xi met Uzbek President Shavkat Mirziyoyev.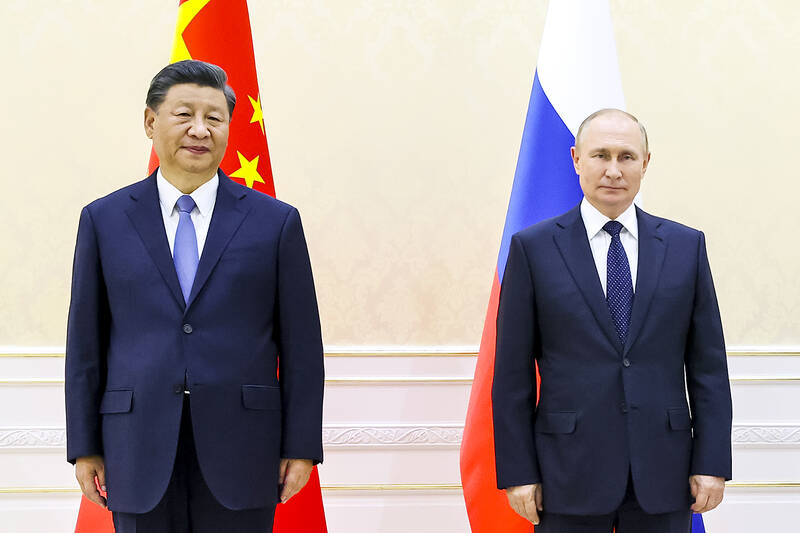 Chinese President Xi Jinping, left, and Russian President Vladimir Putin pose for a photo on the sidelines of the Shanghai Cooperation Organization (SCO) summit in Samarkand, Uzbekistan, yesterday.
Photo: AP
Putin then met with Iranian President Ebrahim Raisi, announcing that ties were "developing positively" between Moscow and Tehran, and giving his full backing to Iran's application to become a member of the SCO.
Raisi told Putin that US-backed sanctions on both countries would only make their relationship "stronger."
"The Americans think whichever country they impose sanctions on, it will be stopped. Their perception is a wrong one," Raisi said.
For Putin, the summit is a chance to show that Russia is not isolated internationally, at a time when Moscow's forces are facing major battlefield setbacks in Ukraine.
For Xi, on his first trip abroad since the early days of the COVID-19 pandemic, it is an opportunity to shore up his credentials as a global statesman ahead of a pivotal congress of the ruling Chinese Communist Party next month.
The summit is also a chance for both leaders to send a signal to the West, especially the US, which has led the charge in imposing sanctions on Russia over Ukraine and angered Beijing with recent shows of support for Taiwan.
Entry to Samarkand, a city of grand tiled mosques that was one of the hubs of Silk Road trade routes between China and Europe, has been restricted for days, with its airport shut to commercial flights.
Security was tight across the city, with a huge police presence on the streets and armored vehicles parked downtown.
Residents expressed joy at hosting the meeting, pointing to Samarkand's long history as an international crossroads.
"We are proud that so many leaders of various countries are gathering in our city. Samarkand from ancient times was a legendary city," 26-year-old Shakhboz Kombarov said.
Other SCO governments include Kazakhstan, Kyrgyzstan, Pakistan and Tajikistan. Observers include Iran and Afghanistan.
Xi is promoting the Global Security Initiative, announced in April following the formation of a security alliance by Washington, Japan, Australia and India, called the Quadrilateral Security Dialogue.
Xi has given few details, but US officials have said that the initiative echoes Russian arguments in support of Moscow's attack on Ukraine.
China's economic inroads into Central Asia have fueled unease in Russia, which sees the region as its sphere of influence. Kazakhstan and its neighbors are trying to attract Chinese investment without upsetting Moscow.
Xi made a one-day visit on Wednesday to Kazakhstan en route to Uzbekistan.
Additional reporting by AP
Comments will be moderated. Keep comments relevant to the article. Remarks containing abusive and obscene language, personal attacks of any kind or promotion will be removed and the user banned. Final decision will be at the discretion of the Taipei Times.