Whistle-blower says Twitter had a Chinese agent
Twitter Inc's former head of security on Tuesday told the US Congress that there was "at least one agent" from China's intelligence service on Twitter's payroll and that the company knowingly allowed India to add agents to the company roster as well, potentially giving those nations access to sensitive data about users.
These were some of the troubling revelations from Peiter "Mudge" Zatko, a cybersecurity expert and Twitter whistle-blower who appeared before the US Senate Judiciary Committee to lay out his allegations against the company.
Zatko said that he was told about a week before his firing that "at least one agent" from the Chinese Ministry of State Security was "on the payroll" at Twitter.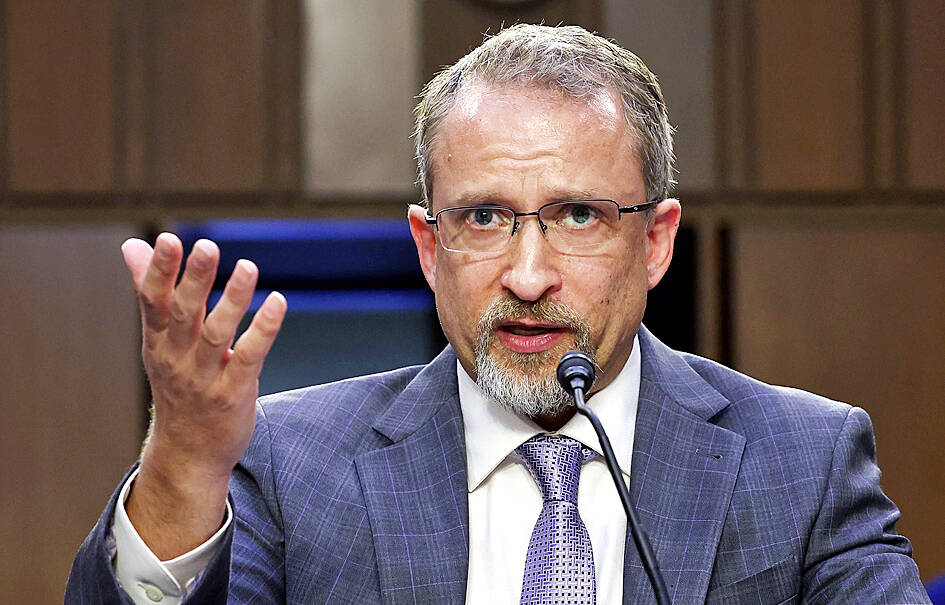 Peiter "Mudge" Zatko, a cybersecurity expert and Twitter whistle-blower, testifies before the US Senate Judiciary Committee on Capitol Hill in Washington on Tuesday.
Photo: AFP
He said he was similarly "surprised and shocked" by an exchange with Twitter chief executive officer Parag Agrawal about Russia — who was chief technology officer at the time — asked if it would be possible to "punt" content moderation and surveillance to the Russian government.
Zatko was the head of security for Twitter until he was fired early this year.
He told lawmakers that the social media platform is plagued by weak cyberdefenses that make it vulnerable to exploitation by "teenagers, thieves and spies," and put the privacy of its users at risk.
"I am here today because Twitter leadership is misleading the public, lawmakers, regulators and even its own board of directors," Zatko said as he began his sworn testimony. "They don't know what data they have, where it lives and where it came from and so, unsurprisingly, they can't protect it."
"It doesn't matter who has keys if there are no locks," Zatko said.
"Twitter leadership ignored its engineers," he said, in part because "their executive incentives led them to prioritize profit over security."
In a statement, Twitter said that its hiring process is "independent of any foreign influence" and access to data is managed through a host of measures, including background checks, access controls, and monitoring and detection systems and processes.
A Delaware judge overseeing a case in which Tesla chief executive officer Elon Musk, who is trying to get out of a US$44 billion deal to buy Twitter, last week ruled that Musk can include new evidence related to Zatko's allegations in the trial, which is set to start on Oct. 17.
During the Senate hearing, Musk posted a popcorn emoji in a Twitter message, an image often used to suggest that one is sitting back in anticipation of unfolding drama.
Comments will be moderated. Keep comments relevant to the article. Remarks containing abusive and obscene language, personal attacks of any kind or promotion will be removed and the user banned. Final decision will be at the discretion of the Taipei Times.