Japan launches online visa applications
Starting from 11am today, Taiwanese planning to travel to Japan can apply for an electronic visa online, the Japan-Taiwan Exchange Association said on Monday.
The Japanese government has launched the trial program to further relax travel restrictions that were imposed to contain COVID-19 and ease the workload of its embassies abroad.
The announcement comes as the Central Epidemic Command Center (CECC) announced that visa-waiver reciprocity has been restored with 55 nations and would be further expanded to more countries, including Japan.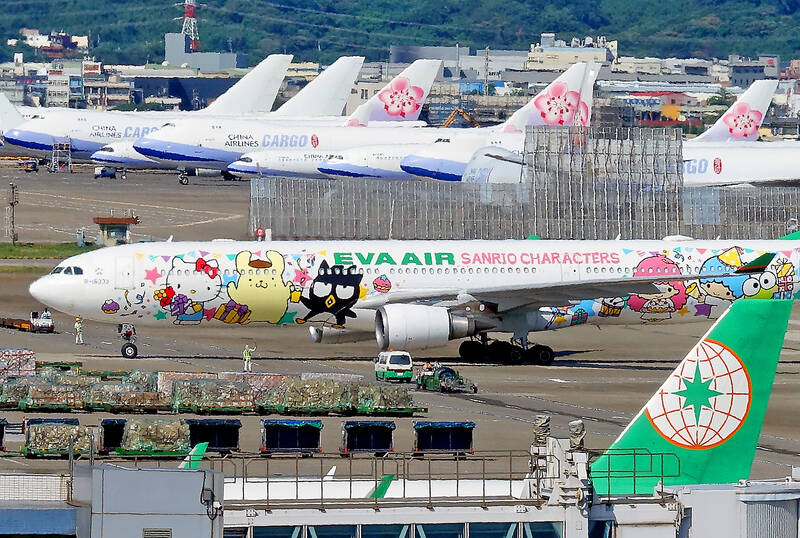 Passenger airplanes are pictured at Taiwan Taoyuan International Airport on Aug. 6.
Photo: Chu Pei-hsiung, Taipei Times
Deputy Minister of Health and Welfare Victor Wang (王必勝), who heads the CECC, yesterday told a news conference that Japan's decision to allow Taiwanese tourists to apply for an electronic visa online "is major progress," adding that it shows that Tokyo is taking steady steps to reopen its borders.
"We have resumed visa-waiver programs in 55 nations worldwide. We are planning to reinstate the program in other countries as well, including Japan," Wang said.
Wang said that the center is closely monitoring the increase in the number of COVID-19 cases this month and planning how to reopen the nation's borders, including how COVID-19 tests should be administered for inbound travelers, the cap on inbound tourists and resuming visa-waiver programs.
Wang in an interview with Radio Taiwan International on Monday said that he hopes to see some improvement in the number of COVID-19 cases at the end of this month and the beginning of next month, adding that people would not need to wait until the Lunar New Year for borders to be fully reopened.
"We understand that international tourists are more likely to visit Taiwan if the requirement for a three-day quarantine period is lifted, but preventing COVID-19 remains the top priority and a steady reopening of the border remains the guiding principle," he said.
Inbound and outbound tours would resume at "about the same time," he added.
Former National Taiwan University Hospital infectious disease physician Kong Hsiang-chi (孔祥琪), who is also an expert on tours to Japan, said that the online visa application service removes a big obstacle for people wanting to travel to Japan.
The trial program applies to Taiwanese residing in Taiwan who plan to spend no more than 90 days upon a single entry to Japan, including tourists, business travelers and visitors of relatives, Kong said.
Those applying for multiple entries must still apply for visas at the Japan-Taiwan Exchange Association, he said.
Travelers must still follow Japan's new border measures announced on June 10 that require them to obtain a certificate proving that they have completed an application in Japan's Entrants, Returnees Follow-up System (ERFS), Kong said.
The ERFS application shows that foreign nationals have made proper arrangements if they contract COVID-19 when traveling in Japan and it must be filed by organizations receiving visitors to Japan, such as companies, schools or groups inviting them, he said.
Taiwanese tourists would need to ask their travel agents to obtain an ERFS certificate for them, Kong said.
People who have already made an appointment at the association's office in Taipei can still file applications online without having to cancel the appointment, while those making an appointment at the association's office in Kaohsiung need to send an e-mail to cancel it, he said.
Electronic visas should be issued after five working days if there is no problem, although tourists must still pay the application fee at the association's offices in Taipei or Kaohsiung upon receipt of the electronic visa in an e-mail, Kong said.
Comments will be moderated. Keep comments relevant to the article. Remarks containing abusive and obscene language, personal attacks of any kind or promotion will be removed and the user banned. Final decision will be at the discretion of the Taipei Times.