KMT defends 'consensus' following Chinese article
Chinese Nationalist Party (KMT) caucus whip William Tseng (曾銘宗) yesterday said that Chinese state media had taken a phrase from the so-called "1992 consensus" out of context, after a state-run newspaper published an article on Saturday saying there could be no other interpretation of "China."
The "1992 consensus" — a term that former Mainland Affairs Council chairman Su Chi (蘇起) in 2006 admitted making up in 2000 — refers to a tacit understanding between the KMT and the Chinese Communist Party (CCP) that both sides of the Taiwan Strait acknowledge that there is "one China," with each side having its own interpretation of what "China" means.
The Ren Min Zheng Xie Bao, to mark the 30th anniversary of the Hong Kong talks — where the consensus was supposedly reached between representatives of Taiwan's Straits Exchange Foundation and China's Association for Relations Across the Taiwan Straits — on Saturday said that some senior members of the KMT in the past few years had sought to change the meaning of the term "1992 consensus."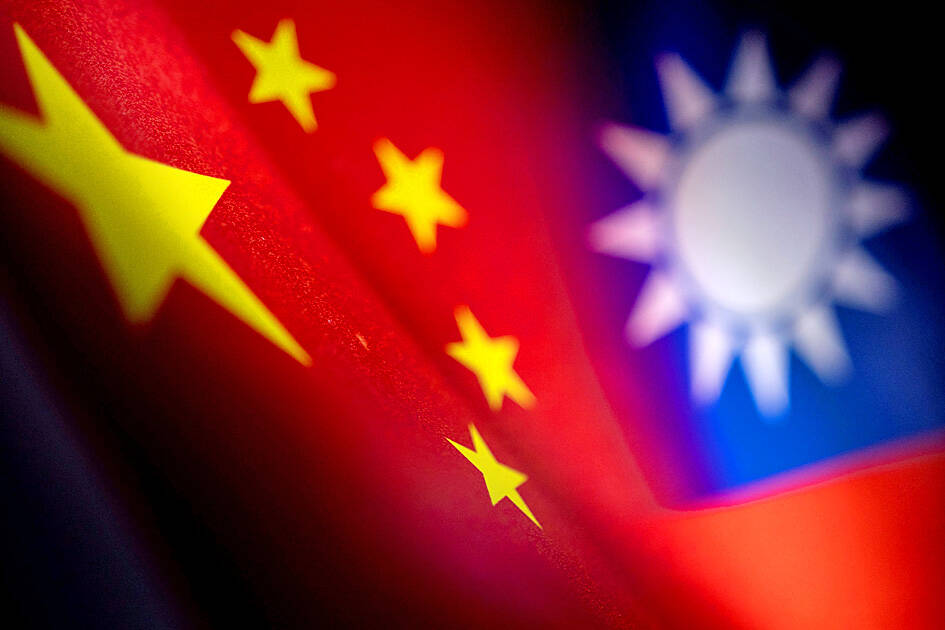 The flags of Taiwan, right, and China are pictured on April 28.
Photo: Reuters
The "1992 consensus" and "one China with different interpretations" both exist, Tseng said, adding that the KMT refused to accept singling out either part of the consensus, and neither would Taiwanese.
Democratic Progressive Party Legislator Wang Ting-yu (王定宇) said that Beijing's stance was "a real slap in the KMT's face."
The KMT insists on the existence of the consensus, trying to deceive Taiwanese into thinking that the two sides of the Strait have their own interpretations of what "China" means, he said.
However, Beijing considers maintaining the "status quo" by using the names "Republic of China" or "Taiwan" as advocating for Taiwanese independence, he said.
For Beijing, there is only one China and one interpretation of it, he added.
Chinese media are bound by law to serve the CCP's interests, and the article would have been reviewed by the Publicity Department of the CCP, he said.
China's recent moves have made its ambition to annex Taiwan increasingly clear, while also showing that it does not care for the KMT, he said.
If KMT members "still have brains and a conscience," they should accept that Taiwanese are facing China's threats, he said.
"Only by protecting Taiwan can we resist China" and protect Taiwan's democracy, freedom and economy, he added.
Comments will be moderated. Keep comments relevant to the article. Remarks containing abusive and obscene language, personal attacks of any kind or promotion will be removed and the user banned. Final decision will be at the discretion of the Taipei Times.