Basic tax allowance hike to help 2.3m households
'BENEFITTING WORKERS': The basic living expense tax deduction update followed a minimum wage increase, the seventh annual wage hike in a row
The basic living expense tax deduction is to be raised by NT$4,000 to NT$196,000, benefiting an estimated 2.3 million households, the Executive Yuan said yesterday.
Following the adjustment, a family of four with a 12 percent tax rate would save up to NT$1,920 in taxes per year, while single taxpayers who earn less than NT$540,000 a year could save NT$200, the Directorate-General of Budget, Accounting and Statistics (DGBAS) said in a report last month.
The proposal was made by the Ministry of Labor at a Cabinet meeting yesterday, and would go into effect ahead of next year's tax due date in May.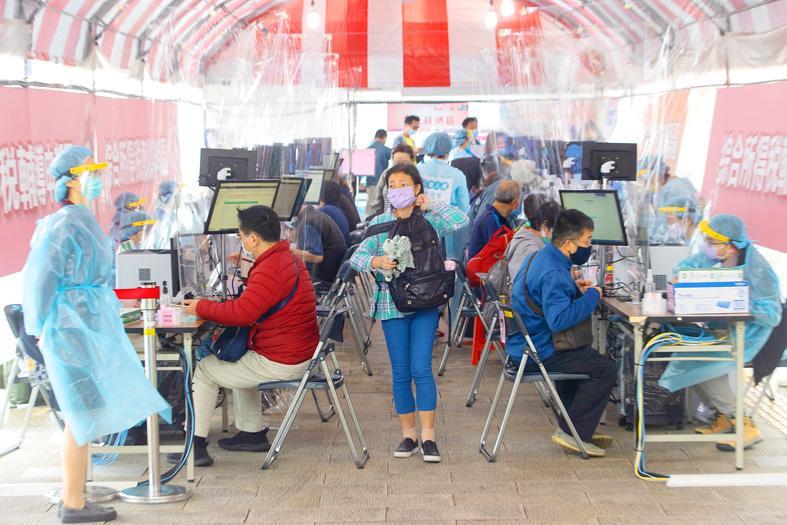 Taipei National Taxation Bureau employees wearing protective gear check tax documents submitted by local residents from behind plastic partitions in Taipei on May 2.
Photo: CNA
It would be the sixth consecutive year that the basic living expense deduction has been increased.
Last year saw the biggest increase in the nation's history, when it was increased by NT$10,000 to NT$192,000.
Under the Taxpayer Rights Protection Act (納稅者權利保護法), individuals should not be taxed on the amount they need to cover basic expenses, which is defined as 60 percent of the median disposable income per capita from the preceding year.
Based on last year's median disposable income of NT$326,000 — an increase of NT$6,000 from 2020 — the basic living expense deduction would be NT$196,000, the DGBAS said last month.
The deduction update came after the Cabinet on Wednesday approved a minimum wage increase, Executive Yuan spokesperson Lo Ping-cheng (羅秉成) said yesterday.
Starting from Jan. 1, the basic wage is to increase from NT$25,250 to NT$26,400 for monthly earners, or from NT$168 to NT$176 hourly, benefitting 2.32 million people, he said.
It is the seventh consecutive year that the minimum wage has been raised under President Tsai Ing-wen (蔡英文), Lo said.
In that time, the monthly minimum wage has increased 31.9 percent while the hourly minimum wage has risen 46.7 percent, showing the administration's determination to support the working class, he said.
It is not easy to reach a consensus on wage increases, Premier Su Tseng-chang (蘇貞昌) said, thanking employers and employees for coming together on the issue, and the government for listening to the needs of both sides.
A wage hike offers crucial support to young people entering the workforce and disadvantaged members of society, he said, urging the ministries of economic affairs and labor to work quickly to develop a set of accompanying measures for businesses to cope with the increased wages.
Regarding a new version of the scrapped Minimum Wage Act (最低工資法), Lo said that the Cabinet is still deliberating its draft.
However, even without a dedicated law, there is still a mechanism for increasing the minimum wage, as evidenced by the past seven years of raises, he added.
Additional reporting by CNA
Comments will be moderated. Keep comments relevant to the article. Remarks containing abusive and obscene language, personal attacks of any kind or promotion will be removed and the user banned. Final decision will be at the discretion of the Taipei Times.