New British PM brings tougher UK stance on China
CONGRATULATIONS: Taiwan sent its warmest greetings to Liz Truss, who, as foreign affairs secretary, had voiced her support for the nation
One of British politics' firmest critics of China became prime minister yesterday as Liz Truss replaced Boris Johnson, whose policy toward Beijing failed to harden fast enough for many in his party.
The former British secretary of state for foreign, commonwealth and development affairs officially became the prime minister after her audience at Balmoral Castle with Queen Elizabeth II, who requested her to form a new administration.
Relations between London and Beijing have worsened in the past decade as Britain has grown worried that an open door to Chinese investment could pose national security risks, and that China's military and economic assertiveness might be acting against its post-Brexit free trade agenda.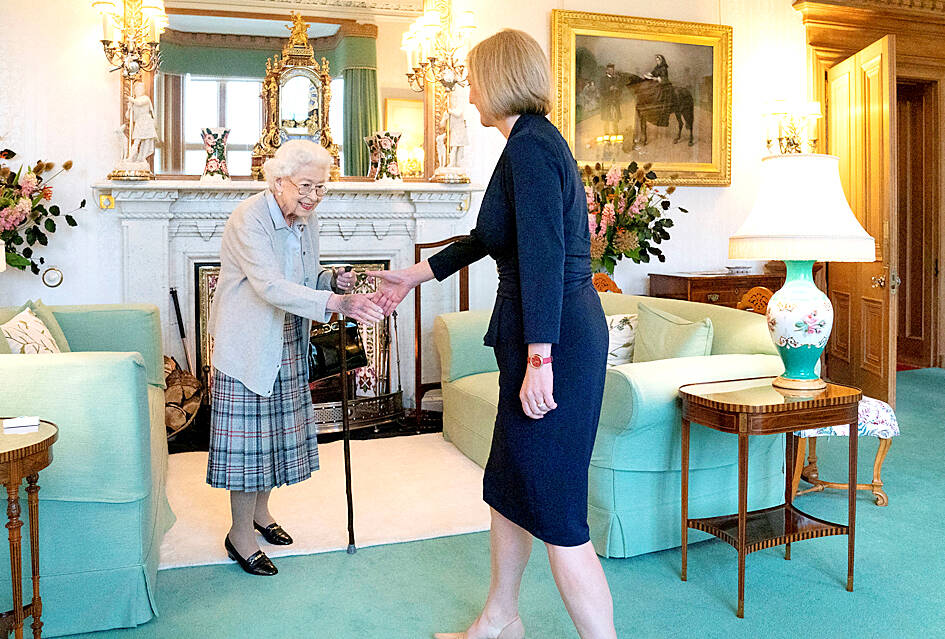 Queen Elizabeth II welcomes Liz Truss during an audience yesterday at Balmoral Castle, Scotland, where she invited the newly elected leader of the Conservative Party to become prime minister and form a new government.
Photo: Reuters
Truss views China as a threat to the rules-based international order that has governed post-World War II trade and diplomacy, and she sees it as her role to build a bulwark against that.
"Countries must play by the rules and that includes China," she said in a high-profile speech earlier this year, adding that Beijing was "rapidly building a military capable of projecting power deep into areas of European strategic interest."
Truss warned that if China failed to play by global rules it would cut short its rise as a superpower and it should learn from the West's robust economic response to Russia's invasion of Ukraine.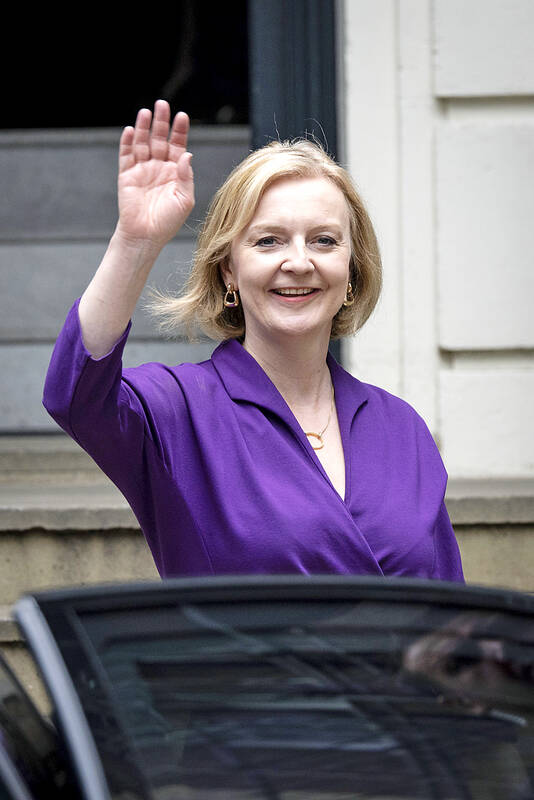 New leader of the Conservative Party Liz Truss leaves Conservative Central Office, following the announcement of her win, London, Britain, 05 September 2022. Truss has won the vote held among Conservative Party members for the new Tory leader and British Prime Minister.
Photo: EPA-EFE
She said that China's rise was not inevitable and the West should ensure that Taiwan can defend itself.
China's Global Times has dubbed Truss a "radical populist" and said she should drop the "outdated imperial mentality."
Chinese Ministry of Foreign Affairs spokesperson Mao Ning (毛寧) yesterday said that she hoped relations with Britain would remain "on the right track."
Truss is expected to appoint a foreign secretary aligned with her world view — with ally James Cleverly tipped to be in line for the job and assisted by Tom Tugendhat, a known China hawk, as security minister.
In Taipei, the Ministry of Foreign Affairs said in statement that Taiwan's representative office in the UK has sent a congratulatory message from President Tsai Ing-wen (蔡英文) to Truss expressing the warmest congratulations of the government and people of Taiwan on becoming the new British prime minister.
The ministry believes the Taipei-London relations will continue to grow with Truss as prime minister, as she expressed her support for Taiwan on several occasions as British foreign secretary, it said.
Taiwan and the UK share the values of democracy, freedom, human rights and rule of law.
Bilateral relations have improved rapidly in the past few years, as evidenced by increasingly close exchanges in such areas as technology cooperation, energy transition, reciprocal driver's license recognition, and smart city and aviation services, it said.
The British government also repeatedly expressed its concern over cross-strait tensions while calling for the peaceful resolution of related issues, the ministry added.
Comments will be moderated. Keep comments relevant to the article. Remarks containing abusive and obscene language, personal attacks of any kind or promotion will be removed and the user banned. Final decision will be at the discretion of the Taipei Times.