Hinnamnor to pass after heavy rain in the north
Typhoon Hinnamnor yesterday brought heavy rains and strong winds to New Taipei City, Yilan County and Keelung after the Central Weather Bureau issued a land warning in the morning, saying that the storm was expected to pass near Taiwan's northeast coast.
As of 10:15 pm yesterday, Hinnamnor was centered near the westernmost islands of Japan's Okinawa Prefecture, a bureau map showed.
The storm had sustained winds of 173kph, with gusts of up to 209kph, the bureau said.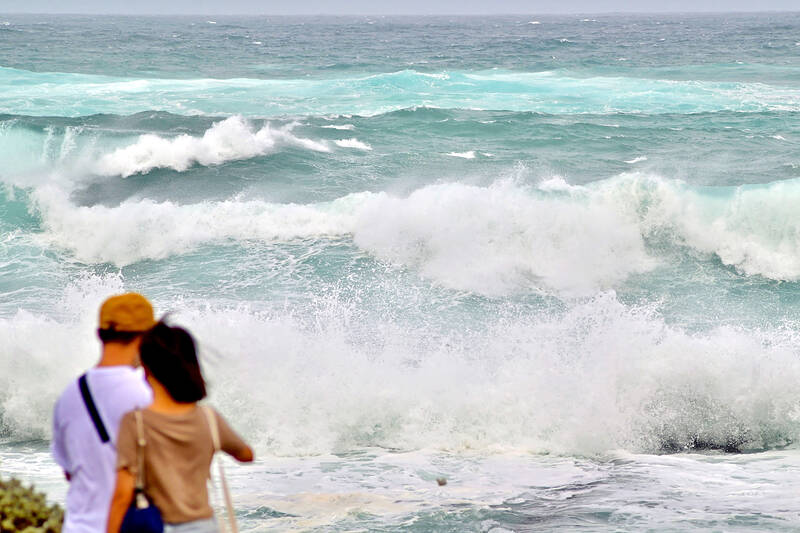 People watch the waves in New Taipei City yesterday as Typhoon Hinnamnor skirted eastern Taiwan.
Photo: Sam Yeh, AFP
Heavy or extremely heavy rain advisories were issued for New Taipei City, Taoyuan, Hsinchu and Miaoli counties, as well as mountainous areas in Taipei and Yilan. Heavy rains were also expected in Taichung.
The bureau defines heavy rain as accumulated rainfall of 80mm or more within 24 hours, or 40mm or more within an hour, while extremely heavy rain refers to accumulated rainfall of 200mm or more within 24 hours.
Coastal and open areas in western, northeastern and eastern Taiwan, as well as Pingtung County's Orchid Island (Lanyu, 蘭嶼) and Green Island (綠島), and Penghu and Lienchiang counties, yesterday afternoon reported wind gusts of 75kph to 118kph.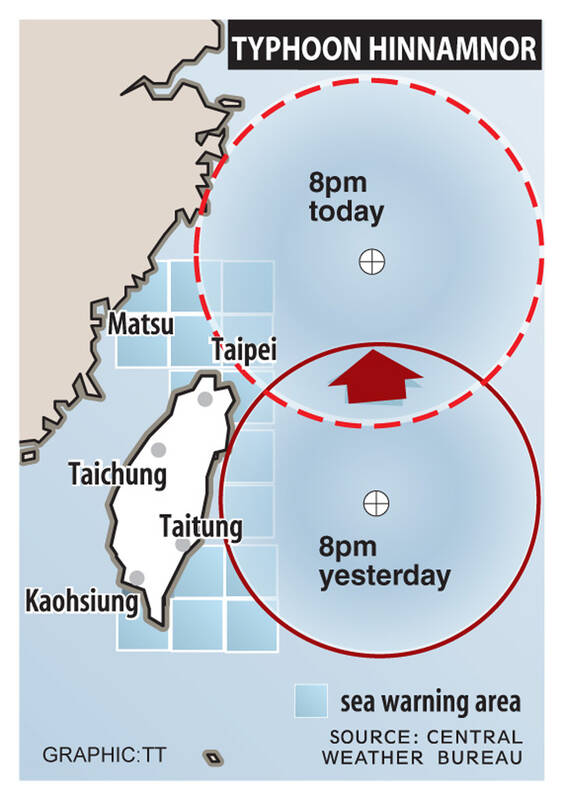 A sea warning that was issued at 8:30am on Friday remained in effect as of press time last night, with ships operating in waters northeast, southeast and north of Taiwan, as well as in the Bashi Channel between Taiwan and the Philippines, advised to be on alert.
Hinnamnor caused the cancelation of eight flights and 106 ferry services, but it did not affect railway services, local authorities said.
Airlines canceled two domestic and six international flights, the Civil Aeronautics Administration said, adding that the storm was forecast to skirt the northeast coast last night.
The Port Authority reported ferry cancelations on 12 routes from Taiwan proper to Penghu, Green Island, Orchid Island, Matsu and Pingtung's Siaoliouciou Island (小琉球).
The Taiwan Railways Administration said no train services had been canceled as of 6pm, but advised people to check the latest updates when planning a trip.
Taiwan High Speed Rail Corp said its services would remain normal throughout yesterday, but it might operate trains at lower speeds amid heavy rain or strong wind.
Comments will be moderated. Keep comments relevant to the article. Remarks containing abusive and obscene language, personal attacks of any kind or promotion will be removed and the user banned. Final decision will be at the discretion of the Taipei Times.