Premier Su backs drone takedown
'APPROPRIATE': The takedown of a civilian drone over a Kinmen islet off China's coast came after 'they repeatedly ignored our warnings to leave,' Su Tseng-chang said
Shooting down a drone that flew over a Kinmen County island near the Chinese coast was the most "appropriate" course of action for the military after repeated warnings, Premier Su Tseng-chang (蘇貞昌) said yesterday, as a military source said that drone jamming guns had been dispatched to Taiwan's outlying islands.
For the first time, the military on Thursday shot down an unidentified civilian drone that entered Taiwanese airspace near China's Xiamen, after the government vowed tough measures against a rise in intrusions.
It was followed yesterday by incursions by several drones near Lieyu Township (烈嶼), which "quickly flew back to Xiamen after troops fired flares to warn them," the Kinmen Defense Command said.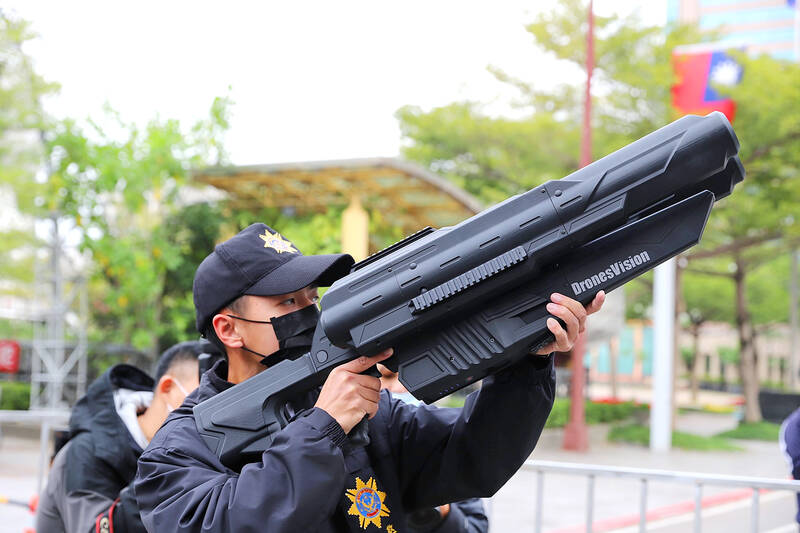 A police officer demonstrates a drone jamming gun in Taipei on Dec. 30 last year.
Photo: CNA
To counter drone incursions, a military source told the Central News Agency that drone jamming guns have been sent to Kinmen, Lienchiang County and other outlying islands.
The Ministry of National Defense declined to comment on the guns, saying only that the military would take all necessary steps to counter any threats by China.
China responded by saying that Taiwan was trying to "hype up tensions" over the incident.
Su told reporters that Taiwan had repeatedly issued warnings and asked China "not to encroach on our doorstep."
"They repeatedly ignored our warnings to leave, and we had no choice but to exercise self-defense and shoot," he said. "This is the most appropriate reaction after repeated restraint and warnings."
"We will never provoke, and we will do the most appropriate thing to protect our land and our people," he added.
Chinese Ministry of Foreign Affairs spokesperson Zhao Lijian (趙立堅) said the Democratic Progressive Party's (DPP) "attempt to hype up tensions does not mean anything."
The drone was shot down after entering restricted airspace near Shi Islet (獅嶼) and crashed into the sea, the defense ministry said.
At least two videos of recent drone flybys have circulated widely on Chinese social media, with one apparently showing Taiwanese soldiers throwing stones at the craft.
Su said these videos were made for China's "propaganda at home," adding to the anger of Taiwanese.
Politicians yesterday also defended the takedown of the drone.
The action was necessary to ensure the territorial integrity and dignity of the nation, DPP Legislator Lo Chih-cheng (羅致政) said before calling the shooting a boost to military morale and public confidence.
"We have no room for ambiguity when responding to incursions into our airspace by Chinese drones," he said.
China's deployment of drones over Kinmen is a "textbook example of the tactics of gray-zone conflict," DPP Legislator Wang Ting-yu (王定宇) said, adding that the measured response of Taiwanese forces has helped garner support from the country's allies.
The military has issued drone jamming guns to frontline units and guidelines for the use of force against drones are being written, he said.
This guidelines would authorize responses including the use of jammers, rifle fire and anti-aircraft missiles, depending on the severity of the threat, Wang said.
Taiwan has an imperative to defend its sovereign airspace, and the military acted in accordance with regulations, Chinese Nationalist Party (KMT) Legislator Chiang Wan-an (蔣萬安) said.
The Chinese military's acts of harassment are pointless and would only increase tensions across the Taiwan Strait, he said, urging China to "exercise restraint."
Comments will be moderated. Keep comments relevant to the article. Remarks containing abusive and obscene language, personal attacks of any kind or promotion will be removed and the user banned. Final decision will be at the discretion of the Taipei Times.