Taiwan's dependent population to be larger than previously forecast: agency
Taiwan is still set to become a super-aged society by 2025, but with a larger dependent population than forecast in a previous study in 2020, meriting the attention of policymakers, the National Development Council said yesterday.
The council made the call after releasing its biannual projection on the nation's demographic trends for the coming 50 years, based on latest household registration, birth, death, migration and other data.
"Taiwan is on schedule to become a super-aged society in three years, when the ratio of people aged 65 years or older will exceed 20 percent" of total population, the council said.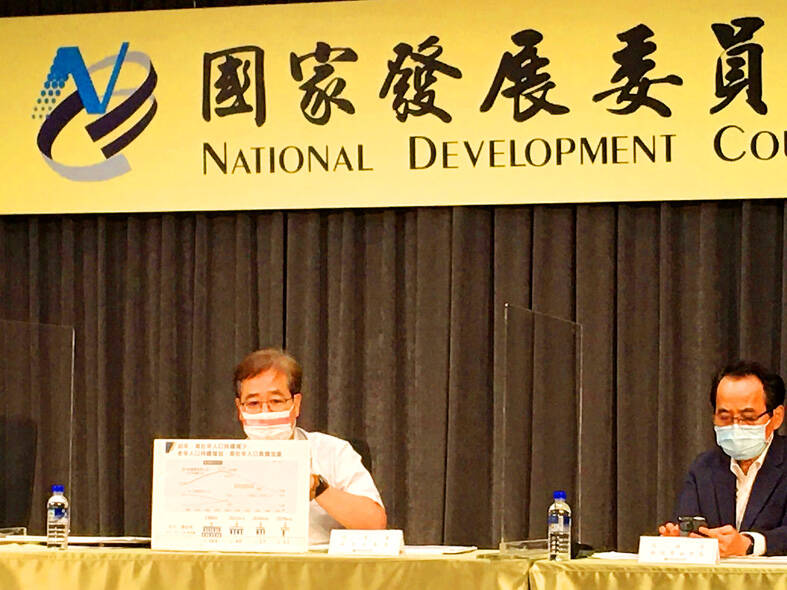 National Development Council Deputy Minister Yu Chien-hwa, left, and Kaohsiung Deputy Mayor Charles Lin attend a news conference in Taipei yesterday.
Photo: Wu Hsin-tien, Taipei Times
While the pace of aging remains the same and the demographic dividend is expected to end in 2028 as previously projected, the dependent population has been growing faster than expected, the council said.
The dependent population — including children and people aged 65 or older — would be equal to 42.2 percent of the workforce this year and climb to 53.2 percent in 2030, and outnumber the working population by 2060, four years earlier than previously forecast, the council said.
The number of people aged 15 to 64, or the working-age population, is projected to reach 16.3 million this year, before falling to 15.07 million by 2030 and to 7.76 million by 2070, the council said.
The number of elderly people is increasing, while the workforce is shrinking, the council said.
If unaddressed, the trend would be unfavorable and unhealthy for economic and social development, it said.
The demographic dividend ends when the number of people aged 15 to 64 account for less than 75 percent of the overall workforce, signifying a sluggish labor force and an increasing social burden, it said.
The government can tackle demographic challenges by boosting the birthrate to slow the pace of aging, and by encouraging senior citizens and women to join the labor force, the council said.
Low wages in Taiwan make young people unwilling and hesitant to marry and raise children, pundits have said.
In the meantime, the government should motivate the private sector to transform and upgrade operations, for example by embracing automation to cut its dependence on human labor, the council said.
Policymakers should relax immigration requirements so that foreigners can move to Taiwan for work more easily, it said.
The government should adopt measures to make Taiwan a safe and friendly living environment for elderly people, the council said.
Comments will be moderated. Keep comments relevant to the article. Remarks containing abusive and obscene language, personal attacks of any kind or promotion will be removed and the user banned. Final decision will be at the discretion of the Taipei Times.