EU pledges US$500m for Ukraine, G7 vows support
Leading democracies yesterday pledged unwavering support for Ukraine in its war with Russia and the EU promised to hike military support for Kyiv by more than US$500 million, while Moscow faces mounting accusations of war crimes.
At a meeting of the world's most powerful democracies, EU High Representative for Foreign Affairs and Security Policy Josep Borrell promised Ukraine an extra 500 million euros (US$519.28 million), bringing the bloc's total military aid to 2 billion euros.
"The recipe is clear — more of the same," Borrell said. "More pressure on Russia, with economic sanctions."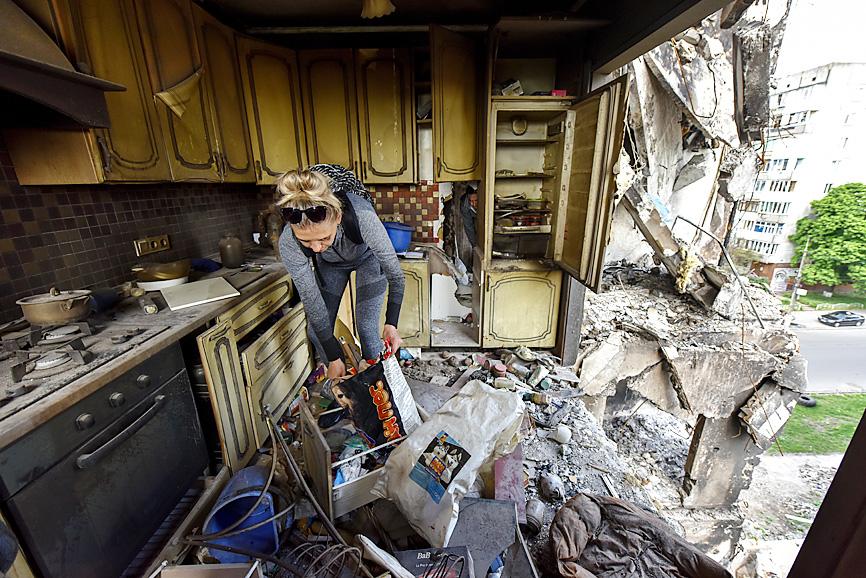 A woman yesterday collects her belongings in the kitchen of her apartment inside a building destroyed in an airstrike in Borodyanka, Ukraine.
Photo: EPA-EFE
On day two of a meeting of G7 foreign ministers in Germany, French Minister of Europe and Foreign Affairs Jean-Yves le Drian said the nations were "very strongly united" in their will to "continue in the long term to support Ukraine's fight for its sovereignty until Ukraine's victory."
They were joined yesterday by Ukrainian Minister of Foreign Affairs Dmytro Kuleba, who praised their resolve to help Kyiv, but urged them to go further.
"Today I asked G7 countries to adopt legislation and put in place all necessary procedures needed to seize Russian sovereign assets and give them to Ukraine to use this money to rebuild our country," he said.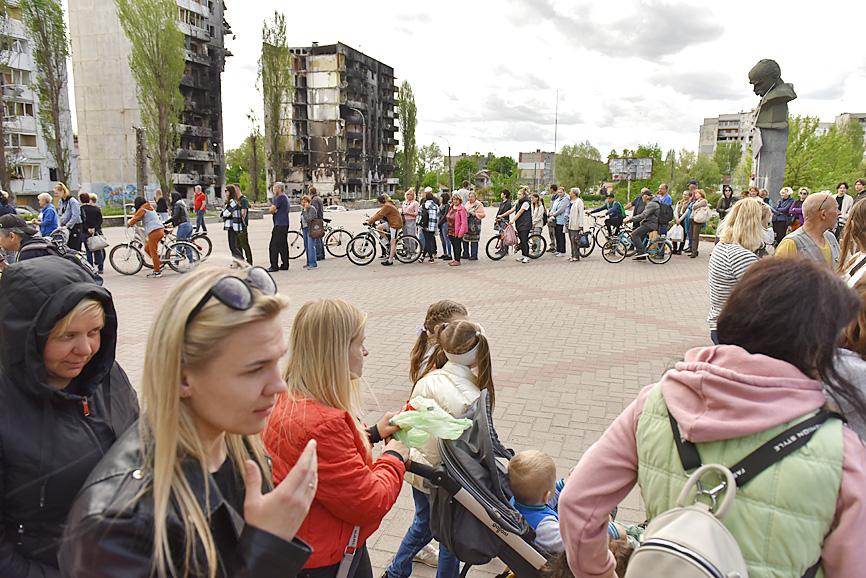 People stand in line to receive humanitarian aid in Borodyanka, Ukraine, yesterday.
Photo: EPA-EFE
He also urged the EU to ensure that an embargo is placed on Russian oil, warning that an omission of the ban on the bloc's next package would mean its unity was "broken."
More than 6 million people have fled Ukraine, more than half of them going to neighboring Poland, the office of the UN High Commissioner for Refugees said on Thursday, adding that women and children make up 90 percent of the refugees.
CNN and the BBC on Thursday released what they said was security camera footage showing Russian soldiers with rifles shooting two Ukrainian civilians in the back.
The men appeared unarmed — the footage showed the soldiers frisking them before allowing them to walk away at a business premises on the outskirts of the capital, Kyiv.
One man died on the spot, the other shortly after, the outlets said.
The killings took place on March 16 and are being investigated as a war crime, CNN said.
Separately, investigators and witnesses on Thursday said that Russian forces on March 27 shelled a residential home in the village of Stepanki outside Kharkiv, killing three civilians.
Local resident Denys, 40, said he saw the barrel of a tank turn toward him.
"Someone said: 'Let's go hide inside the house,'" Denys said. "I entered last and as soon as I entered, the tank fired. Everything collapsed, I couldn't see anything"
The UN Human Rights Council voted 33-2 on Thursday to investigate alleged atrocities by Russian troops in Ukraine.
Ukrainian prosecutors say they have received reports of more than 10,000 alleged crimes.
The US on Thursday said that Russia was forcibly taking tens of thousands of Ukrainians to "filtration camps" in Russia or Russian-controlled territory where they are subjected to "brutal interrogations."
"These actions amount to war crimes," US Ambassador to the Organization for Security and Cooperation in Europe Michael Carpenter said.
"We must not allow this evil to stand," he added.
Comments will be moderated. Keep comments relevant to the article. Remarks containing abusive and obscene language, personal attacks of any kind or promotion will be removed and the user banned. Final decision will be at the discretion of the Taipei Times.