Battle against at-large nominee Wu Sz-huai rebounds
Democratic Progressive Party (DPP) legislative candidate Enoch Wu (吳怡農) on Thursday evening launched a Facebook campaign to prevent retired lieutenant general Wu Sz-huai (吳斯懷) — No. 4 on the Chinese Nationalist Party's (KMT) legislator-at-large list — from remaining a nominee to the Legislative Yuan.
Enoch Wu — who seeks to represent Taipei's Zhongshan (中山) and Songshan (松山) districts — wrote that the goal of the Facebook campaign is to prevent the KMT from getting more than 1.59 million votes in the Jan. 11 legislative elections, which would prevent Wu Sz-huai from obtaining a legislative seat.
In the nation's single-district, two-vote system, Taiwanese cast one vote for a district legislator and another for a party, from which the legislator-at-large seats are apportioned among the parties. A party must receive at least 5 percent of the total party vote to be allocated at-large seats.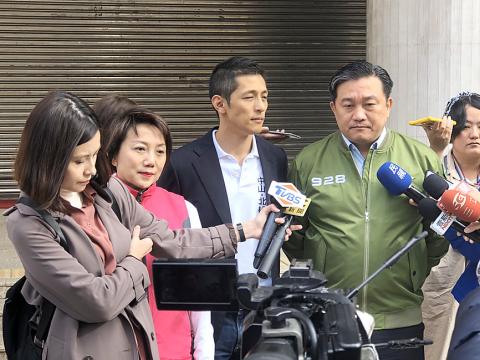 Democratic Progressive Party legislator-at-large nominee Fan Yun, second left, legislative candidate Enoch Wu, third left, and Legislator Wang Ting-yu speak to reporters outside the Legislative Yuan in Taipei yesterday.
Photo courtesy of Enoch Wu's campaign office
The Facebook campaign gained nearly 30,000 likes and thousands of shares overnight, Enoch Wu told a news conference yesterday, which was also attended by DPP Legislator Wang Ting-yu (王定宇) and DPP legislator-at-large candidate Fan Yun (范雲).
Wang said that the KMT's inclusion of the president of the 800 Heroes for the Republic of China Association on its list shows disrespect for Taiwanese taxpayers, as he attended a major event featuring a speech by Chinese President Xi Jinping (習近平) and has also offered military advice to China on a TV program.
Wang was referring to Wu Sz-huai's participation in a 2016 event in Beijing — where he was observed to stand during the playing of the Chinese national anthem — and his recommendations to the People's Liberation Army in a TV program broadcast by Hong Kong-based Phoenix Satellite TV on how it could best fight US forces.
"Wu Sz-huai's existence in the legislature poses the biggest threat to Taiwanese," Wang said.
Comments will be moderated. Keep comments relevant to the article. Remarks containing abusive and obscene language, personal attacks of any kind or promotion will be removed and the user banned. Final decision will be at the discretion of the Taipei Times.