NPP lawmaker accuses Han of Yunlin gravel riches
PARTISAN POLITICS? Receiving tip-offs, Legislator Huang Kuo-chang said he probed and found the gravel business to be more outrageous than Han's luxury Taipei apartment
New Power Party (NPP) Legislator Huang Kuo-chang (黃國昌) on Thursday evening accused Kaohsiung Mayor Han Kuo-yu (韓國瑜), the Chinese Nationalist Party's (KMT) presidential candidate, and the family of his wife, Lee Chia-fen (李佳芬), of involvement in illegal gravel excavation along the bank of Yunlin County's Jhuoshui River (濁水溪).
The Han-Lee family made "astounding profits by looting national resources" when Han was a KMT legislator and Lee's father, Lee Jih-kuei (李日貴), was a Yunlin County councilor nearly two decades ago, Huang wrote on Facebook.
After receiving tip-offs, Huang said that he investigated the matter and determined that it was more outrageous than Han's purchase of a Taipei luxury apartment worth NT$72 million (US$2.36 million).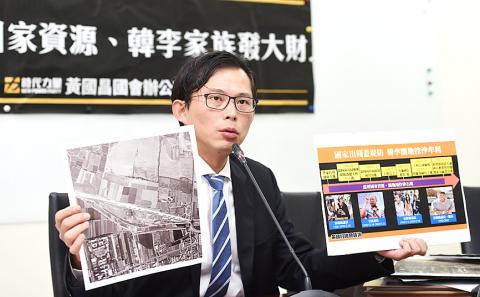 New Power Party Legislator Huang Kuo-chang holds a news conference in Taipei yesterday to discuss allegations that Kaohsiung Mayor Han Kuo-yu and the family of his wife, Lee Chia-fen, were involved in an illegal gravel excavation business along Yunlin County's Jhuoshuei River.
Photo: Fang Bin-chao, Taipei Times
Later on Thursday, Han's campaign office issued a statement denying that Han had any involvement in illegal activities, or that he used his power as a legislator for personal gain.
Politicians should debate policies and encourage progressive competition in the run-up to elections, rather than launching arbitrary attacks on a candidate's family, it added.
At a news conference yesterday, Huang showed aerial photographs of the Siluo Bridge (西螺大橋) taken in 1994, 1999 and 2000, saying that Lee Jih-kuei had illegally excavated along the river bank for his company, Da-tong Gravel Co (大通砂石行), when he was a county councilor.
Authorities ordered a halt to the excavation, but Lee Jih-kuei was reluctant to do so, and even planned to build a gravel washing plant nearby, but dropped the plan when it was disclosed by the media, Huang said.
However, Lee Jih-kuei turned to collecting gravel near the river embankment, Huang said, questioning why government funds would be used to construct the embankment when the area was not part of an official flood prevention plan.
An embankment area would be owned by the government, but the user of that area was Lee Jih-kuei's company, Huang said, adding that the family made illicit profits from exploiting government land.
Separately yesterday, Han said that everything should be handled through the legal process.
He said that, as a presidential candidate, he could not discuss the matter, but that his campaign office would address it.
Ye Yuan-zhi (葉元之), the spokesman for Han's campaign headquarters, said that Huang has told a "story," without solid proof.
Huang is manipulating a political issue, as shown by his statement yesterday that he would hold another news conference if Han's response warranted one, Ye added.
Additional reporting by Shih Hsiao-kuang and Chen Yun
Comments will be moderated. Keep comments relevant to the article. Remarks containing abusive and obscene language, personal attacks of any kind or promotion will be removed and the user banned. Final decision will be at the discretion of the Taipei Times.