Trade bid derailed by Japan food ban
CHALLENGE: The foreign ministry said it was in 'earnest communication' with Tokyo, which expressed regret over a public vote to retain a ban on certain Japanese imports
The government yesterday said it would continue to seek Tokyo's support and understanding after a top Japanese official said that Taiwan is unlikely to join the Comprehensive and Progressive Agreement for Trans-Pacific Partnership (CPTPP) because of the result of its referendum banning certain Japanese food imports.
"Japan's reaction is understandable and this is going to be a strenuous challenge for Taiwan," Executive Yuan spokeswoman Kolas Yotaka said, adding that the Cabinet has instructed government agencies to communicate with Tokyo.
The Ministry of Foreign Affairs in a press release said it would continue to engage in "earnest communication" with Japan and handle with discretion any possible actions Tokyo could take in response to the passage of a referendum on Nov. 24 that called for a continued ban on imports of Japanese agricultural and food products from Fukushima and four other prefectures after the 2011 Fukushima Dai-ichi nuclear power plant disaster.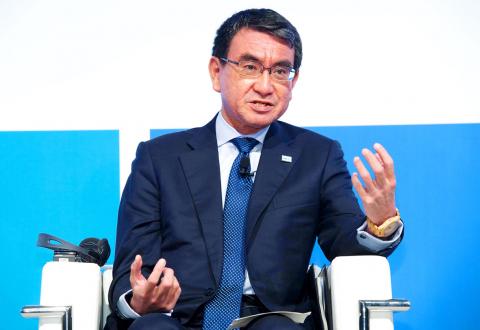 Japanese Minister of Foreign Affairs Taro Kono delivers a speech during the Mediterranean Dialogue in Rome on Nov. 23.
Photo: EPA-EFE
A total of 7,791,856 people, or 78 percent of the votes cast, favored retaining the ban, further tying the hands of the Democratic Progressive Party (DPP) administration, which has sought to relax the major impediment to bilateral trade relations.
Speaking to reporters in Tokyo yesterday, Japanese Minister of Foreign Affairs Taro Kono reiterated Tokyo's regret over the referendum's passage, which he said has unfortunately made Taiwan's bid to join the Japan-led CPTPP unlikely.
"If this [Taiwan's import ban] violates WTO regulations, Japan does not rule out taking the matter to the WTO. In addition, the CPTPP pact is expected to take effect this year and it is very regrettable that this matter has made it unlikely for Taiwan to join the partnership," Kono said.
It was the first time Kono has directly connected the import ban on Japanese food products with Taiwan's chances of joining the CPTPP.
The ban has also resulted in the suspension of the Taiwan-Japan Economic Partnership Committee, which was established in 2013 as a platform for discussing economic, trade and investment issues.
After the conclusion of the annual Taiwan-Japan trade and economic meeting in Taipei on Nov. 30, Taiwan-Japan Relations Association Secretary-General Chang Shu-ling (張淑玲) conveyed Taiwan's hope of being included in the CPTPP to her Japanese counterparts through different channels.
"We hope that Japan could offer us more assistance, including through the exchange of information," she said.
Chinese Nationalist Party (KMT) Vice Chairman Hau Lung-bin (郝龍斌), who initiated the referendum, in a press release said that Japan's use of the ban as a threat showed that the DPP's claim that Taiwan-Japan relations are "at their best" is a lie.
"Taiwan and Japan have always had an uneven trade relationship. Taiwan holds a trade deficit of NT$600 billion [US$19.45 billion] with Japan. Haven't we bought enough?" Hau asked, adding that the Taiwan-Japan relationship should not be built solely on meeting Japan's demands.
According to Ministry of Finance statistics, Taiwan had a trade deficit of NT$634.8 billion with Japan last year.
Additional reporting by Lee Hsin-fan and CNA
Comments will be moderated. Keep comments relevant to the article. Remarks containing abusive and obscene language, personal attacks of any kind or promotion will be removed and the user banned. Final decision will be at the discretion of the Taipei Times.