NPP proposes bill to manage nuclear waste
DEPOSITORIES: The party says experts should make a list of 10 locations, civil groups would select three off the list and residents within 30km could vote
The New Power Party (NPP) yesterday proposed a bill that would require the government to establish a nuclear waste management committee and build an interim repository to ensure more centralized and safer management of radioactive waste.
Under the proposed radioactive waste management act, the committee would be an independent government body under the Executive Yuan and would follow a set of procedures for selecting the storage site that ensures neutrality and public participation, the party told a news conference at its caucus office in Taipei.
Nuclear waste is scattered in various locations across the nation, with low-level radioactive waste stored in a repository on Orchid Island (Lanyu, 蘭嶼) and many spent fuel rods stored at nuclear power plants, NPP Executive Chairman Huang Kuo-chang (黃國昌) said.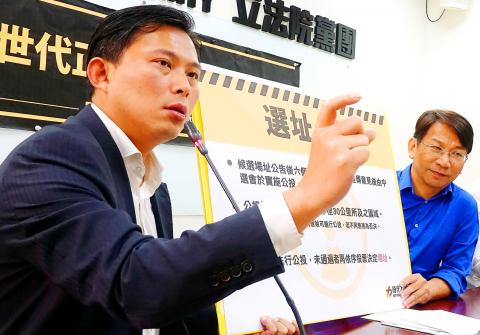 New Power Party legislators Huang Kuo-chang, left, and Hsu Yung-ming hold a news conference at the Legislative Yuan in Taipei yesterday to urge the government to amend the law and establish a Cabinet-level nuclear waste commission.
Photo: Chu Pei-hsiung, Taipei Times
"Taiwan is a small island. Should we have so many storage facilities at the same time? Such an approach to nuclear waste management is not only irresponsible, but it also raises safety concerns," he said.
Before the government finalizes a plan for the final disposal of spent nuclear fuel, where the waste would be stored for tens of thousands of years, it should first build an interim repository that could keep the waste for several decades, he said.
Under the bill, the location of the interim repository must be selected by experts and civil groups, pass an environmental impact assessment and a local referendum, he said
Experts would select 10 locations based on their geographical conditions and from them civil groups would select three, he said, adding that residents living within a 30km radius of the selected location would then vote in a referendum on whether to build the repository.
The process would be "based on professional assessment, and ensure transparency and public participation," he said.
Under the bill, the committee responsible for overseeing the process should have a chairman and six other members, he said, adding that there should be at least one Aboriginal member.
The chairman, nominated by the Executive Yuan, must be approved by the Legislative Yuan, he said.
"The management of nuclear waste is not only an environmental issue, but also one of generational justice," NPP caucus convener Hsu Yung-ming (徐永明) said.
"The government has long ignored the importance of public participation and transparency when building nuclear power plants, but we think it is important to ensure those two things occur in the process," he added, urging the public to support the bill.
Comments will be moderated. Keep comments relevant to the article. Remarks containing abusive and obscene language, personal attacks of any kind or promotion will be removed and the user banned. Final decision will be at the discretion of the Taipei Times.