2018 ELECTIONS: Taipei mayoral candidates host mass rallies
FINAL HURRAH: Tens of thousands of people attended the last campaign events of Taipei's main three candidates, which were attended by various top politicians
The three main Taipei mayoral candidates — independent Taipei Mayor Ko Wen-je (柯文哲), the Chinese Nationalist Party's (KMT) Ting Shou-chung (丁守中) and the Democratic Progressive Party's (DPP) Pasuya Yao (姚文智) — yesterday canvassed the streets on vehicles before rounding up their campaigns at mass evening rallies.
Ko held his rally in Four Four South Village in Xinyi District (信義), Ting staged his on Ketagalan Boulevard in front of the Presidential Office Building, and Yao held his at the Taipei City Hall Plaza on Shifu Road.
More than 4,000 police were deployed last night to maintain safety on the eve of the elections, Taipei Deputy Mayor Teng Chia-chi (鄧家基) said.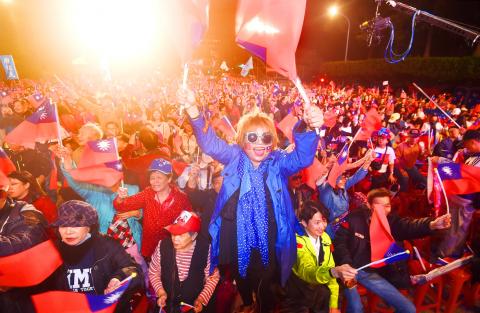 Supporters of Chinese Nationalist Party (KMT) Taipei mayoral candidate Ting Shou-chung wave the Republic of China flag at Ting's final campaign rally on Ketagalan Boulevard in Taipei last night.
Photo: Liao Chen-huei, Taipei Times
The Taipei Police Department said that the three rallies were monitored by different police precincts.
Ko's campaign rally began at 6pm with performances by artists and musicians. Two Taipei deputy mayors — Teng of the New Party and Chen Chin-jun (陳景峻) of the DPP — stressed Ko's wish for Taiwan to go "beyond blue and green" while on stage.
Ko arrived at the rally at 9pm, walking through the large crowd of supporters and clapping their hands on his way.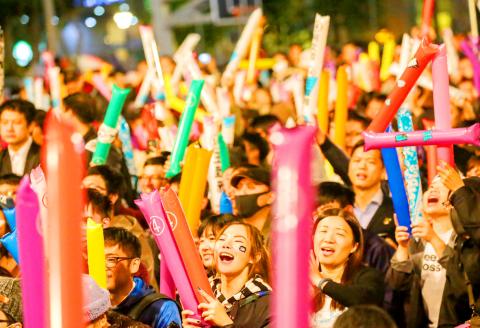 Supporters of Taipei Mayor Ko Wen-je, an independent who is seeking re-election, hold up balloons at Ko's campaign rally at the Four Four South Village in Taipei last night.
Photo: CNA
Ko's campaign office said an estimated 40,000 people were at the rally when he arrived.
Ko said that holding the rally at Four Four South Village, the remains of a military complex, symbolized that city residents can have different backgrounds, but a shared future, a future that is open to the world like nearby Taipei 101.
"Being attacked by both the pan-blue and pan-green camps, I am really in a state of emergency," Ko said, urging people to vote today.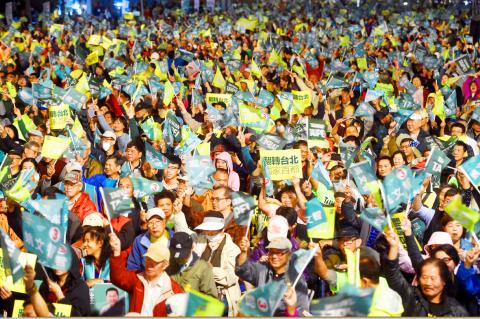 Supporters of Democratic Progressive Party Taipei mayoral candidate Pasuya Yao wave Yao's campaign flag at a rally at Taipei City Hall Square last night.
Photo: Chien Jung-fong, Taipei Times
He ended by saying: "We need to win, and we must win."
Ting's rally began at 7pm, with Ting walking through a large crowd of almost 20,000 people, who passionately greeted him by waving the national flag as he boarded the main stage.
KMT Chairman Wu Den-yih (吳敦義) joined Ting on stage and said Taipei has not progressed in the past four years, citing the suspended Taipei Dome construction project as an example, and blaming the DPP for causing tensions in cross-strait relations and for the serious flooding in southern Taiwan in August.
Former president Ma Ying-jeou (馬英九), KMT Vice Chairman Hau Lung-bin (郝龍斌) and several KMT legislators also spoke at Ting's rally.
Ting said Taiwan and Taipei are seriously injured, and the DPP and Ko's administrative performance resulted in people earning low salaries and left many young people unemployed.
As it is painful for him to see Taipei losing its competitive edge, Ting said he urged people to vote for him to bring prosperity back to the city.
Yao's rally began at 7pm and he arrived at 8:10pm, also by walking through a large crowd of supporters, who cheered for him by waving green flags and yellow banners that read TAIWAN TAIPEI.
Yao asked supporters to hold up their cellphone lights and sang the song You Raise Me Up to express his gratitude to his supporters for backing him through the difficult election.
Centenarian Taiwanese independence advocate Su Beng (史明) was seen at Yao's rally.
As of 8pm, DPP spokeswoman Rosalia Wu (吳思瑤) said that more than 30,000 people had attended the rally.
President Tsai Ing-wen (蔡英文) gave a speech at 9:45pm before the rally ended at 10pm.
Additional reporting by CNA
Comments will be moderated. Keep comments relevant to the article. Remarks containing abusive and obscene language, personal attacks of any kind or promotion will be removed and the user banned. Final decision will be at the discretion of the Taipei Times.