China targets polls with fake accounts
CHINESE DISINFORMATION CAMPAIGN: The PLA's cyberwarfare unit and members of the 50 Cent Army are reposting fake news on PTT, Line, YouTube and other platforms
China has been creating fake social media accounts to interfere with the Nov. 24 elections as practice for manipulating the 2020 elections to elect candidates favorable toward Beijing, a National Security Bureau source said on Saturday.
China's fake news is largely centered on issues related to Taiwan's defense, cross-strait relations and the policies of President Tsai Ing-wen's (蔡英文) administration, and generally gets published first by Chinese outlets such as the Global Times, Straits Today (今日海峽) and Taihai Net (台海網), the source said.
The content is then edited by the Chinese People's Liberation Army's (PLA) cyberwarfare division or the 50 Cent Army — Internet users paid to support Beijing's propaganda online — and reposted to PTT — Taiwan's largest online bulletin board system — the Line messaging app, YouTube and other social media platforms, the source said.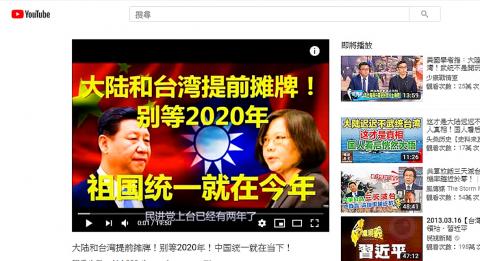 The front page of the Jianghu Baixiaosheng YouTube account on Saturday shows some of its anti-Taiwan videos.
Photo: Screen grab from the Internet
There are a growing number of Chinese accounts aimed at Taiwan on YouTube, such as Jianghu Baixiaosheng (江湖百曉生) and Touhao Zhanjiang (頭號戰將), which both have nearly 30,000 Taiwanese followers, the source said.
These accounts have each published nearly 1,000 videos in the six months they have been active, and the content is largely commentary critical of Tsai and US President Donald Trump sourced from the Global Times, the source added.
Some of the videos on Jianghu Baixiaosheng, including one advocating a PLA takeover of Taiwan, have been shared on Facebook by Taiwanese users, the source said.
China's information warfare efforts are an evolution of a PLA unit that was established at the end of 2015 to conduct intelligence gathering, attacks on servers and networks, cognitive hacking and psychological warfare, the source said, adding that the branch today has an estimated 300,000 personnel.
Taiwan has long been a testing ground for Chinese cyberattacks, and last year the bureau intercepted an average of 100,000 online attacks from China per month, the source said.
China's cyberwarfare specialists are familiar with social issues in Taiwan and inject divisive commentary into discussions on controversial topics in an attempt to create social strife, the source said, citing the fake story about Chinese consulate officials helping Chinese passengers stranded at Osaka's Kansai International Airport following Typhoon Jebi.
Bureau Director-General Peng Sheng-chu (彭勝竹) on Thursday told a meeting of the Legislative Yuan's Foreign Affairs and National Defense Committee that Beijing and the PLA were behind a propaganda campaign to interfere with the nation's democratic elections by creating disinformation and fake news targeting Taiwanese media outlets, radio and television programs and Web sites, Peng said.
Premier William Lai (賴清德) on Friday told an inter-ministerial meeting at the Executive Yuan that this month's elections were being undermined because of China's spread of disinformation, financial support of certain candidates and sponsoring of television and radio programs, as well as cyberattacks.
Comments will be moderated. Keep comments relevant to the article. Remarks containing abusive and obscene language, personal attacks of any kind or promotion will be removed and the user banned. Final decision will be at the discretion of the Taipei Times.