China subverting elections: premier
EVIDENCE OF MANIPULATION: More money is being sent from overseas to subsidize candidates' campaign expenses than ever before, the deputy minister of justice said
Premier William Lai (賴清德) and lawmakers yesterday said that the Nov 24 nine-in-one elections are being undermined and national security is under threat, because of China's spread of disinformation, financial support of certain candidates and sponsoring of television and radio programs, as well as cyberattacks.
Presiding over a cross-ministerial meeting at the Executive Yuan, Lai said that the judiciary has launched investigations into candidates suspected of receiving large amounts of money from Chinese sources, which contravenes the nation's election laws.
"We have evidence to show there have been massive injections of money from outside Taiwan to influence the election outcome, along with the dissemination of disinformation through mass media and social media," Lai said.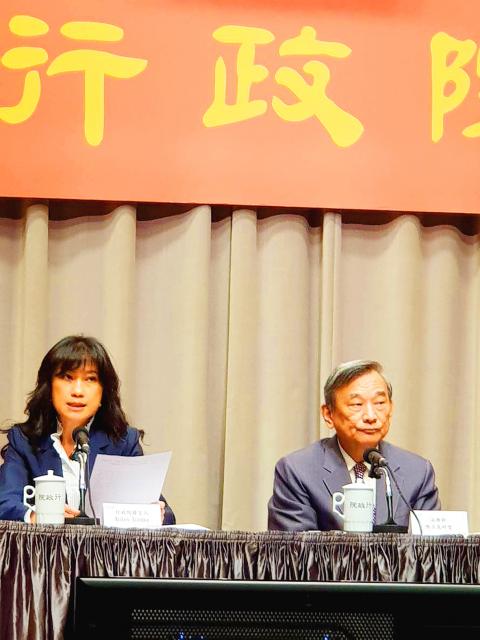 Deputy Minister of Justice Chen Ming-tang, right, attends a cross-ministerial meeting at the Executive Yuan in Taipei yesterday.
Photo: Lee Hsin-fang, Taipei Times
"Evidence also points to outside funding being given to criminal syndicates masquerading as political parties, so that they can destabilize our society by creating disturbances, and using violence and intimidation," he said.
"Investigators have also found that some candidates are distributing cash or gifts to residents to buy their votes," the premier said, adding that other serious cases are under investigation, but officials cannot divulge the details.
Justice ministry officials at the meeting said that investigators are looking into more than 30 cases where candidates are suspected of receiving money from outside Taiwan, some coming from Hong Kong, Macau and other countries, but most likely originating in China.
"We are seeing massive amounts of cash from abroad being sent to certain candidates to subsidize their campaign expenses," Deputy Minister of Justice Chen Ming-tang (陳明堂) said. "The amount is much more than in past elections."
Department of Prosecutorial Affairs head Wang Chun-li (王俊力) said that as of Monday there had been 2,361 reports of election irregularities and illegal conduct, with 4,737 persons under investigation, 1,780 cases of which involve allegations of vote-buying.
Meanwhile, it was confirmed by various lawmakers and National Security Bureau Director-General Peng Sheng-chu (彭勝竹) at a meeting of the legislature's Foreign Affairs and National Defense Committee yesterday that Beijing and the Chinese People's Liberation Army (PLA) were behind a propaganda campaign to interfere with Taiwan's democratic elections.
In response to a question by Democratic Progressive Party (DPP) Legislator Tsai Shih-ying (蔡適應), Peng said that the Chinese government and certain PLA units are using their resources and cyber capabilities to create disinformation and fake news, targeting Taiwan's media outlets, radio and television programs, and Web sites.
Tsai said that China has updated its "united front" tactics by employing new Internet, computer and mobile networking technologies to wage an an "information war" against Taiwan.
"It is in preparation for their stated goal of subverting Taiwan's 2020 national elections, with Taiwan's government and ruling party in the hands of candidates who are supported by Beijing to implement policies for Taiwan's unification with China," Tsai said.
DPP Legislator Wang Ding-yu (王定宇) said that China has set up its fifth military branch, a "cyberforce" that has 100,000 staff, of which 30,000 are deployed as part of "cyberarmy units" that are specifically focused on launching attacks against computer and mobile networks, as well as gathering intelligence and spreading of disinformation to destabilize other countries.
Tsai, Wang and other DPP lawmakers went on to condemn the National Security Council, the judiciary and Taiwan's other intelligence agencies for their lax attitude and "see nothing, do nothing" approach in the face of China's real threat to national security and the elections.
Comments will be moderated. Keep comments relevant to the article. Remarks containing abusive and obscene language, personal attacks of any kind or promotion will be removed and the user banned. Final decision will be at the discretion of the Taipei Times.