Japanese PM Abe welcomed near Tiananmen Square
China and Japan yesterday signed US$2.6 billion in business deals and touted their warmer ties during a rare visit to Beijing by Japanese Prime Minister Shinzo Abe.
Chinese Premier Li Keqiang (李克強) greeted Abe as the Japanese national flag flew outside the Great Hall of the People across from Tiananmen Square and they reviewed an honor guard before going inside for talks.
Relations between Asia's two biggest economies have improved in recent years after they sunk to new lows in 2012, when Tokyo "nationalized" disputed islands claimed by Taiwan and China.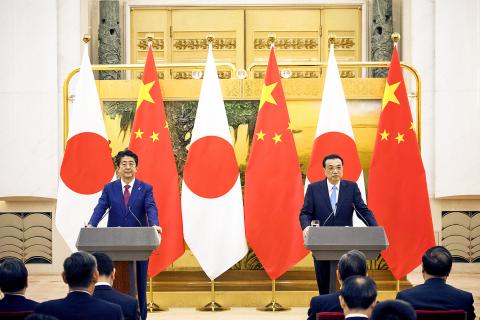 Chinese Premier Li Keqiang, right, and Japanese Prime Minister Shinzo Abe speak at a news conference at the Great Hall of the People in Beijing yesterday.
Photo: Bloomberg
Addressing a joint news conference, Abe said that the two leaders had agreed to "play a constructive role for the sake of this region's peace and prosperity."
"I believe active trade will deepen ties between Japanese and Chinese peoples further," Abe said.
"International conditions are unstable and uncertainties have increased," Li said, adding that the nations' economic cooperation would "benefit the development of global free trade."
The relationship has rapidly warmed after US President Donald Trump imposed massive tariffs on China while also targeting Japanese exports in an effort to cut US trade deficits.
Abe traveled with nearly 1,000 delegates from Japanese companies, who struck 500 deals worth a combined US$2.6 billion, Li said, without providing details.
The companies are eager for increased access to China's massive market, while Beijing is interested in Japanese technology and corporate know-how.
"Though the US is quite an influential factor in China-Japan ties, the effect is limited," the Global Times newspaper said in an editorial.
"If Beijing and Tokyo intend to plan their future bilateral relationship based on Washington's attitude, they will only get lost," the state-run daily said.
The two leaders oversaw the signing of several political agreements, including a currency swap deal and a mechanism to avoid accidental clashes between their militaries, which often come in contact in the East China Sea.
The previous official visit to Beijing by a Japanese prime minister was in 2011.
Abe's three-day trip, which began on Thursday, sets up the possibility that Chinese President Xi Jinping (習近平) will visit Japan next year.
Comments will be moderated. Keep comments relevant to the article. Remarks containing abusive and obscene language, personal attacks of any kind or promotion will be removed and the user banned. Final decision will be at the discretion of the Taipei Times.